As a homeschooling family, it's important to me as a mom that the gifts we give at the holidays and Christmas are not only fun, but are educational in some form, too. With gift giving season upon us, I'm giving thanks for fresh and awesome ideas that will bring some fun, and some learning, under the tree. I've collected these twelve ideas for creating family fun memories with the whole family. These Christmas gift ideas for the entire family and then boys and girls will challenge young minds for learning, without breaking the bank on your budget. After all, isn't Christmastime all about making memories and the spirit of giving, as God gave His son to us?
"Our hearts grow tender with childhood memories and love of kindred, and we are better throughout the year for having, in spirit, become a child again at Christmastime." Laura Ingalls Wilder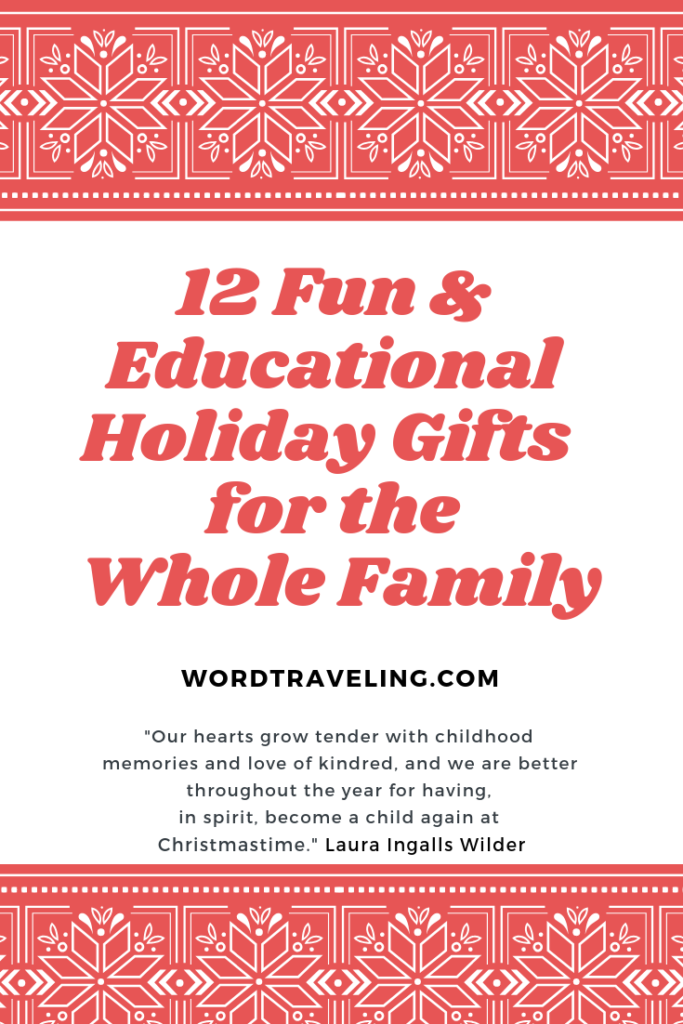 Holiday Educational Gifts for the Whole Family:
This post was created in sponsored partnership with Rooster Fin games and contains affiliate links to help keep brining you fresh content. All opinions are 100% honest and unbiased. 
Rooster Fin Games
My favorite part of these new award-winning game additions by Rooster Fin Games to our family is the spirit of family itself by the company's creator, Joe. Every Thursday at 8:00pm EST on Facebook Live, the host, Joe RoosterFin, hosts Story Time by reading a new adventure with the characters from one of his games. Popular Rooster Fin Games are raffled off to live viewers every week. Clear off the table and take a whirl at some of these new family games, developed by teachers to make learning exciting. Sure to engage the whole family, you'll put down the phones and pick up the family fun!
Ninja Squirrels
When playing our favorite of the Rooster Fin games, Ninja Squirrels, your child will improve upon their matching and coordinating skills. Use your reflexes as you race to gather acorns before winter in this fun, fast-paced card game. You're bound to have fun when playing, and maybe even go nuts!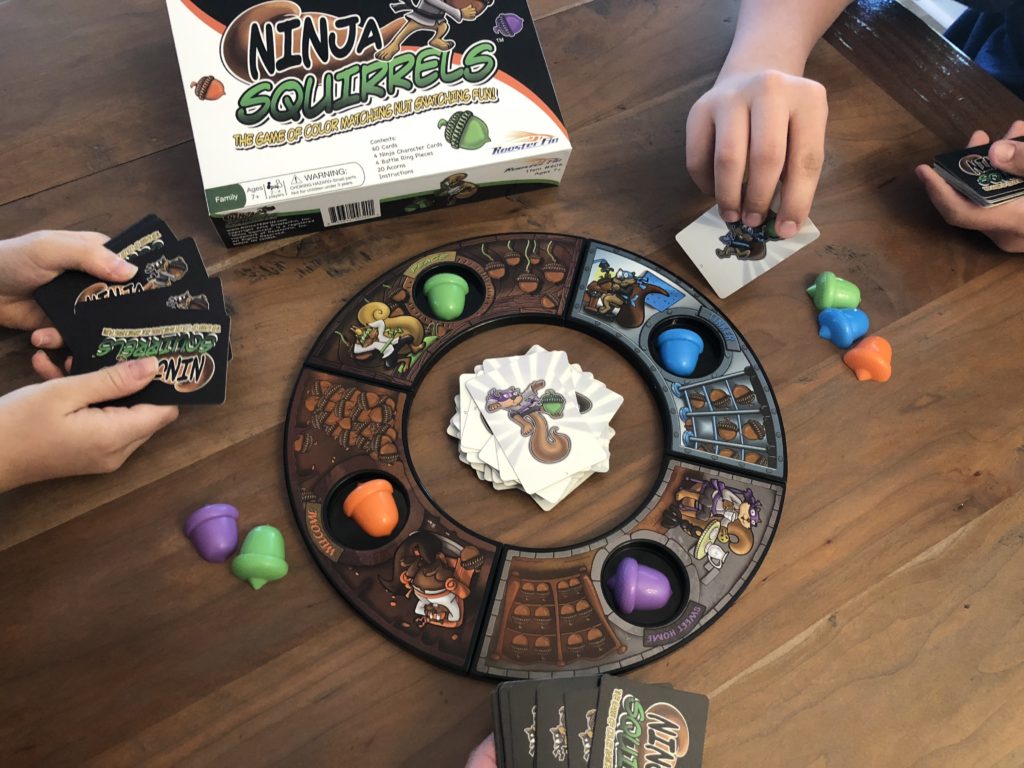 Monkeys Up!
It's time for Monkeys Up! In this game, your child will learn and improve upon their basic addition skills. They'll also learn to memorize the order of objects and keep track of them while completing other tasks. This simple game engaging strategic and critical thinking is so much fun for all ages 6+ that you'll go bananas!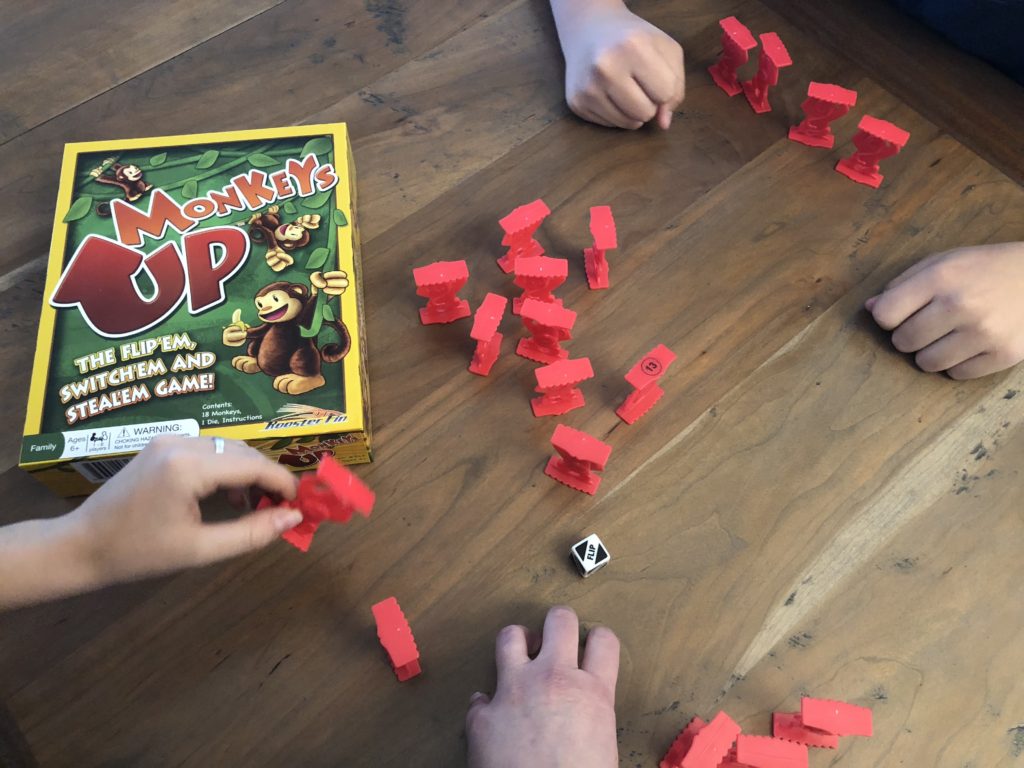 Rooster Race
Here we are at the starting line… of the Rooster Race! This game my teen laughed and said is "corny," is played by guessing if the next card's value will be greater or lesser than the previous card played. If a player guesses correctly, he or she will receive one cob of corn. However, if you guess wrong, you'll have to return one of your cobs. The player with the most at the end of the game wins! Full of strategy and engaging those critical thinking skills, along the lines of 21, Rooster Race is a sprint of family fun. The game teaches your child the skills of assumption and reasoning. Anyone who can count to 15 can cock-a-doodle-do it!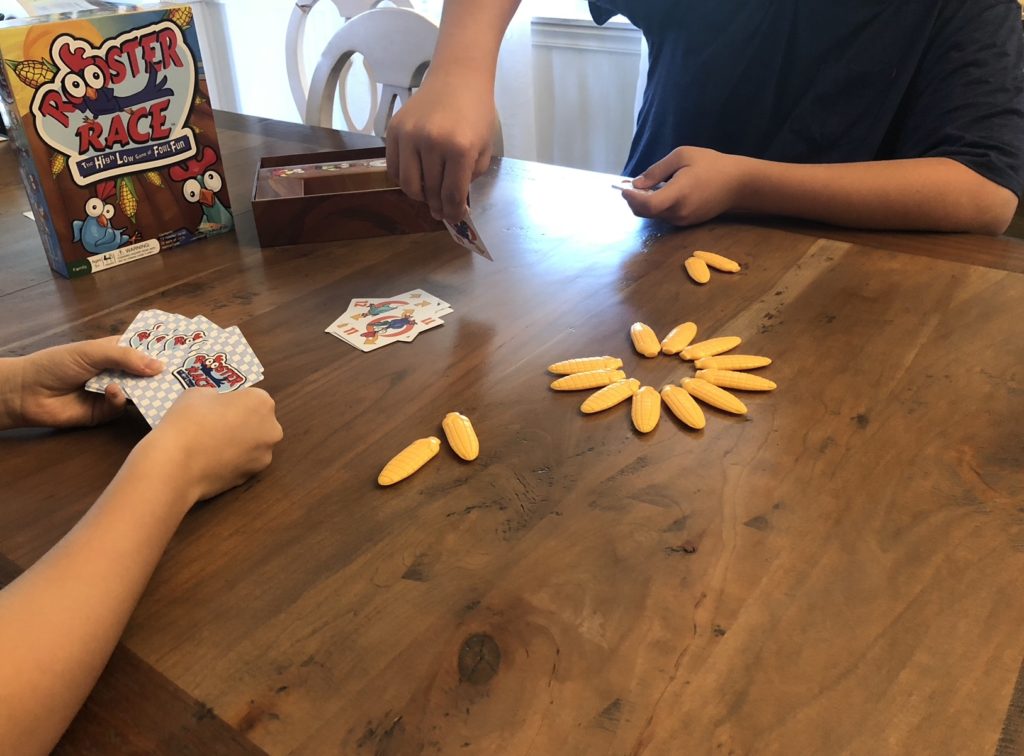 Hue Animation Studio
Our family loves to make stop motion animation, and this animation kit from HUE contains everything you need including an award-winning and simple to use camera plus a microphone, to create and share your own amazing animated or stop-motion movies. Your family and children will be learning and having fun while animating with LEGO, modelling clay, paper or toys. They can recreate scenes from their favorite movies like Minions, Moana and Star Wars in minutes or create their own. Play independently or with family for hours of fun. Recommended by teachers and LEGO education and used in schools throughout the world for homeschooling, after school clubs, maker spaces and in classroom STEAM activities. Includes direct access to Creatubbles – the safe global community for creators of all ages where you can share, discover and interact with your films. HUE Animation Studio has received numerous awards and featured in the Good Toy Guide.
99 or Bust
This fast, simple and addictive card game has been a staple around our family table for years. Keeping addition facts fresh and the game fast paced, 99 or Bust has become not only one of our favorites, but has become the favorite of those who have received it as a gift from us. Perfect for kids from 4-99, everyone will be laughing as you attempt to add your cards to 99 without going over. Be careful, the table can turn as you reverse direction. After playing '99,' things will never 'stay the same!'
Scrabble
Scrabble became my favorite game at a very young age with my mom and grandmothers. All the years around the board and the hours of endured patience they had for me while I searched the accompanying Scrabble dictionary has added to my lifelong love of words. I certainly know it has helped our 15-year old son's love of language and extraordinary ability to spell correctly, a skill much needed in a society relying more and more on spell check. Bring your coffee and your patience, and make sure you print out a 2-letter word cheat sheet.  I'm willing to bet playing a few games of Scrabble in a week is much more fun and educational than any spelling test, for all of the family, especially if you talk about word meanings and use them in sentences. Splurge on this deluxe edition for the storage and rotating base, and grab the family for some fun, learning, and priceless memories.
Holiday Educational Gifts for Girls:
The Faith & Lettering Guide & Journal
If you've spent any time on social media, you know that the hand-lettering craze is sweeping the social waves. At our recent women's Shine Retreat, our ladies were blessed by the Ellie Claire Publishing Group to check out the new #FaithandLettering books by graphic artist and author, Krystal Whitten. I love how this beautiful set simplifies the art of hand lettering and calligraphy with step-by-step visual guides and pages full of inspiration and practice space. You and your daughters will love "lettering for the Lord" together as you learn an artistic skill and meditate on God's word through beautiful handwriting. The inspirational guide is packed with instruction and space to create your own, and the journal will keep your thoughts and creations captive.
Calligraphy and Fine Line Pen Set
I've added this calligraphy and marker set to my own Christmas list to accompany my faith and lettering journal. These quick-dry markers and pens are the perfect starter kit for anyone wanting to embark on a hand lettering journey. And, the kit to keep them organized is so much fun. Drawing, calligraphy, and more, this 60-color marker pen set can do it all. It's perfect for drawing, illustrations, calligraphy, card making, stamping, color books, and anything else you might dream up. No matter your needs, these markers have got you covered!
Inspire Bible for Girls
To keep in the theme with the hand lettering and learning God's word, your girl (and you) will delight in this creative, journaling and coloring Bible from Tyndale. Designed for girls 8 and up, the #1–selling Inspire Bible is a beautiful single-column, wide-margin New Living Translation Bible for coloring and creative journaling that has become a treasured legacy Bible for many. With its turquoise, leather-like hard cover, It's sure to be a hit under the tree.
Holiday Educational Gifts for Boys:
Action Bible
If your boys love super heroes as much as mine love super heroes, why not introduce them to the real super heroes of the Bible in an action-packed, comic book format? A staple on our shelves and reading room, the award-winning and incredibly illustrated Action Bible will engage and excite your boys to read God's word in a fresh and fun new way.

Star Wars Mad Libs
Mad Libs were some of my favorite activities when I was a kid, and still are for getting the boys thinking about words in funny and fresh new ways. Using a Star Wars Mad Lib format is perfect for helping boys get a better grasp of the English language while they envision their favorite characters grasping light sabers. Your boys will be rolling adjectives and adverbs off their brains in fun while they roll on the ground in laughter with this fun and inexpensive educational gift.
Boost Lego Robotics Kit
My boys have been involved in LEGO robotics since they were 5 years old. Our older son is now on an internationally award-winning FIRST robotics team. I've coached FIRST Lego League Robotics for over 5 years. We sleep, eat, breathe LEGO and robotics in our home. This new LEGO robotics kit, simply designed for ages 7+, will spark creativity you can't even imagine. They'll be building, programming and learning all while having FUN! And, really, who doesn't love robots? Introduce your kids to the creative world of coding with one of the best educational STEM toys to foster their curiosities with this 847 piece entry-level set full of LEGO pieces that kids can build and rebuild into 5 cool multifunctional models. 
Buen Viaje! ~Jen