This is the first of 2 posts for Day #7 in our Travel is… series!
Anytime we have the opportunity to travel as a family, we are ready for a new adventure. As homeschoolers, we have even more flexibility to take "school" on the road and turn any family trip into a new learning experience. However, you don't have to be a homeschooling family to learn how to turn your family travel into the ultimate educational adventure!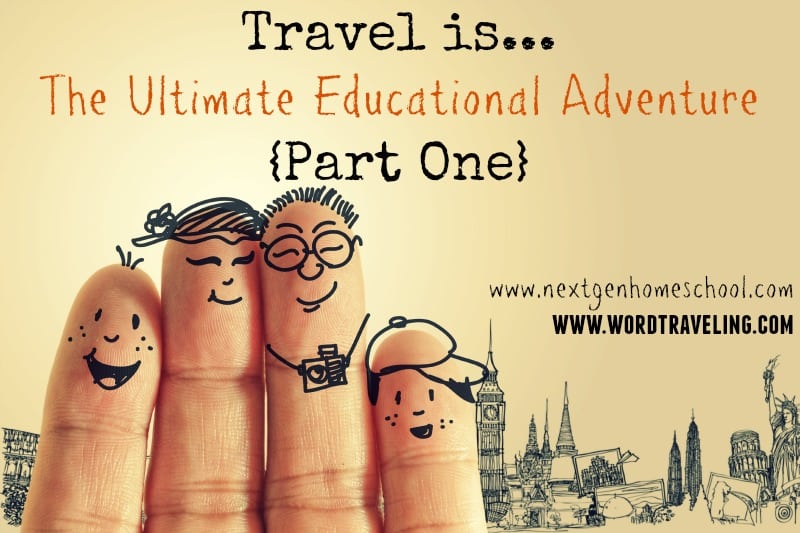 Of course, there are "obvious" educational trips such as visiting our nation's capitol — which we got to do last year when we extended a trip for a homeschooling conference into a week-long historical field trip. Don't wait until you have time and funds to plan a big educational expedition such as that.
You can turn any opportunity to travel into a rich educational experience.
For example, my husband travels a lot for work, and when possible, we tag along. Each of these little road trips includes some geography, history, nature study, and possibly new cultural experiences. When possible, we also plan short escapes for the purpose of outdoor fun and education.
No matter how much time you can set aside for family travel, you can still make it a learning adventure by taking a proactive approach to plan for those educational opportunities you don't want to miss.


Here's how I prepare to turn any trip into an educational adventure:
1) Research your location:
Everything you want to know about where you're heading is just a computer click away. You can find maps, attractions, event schedules, etc. before your trip and create a (tentative) action plan in advance. I say tentative because you'll want to be flexible for weather, crowds, nap times, etc. However, check the library as well and look for child-friendly resources such as books and videos about the place you'll be visiting to build excitement with your younger crew.
2) Think about how your children like to learn:
Although museums and traditional venues for "experiencing" a new location are helpful, don't stop there. Not every child will enjoy the visual learning experience of looking at things and reading descriptions. What hands-on experiences are available? Would a dramatic performance excite them? How about hiking or biking through the town and surrounding area? Or an educational restaurant hop to try different cuisine?
3) Make a budget:
Keeping family travel costs reasonable will give you freedom to take more educational excursions throughout the year. I always check the local chamber of commerce to see what's taking place in the area that is free: Festivals, town events and other sponsored activities can provide learning and entertainment for little to no expense. Hiking and nature observation is always free and very hands on. Think about seasonal experiences such as pressing flowers in the spring, collecting colorful leaves in the fall or identifying different animal tracks in the snow during the winter. Be creative and out-of-the-box: There's more to a town than costly tourist attractions!
4) Equip your children:
Learning in the field requires a few "tools" to help your children capture their educational experiences. A notebook, a camera, and art supplies (crayons & colored pencils) are a great start, and binoculars are very helpful when you plan to observe wildlife. If your children enjoy sketching, a drawing pad or blank journal (with white pages instead of lined paper) is a great way to record the adventure. Personally, I like to bring at least one folder with pockets to store all the "extras" we pick up while on the road (such as flyers, brochures, souvenir stickers, etc.).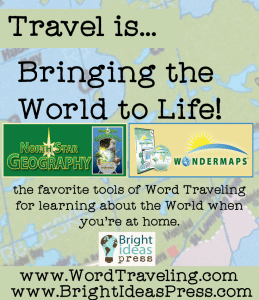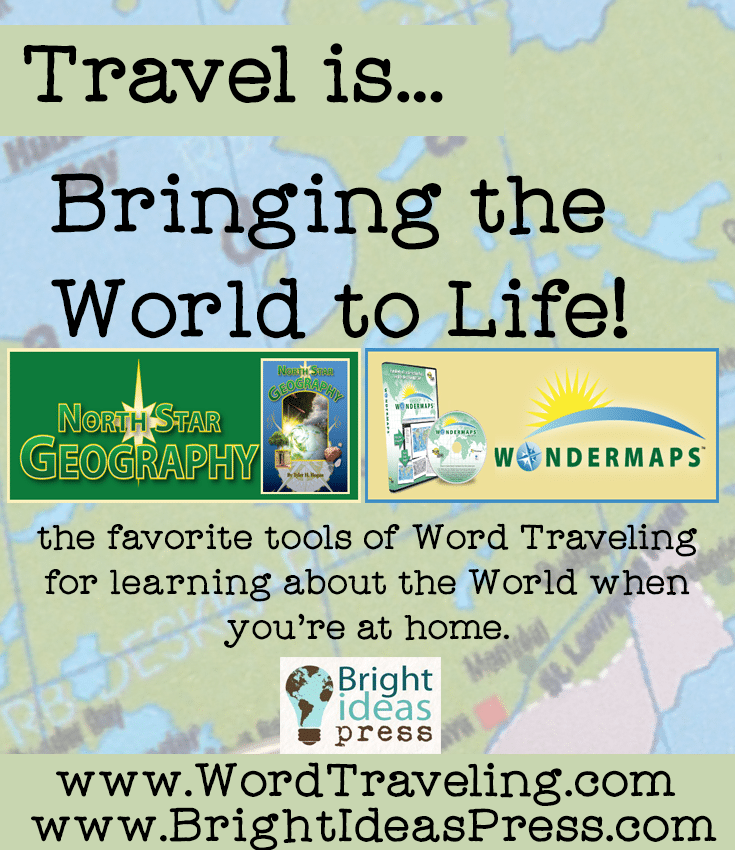 5) Bring some resources:
If you have readers in your family, checking out several books in advance to read on the road will help them stay engaged and answer many questions they might have along the way. Guide books are a must for your science-minded students who will want to identify new rocks, plants, trees, birds, etc. If you have an auditory learner, you can check out audio books for this purpose. And if you have a "collector" in your family, make sure he or she brings an extra bag for gathering memorabilia on the trip.
No matter what you do outside the home with your family, it's an opportunity to reinforce a lifestyle of learning for your children. Whenever you have the chance to venture outside your home and town, there is something new to learn and share.
Family travel doesn't have to be limited to a postcard-perfect vacation: It's about being "in the field" and experiencing the world firsthand instead of simply reading about it. I encourage you to take a second look at your next planned family trip and think about how you can turn it into the ultimate educational adventure!
Have you ever tried to incorporate educational experiences into your family travel? What other ways do you take learning outside the classroom walls and incorporate it into your family's lifestyle?
Please click the image below to see the other posts in this series and to enter our fabulous Travel Giveaway!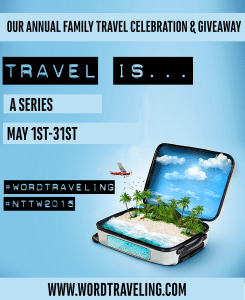 Renée Gotcher is a wife, writer, consultant & home-educating mother of three daughters. She has been married for 20 years to her best friend Kenny, whom she met while attending Oral Roberts University in the early 90s. A former journalist, Renée was homeschooled during her last two years of high school and started homeschooling in 2010. She is editor of NextGen Homeschool and blogs on personal topics at A New Chapter. Her outdoor-loving family lives in Castle Rock, Colorado, when they're not on the road having their next educational adventure!