This is Day #19 in our fabulous Travel is… series!
When I think about traveling somewhere, I don't just think about the fun I will have there. I also think about what I will take home with me — not souvenirs, but rather, what I will learn from the experience.
Travel is about getting out of your comfort zone and trying new things.  It's about learning by doing and seeing.  It's about exploring and developing a healthy sense of wonder.  That's why I've always thought that travel is good for the soul.
On my blog South to Southwest, I write about my life in SW Florida as the wife of a frequent business traveler, which includes lots of trips thanks to his hotel points and sky miles!  I've learned so much over the past couple of years through travel, and today I'm sharing with y'all a few that stand out.
London
My visit to London taught me to explore, to veer off the tourist path and away from the guidebooks for a minute.  On the first day, while walking to dinner, we spotted a (really, really, really) old cemetery, and I spent almost an hour wandering around taking photographs and reading the tombstones, most of which were more than a hundred years old.  Although I saw all of the regular "London" stuff and loved it, walking around that cemetery stuck with me the most.  And to think I might have missed it if I hadn't turned right on the walk to dinner!
Capri
Capri taught me to love photography.  There was so much beauty, I remember feeling like I needed to record everything as soon as I saw it — as if just my memory wasn't enough.  I had recently purchased my first DSLR camera, and during my day in Capri, I think I put to use every ounce of what I'd learned so far.  Every angle of the island, from the top of the cliffs looking down, to the boat ride we took around the base, to the gorgeous gardens we explored, provided another subject to photograph!
Denver
In Denver, I learned about whiskey.  (And if you think about it, that's something else that's good for the soul.)  My husband drove us to the distillery and surprised me with a tour just after he picked me up from the Denver airport.  We learned all about the process of distilling, the history of it, and all that goes in to the perfect bottle.  It was such a neat, up-close, personal tour, and I was fascinated!  But even more, I loved the hands-on learning process, which I never could have gotten from a video or a book.
Bora Bora
In Bora Bora I learned to unplug.  Or at least, I tried.  With no English-speaking tv channels, no internet, and no cell phone service for a week, I got a really good feel for the true meaning of "relaxing."  The days melted into the nights in a seamless fog of beach and pool and napping.  We snorkeled and drove up a mountain in an ATV.  We met the locals and drank out of coconuts.  It was such a surreal place, and I've never felt more "remote" in any of my travels before or since.  It wasn't easy, but I learned to just 'be' for awhile, and that was a very good thing.
The Grand Canyon
When we visited the Grand Canyon, I learned that sometimes the drive is the most fun part!  We wound through the desert and then the mountains, and then the flatlands of Arizona on our drive up from Phoenix. We stopped in Sedona and had a lunch with a breathtaking view.  On the way back we stopped at the house of some friends we rarely see, and caught up for hours.  The canyon was pretty neat — I've always wanted to see it — but we only stayed there about an hour.  On that trip, the drive is what really stuck with me.
Disney World
There's no place like Disney World to teach you about patience.  We went over New Years Eve in 2013, so it was total madness.  So many people!  We waited in so many lines and spent ungodly amounts of money on food and taxi cabs.  But it's still one of my favorite trips with my husband.  A lot of people thought it was strange that we went to Disney as a couple with no kids.  But really, it helped teach me to be patient and live in the moment.  We ended up getting engaged there (a big surprise to me!), and then spent so much time just hanging out in the lines together, talking and soaking in the excitement of all that was to come.  We ran around all four parks for five days, and we felt like kids again. It was exhausting, but also very good for the soul!
Please click the image below to see the other posts in this series.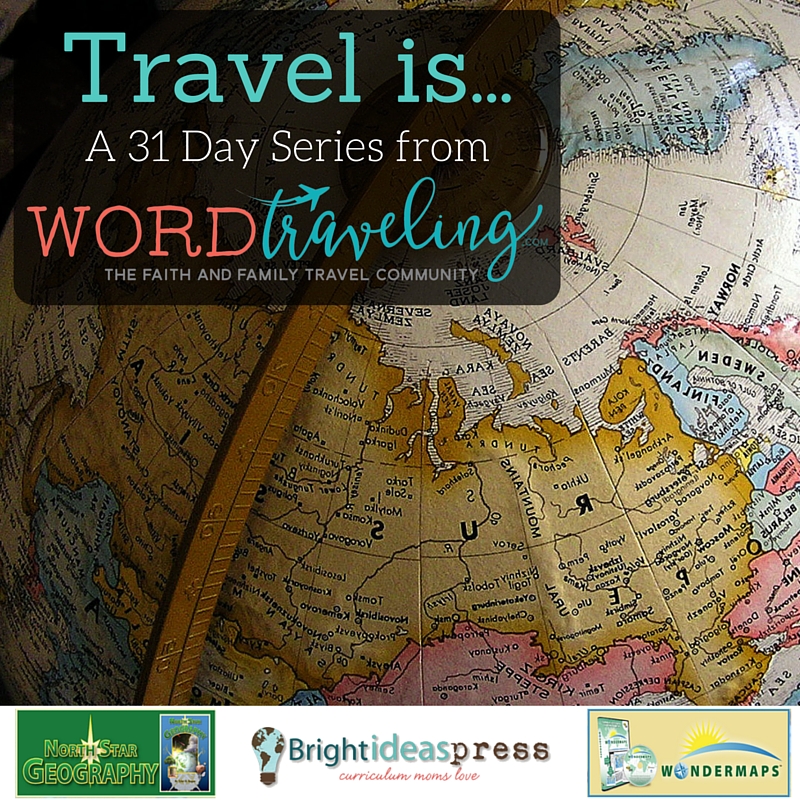 This is a guest post by Erin Smith who blogs at South to Southwest.