Let's face it. This world of digital technology is constantly changing, and we always need to be upgrading and improving the gear we use when it comes to photography and blogging. GoPro gear can be expensive, especially as an addition to the multitudes of other camera gear we've budgeted for and purchased at discount prices over the years.
In order to continue to bring you great content and support our family and homeschool, we occasionally accept collaborative post assignments with sponsors. This is a sponsored post, brought to you by KEH Camera, but all opinions are my own. Affiliate links are included in this post, for which I'll be slightly compensated if you click and make a purchase. But hey, you'll be getting a discount, too, so keep reading!
How to Buy Used Camera Gear at a Discount? That is the Question.
Deciding how and where to safely buy used camera gear is just a necessary part of life for a travel blogging family. We recently had a horror story with a Craigslist purchase and Ebay isn't the easiest. I've discovered a new way to help you get a discount on your used GoPro or other camera gear, or to sell what you've currently got so you can upgrade, too. Keep reading for the deal. 

Upgrading Our GoPro
A couple years ago, we had a Hero 3 GoPro discount code and were able to buy our first sport camera, harnesses and all the gear. As a family, including my then ten year old son, we used this GoPro for documenting our travels, everyday adventures, and even his Speedcubing. Fast forward just two years, this GoPro is outdated for a guy who's super into technology. We found an awesome deal on a new GoPro Hero 5, so we jumped on the opportunity and he tapped into his savings account.
Daddy wore the harness and shot this waverunner video with Barefoot Billy's in Key West on our GoPro Hero 3. He's a riot.

How Do I Sell a Used GoPro?
That leaves us with a decision at hand: what do we do with our old GoPro? The options are to  sell it, trade it in, or pass it down to my younger son. My teenage son and I began researching ways to sell the old GoPro and accessories in order to help offset the cost of the new one. We checked into all the usual ways to sell gear:  Craigslist, Facebook Marketplace, Ebay. Through our process of looking to sell the used GoPro, we discovered another way to buy and sell used camera gear online: KEH.com.
Simple Process
The process of selling any used camera gear on KEH was super simple. We hopped on the site and entered the name of the item into the search bar. It pulled up the gear we were looking to sell, with a price estimate next to it.  We clicked the button that says "sell to KEH." Next, we selected the multiple choice circle matching our accessory pack and the quality of grading level, from "excellent plus" to "bargain." We selected "like new minus."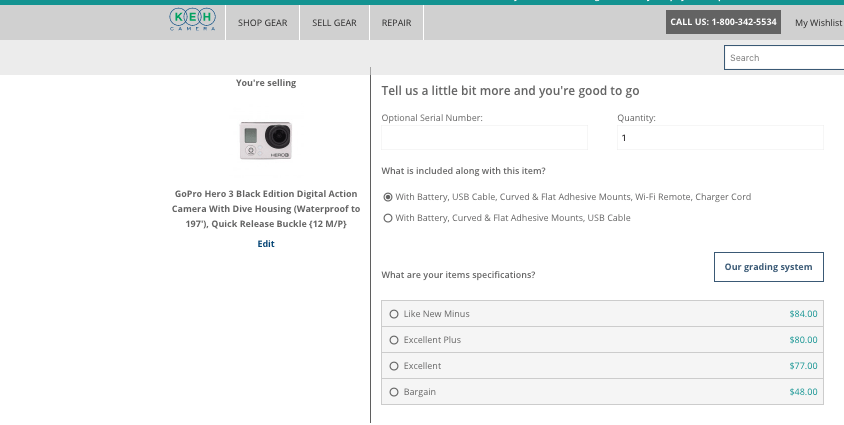 The process was so easy, even entering a serial number was optional. I didn't even have to create an account, have a "seller rating" or become a member of "the click" to finish the process. No photos were necessary, and I found out that if we send the camera back but decide not to sell, it will be returned to us at no charge, with a gentle cleaning. After I completed the quote, the system automatically emailed me a postage-paid Fedex shipping label to send the GoPro off for sale! Couldn't be easier.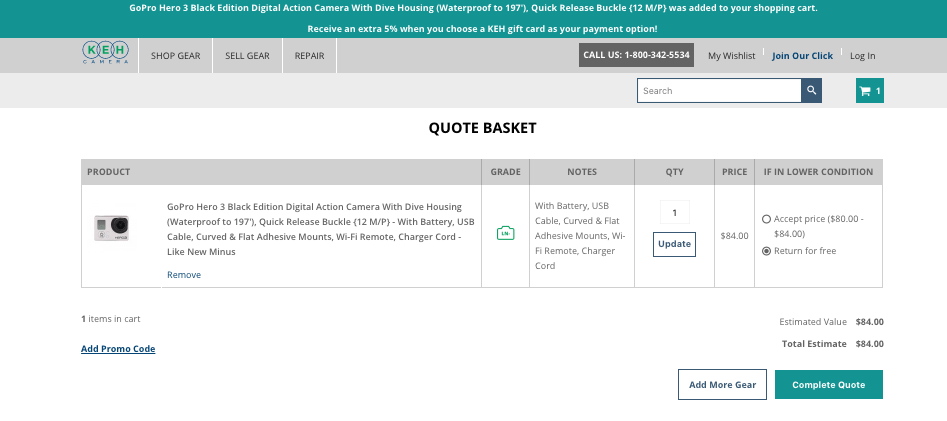 When we saw the GoPro's value compared to what we paid for it and weighed the continued value it could add as a family, we opted to keep the GoPro Hero 3 and give it to our younger son.
If you are considering buying or selling used camera gear online, I have an EXCLUSIVE DEAL for you!
Here are the details:
Go to KEH.com and complete the simple process for buying or selling.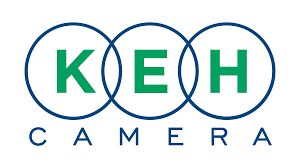 Also!
With all SELL quotes, KEH will offer an additional 5% bonus every day if you choose KEH Cash/Gift Card as your payment method. Therefore, your are eligible to receive an extra 15% for your gear on the list through this offering.
THE DISCOUNT CODE:
Use the code: LUCKY7
The details: This code offers you 7% off your order through the end of August and is good on all of KEH's used products. Expires 8/30/17
AWESOME! 
Do you have a GoPro?