I'm grateful to Best Buy and Google for the early Christmas gift and the opportunity to review this watch for you. All opinions are unbiased. Go ahead, keep reading.
The boys asked how come I gave a Christmas gift to myself. When I had the opportunity to review this gorgeous, fashion-forward, rose gold-tone smart watch from Best Buy, Michael Kors and Google Wear, I jumped at the chance. And, I even opened my gift early. Is it the right gift for your busy mom? Keep reading.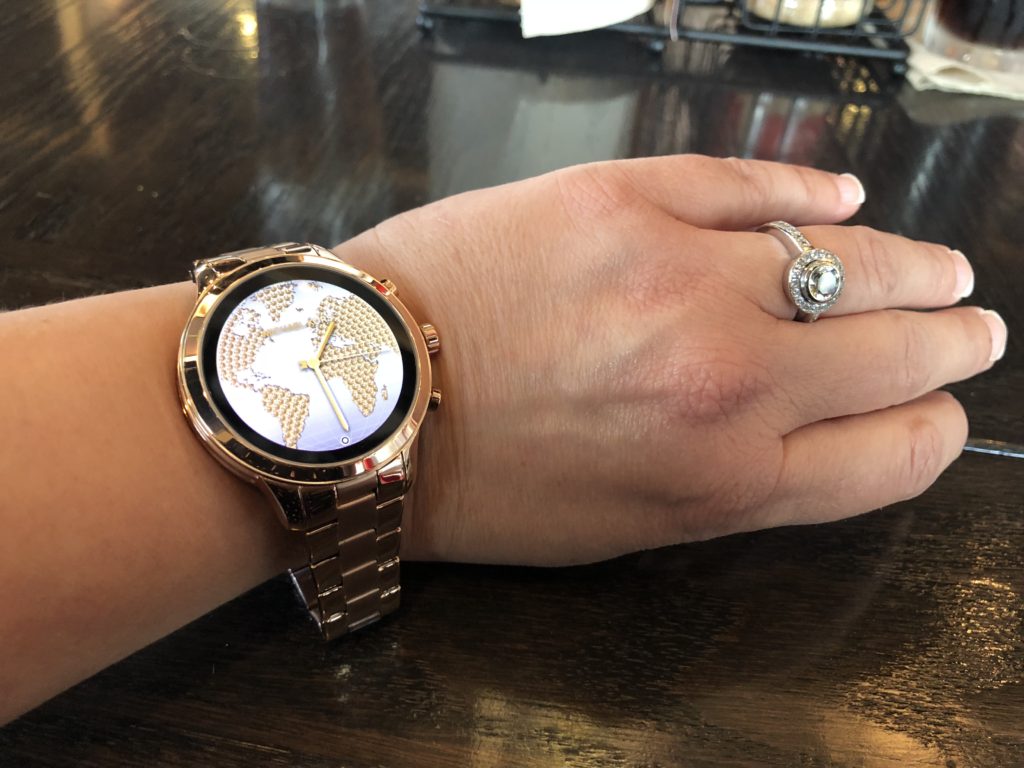 Smart Watch for Smart Moms
I've always been a fan of new tech, specifically Apple. I've used an Apple computer since way before iPods, let alone iPhones, were even a thought. We're early Apple adopters, and for the first year of its release in 2015, my guys all got me the Apple watch. I remember thinking when we watched the preview of the release how the old James Bond movies were literally coming to life with this tech. I could hardly contain the excitement to put a smart watch on my wrist.
Not Your Apple Watch
However, the one piece of tech donning a once-bitten Macintosh logo I've not been thrilled with is my Apple Watch. The square face doesn't appeal much to my style, and neither do the sport style bands. I wanted something more like a piece of jewelry, and less like a rubber band.
Stunning Design, Simple Use
When I saw the sleek, fashionable and fabulous rose gold-tone Wear OS watch by Google + Michael Kors, I was thrilled. And, it even matched the color of my iPhone (almost.)
After downloading the Google Wear app for my iPhone and wearing the watch for a couple days, here are my thoughts on the new Wear OS Watch.
I love the style. It's sleek, stylish, and super easy from the app to change the face of the watch to match an outfit, your business meeting, or your mood. You can even load your social feed to show your most recent pics right on your wrist.
Integrating Michael Kors Wear OS Watch with Apple iPhone
The Wear OS app is pretty simple to navigate on an iPhone. It will alert you on the watch face to a message and reminders of your Google calendar appointments. However, it doesn't perfectly integrate with an Apple device. After all, it's Google. The Maps app on my phone doesn't alert with a vibrate to my wrist when I need to turn like the Apple maps did while driving, which is one of my favorite features of my Apple watch.
It's a little heavier than I'd like. But I guess that's to be expected with the solid stainless steel band, 42 mm round face and attractive links. At the same time, it also makes a heavier fashion statement.
Punctual and Poised
You're sure to stay punctual and poised with this Michael Kors smart watch.
While mine is rose gold-tone, it's also available in a gold-tone finish that embodies timeless sophistication. Its smartphone connectivity lets you take selfies, ring your phone ( my favorite feature of any smart watch,) access music and keep track of personal goals.
With a Michael Kors Google OS Wear watch, you'll get awesome proactive help from the Google Assistant with alerts even before you ask. From viewing upcoming flight info to dinner reservations, your Google Assistant will let you know, right on your wrist. I love that I was getting Facebook Messenger notifications and didn't have to be checking my phone for an important alert I was awaiting.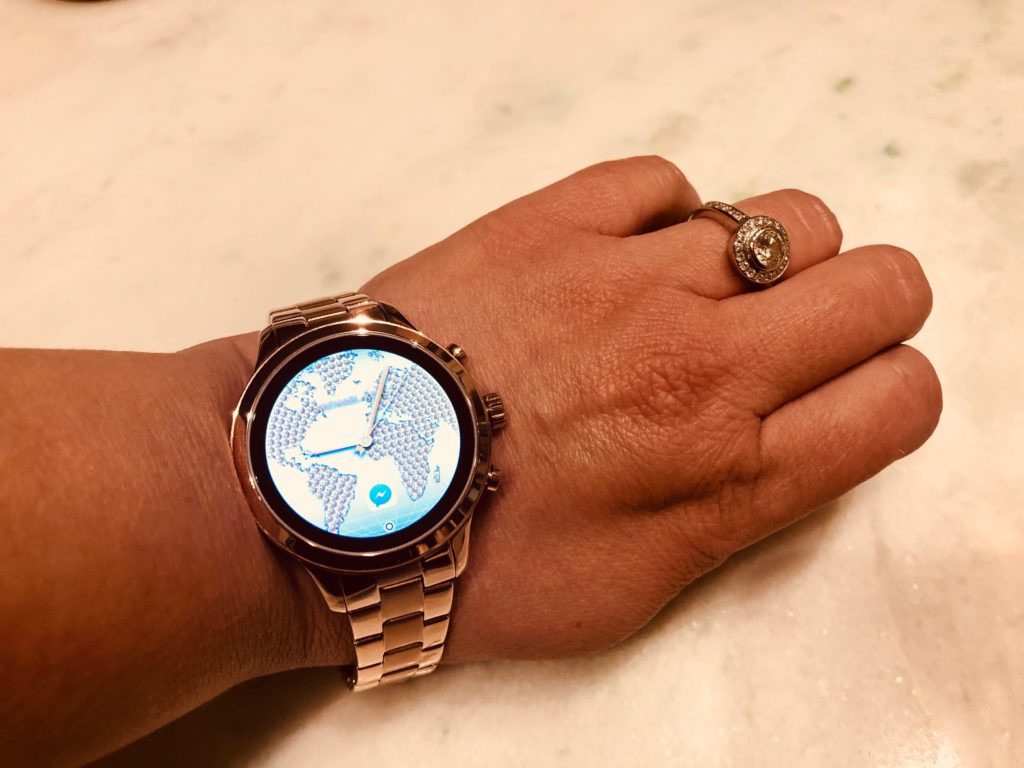 Google Fit Activity Tracker Made Simple on Your Wrist
The Smarter Health Coaching from Google Fit's new activity trackers—Heart Points and Move Minutes—which are easy to set up and can motivate you towards a healthier life, is something we can all use. With coaching and activity tracking based on guidelines from the American Heart Association & World Health Organization, these evidence-based metrics measure your activity intensity, not just movement. Smarter health coaching makes your fitness goals more achievable by motivating you to stay active throughout your day, everyday.
Maximize Your Time

Maximizes Your Time: Get more done and maximize your time with more glanceable, easy to manage notifications, with smart replies to respond quickly on the go. Awesome feature.
iPhone/iOS and Android Users
Compatible with both iPhone/iOS and Android, the new Wear OS by Google and Michale Kors is fashion meets function: fresh, eye-catching design is perfect for transitioning from a workout to a night out with ease. Plus, you'll have quick access to Google Pay—so you can pay with a wave at almost anyplace that accepts credit cards.
So, go ahead, get mom a smart watch for Christmas. She won't be asking you next time, "where's my cell phone?" She'll be asking her Google Assistant. Now… if I can just remember where I left my watch.
Buen Viaje! ~Jen