Recently, I was given the honor and privilege of traveling to the Outer Banks in North Carolina, to spend a weekend away with my husband and our youngest daughter.  We enjoyed several different activities over that weekend, but one of the most enjoyable includes the two hours we spent with Panda (our Hummer driver) and Murdock (her son) of Wild Horse Adventure Tours , scouring the beach for wild horses.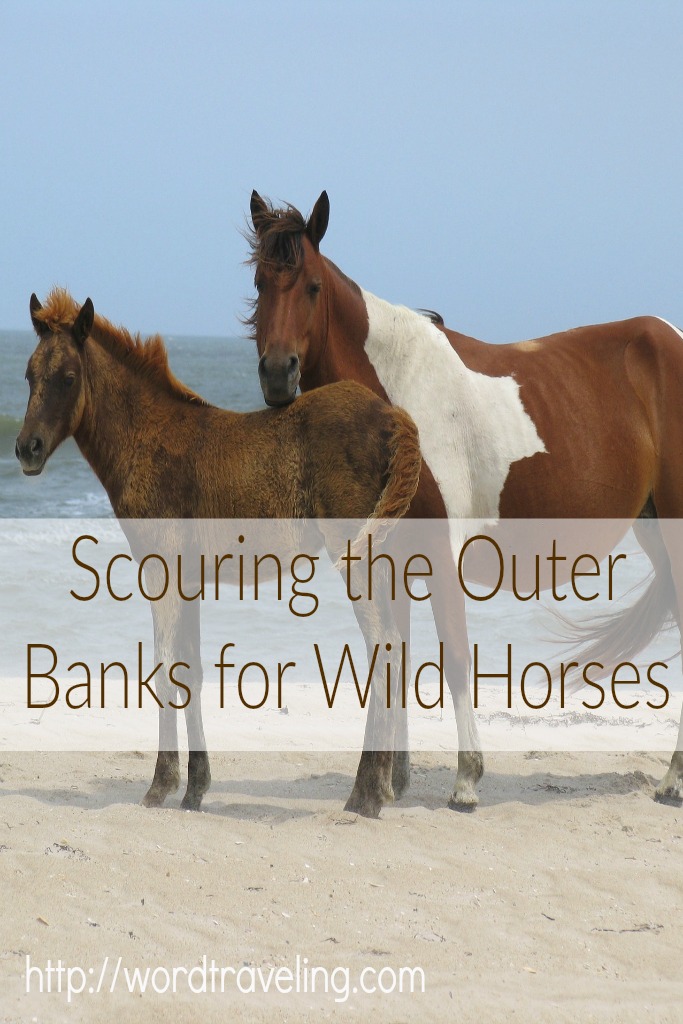 Scouring the Outer Banks for Wild Horses
Armed with sweatshirts (in case it got cold on the beach…we were there in November, after all!) and a bag of snack items, we arrived for the horse tour about half an hour before our tour began, so we could check in, sign waivers, get the car seat strapped into the hummer, etc.
The tour was given while riding in a customized hummer, holding approximately 12 guests plus the driver and her son. We could feel the breeze and smell the salty air as we drove along towards the beach. Eventually we came to the section of Highway 12 that is along the shoreline. We were told it is the only way to get north from the next two towns, which were situated right on the beach. We drove alongside the shore for quite some time before we went offroad to look for horses.
As she drove, Panda talked to us about the area. We learned that cypress trees grew on the beach at one time. However, the salt water seeped into their roots and the trees died. All that are left now are their stumps, which were previously under the sand on which we drove. However, since Hurricane Joaquin's landfall about a month before our visit, they are now exposed for all to see, and to dodge as they drive along this section of beach. Apparently, the salt water is also what now preserves the stumps, which are basically petrified, according to Panda, our driver and tour guide.
Once we drove back into the dunes of the beach we were able to see many residences, various horse tracks, and got a brief history of a few folks in the area. One such resident offers tow services to the drivers along Highway 12, and Panda says he keeps quite busy daily getting folks unstuck. We were also told that the horses, when they choose, will walk right up under the beach houses to seek shelter. It is also required to keep a distance of 50 feet from the horses at all times, or persons can be fined.
The dunes area of this section of beach was quite tranquil. There are no paved roads, they are all sand, so any drivers really do need to have a vehicle equipped with 4 wheel drive. We enjoyed views of dunes, various trees where our tour guide said the horses will go to seek shelter from storms, and various tracks from horses, squirrels, and even a fox.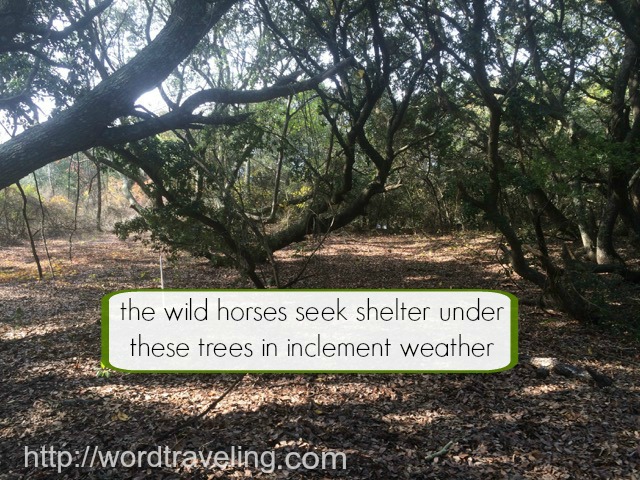 Mail delivery is available, though it's apparently delivered to a central location much like in an apartment complex. This area is remote, so anyone living there isn't just a quick driver over to your local grocery store. It takes a bit of planning to stock up, I'm guessing!
We finally did get a good look at a herd of wild horses along the shoreline of the Atlantic. As expected, they were beautiful. We snapped a few pics and were even allowed to get out and move closer to them as long as we kept our required distance. I am definitely interested in going back to tour the beach again sometime, and get another rare look at the wild horses of North Carolina.
Our 5-year-old daughter loved the trip just as much as we did. She enjoyed putting her toes in the sand, gazing at the ocean and the gorgeous horses, and eating the snacks that we brought along in case of hunger. But I believe her most favorite part was on our trip back to Wild Horse Adventure Tours headquarters, when we were overtaken by a rain storm. Panda, our tour guide and driver, was prepared. She quickly handed out ponchos to those who desired one. I can't say that mine did much to keep me dry in the downpour, but that did not detract from the adventure. I enjoyed watching my daughter smile and laugh at all of us getting soaked, the upbeat mood of the group, and the way our tour guide continued talking and pointing out interesting things even throughout our drive through the rainstorm.
If you're looking for an amazing adventure and wonderfully memorable time with your family, I highly recommend scouring the beach for wild horses with Wild Horse Adventure Tours in Duck, North Carolina. Their services just cannot be beat!
**My family and I received this tour for free. However, all thoughts and opinions shared here are my own and I would recommend taking this tour even if we had paid full price for it ourselves!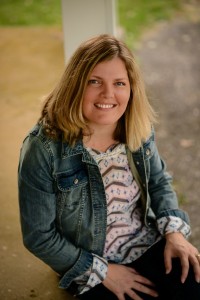 Wendy is a preschool teacher turned homeschool mama when her eldest daughter began to struggle with reading. Taking this homeschool journey was not a part of 'the plan' but has been rife with unexpected twists and turns, difficult days, blessings, and celebration. Wendy desires to encourage women to live life with passion and purpose no matter the circumstance. Be sure to connect with Wendy at Purpose Living Wife as well as through social media.