The writings of the Apostle Paul, whose life was radically changed by Christianity, helped give wings to the spread of Christianity around the globe. In fact, In Acts 17:6, it is quoted as saying he's one of the men who "turned the world upside down!" The man who taught us through his famous words in Corinthians, "love is patient and kind…" will be brought to life in a whole new way this spring, on the big screen. Paul went from "being a thug, to becoming one of the most important people in religious history," says David Zelon, producer, "and it intrigued me."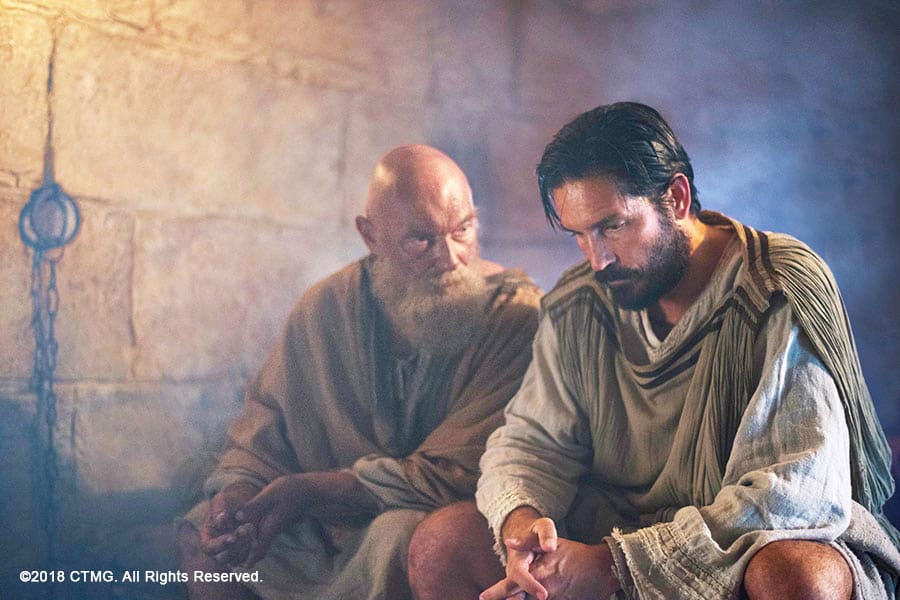 My life changing trip to Corinth, Greece enriched my faith through a toes in the sand tour experience. I walked where Paul walked. I have a feeling the historically accurate new film, releasing this March 23, Paul, Apostle of Christ, will intensify your faith, too.
The Visually-Stunning New Film about the Apostle Paul
In PAUL, APOSTLE OF CHRIST, Luke risks his life to visit Paul, who is held captive in a Roman prison under Nero's rule.  Nero is determined to rid Rome of Christians, and does not flinch from executing them in the most gruesome ways possible. Together, Luke and Paul struggle against a determined emperor and the frailties of the human spirit in order to live out the Gospel of Jesus Christ and spread their message to the world.
Listen to Paul's letters and see more videos here.
Paul has survived so much—floggings, shipwreck, starvation, stoning, hunger and thirst, cold and exposure—yet as he waits for his appointment with death, his struggle is internal. He's haunted by the shadows of his past misdeeds. Alone in the dark, he wonders if he has been forgotten . . . and if he has the strength to finish well.
The visually-stunning film, starring Jim Caviezel, Olivier Martinez and James Faulkner, illustrates how, despite persecution and peril, the two apostles shared Jesus' message of love, redemption and forgiveness with a small community of believers who in turn, took it to the whole world.
See the heart of the story behind the film here:
Scripture First
"We always start with scripture, first and foremost," proclaims director Andrew Hyatt, who went to great lengths to maintain biblical accuracy.  Using scripture as the only reference, he recreated the story of Paul for the big screen. You'll witness Paul's close relationship with Luke, whom at the end of Paul's life, at his own peril, traveled in and out of the prison carrying Paul's writings to the community of believers.
See more behind the scenes videos of the making of the film here: http://www.paulmovie.com/site/videosphotos
Paul's Messages Still Relevant
Today, what we'll witness about the life of Paul is as relevant as ever. We are still surrounded by evil, which can strike suddenly and without cause. Most importantly, we can all learn from Paul and Luke: Love is the only answer. "Where sin abounds, grace abounds more." Witness for yourself this life changing message on the big screen.
The MPAA has rated the film PG-13 for some violent content and disturbing images
Running time is 1:47 min
In Theaters Nationwide Week Before Easter Friday, March 23, 2018.
Get your tickets here. https://tickets.paulmovie.com/
Disclosure (in accordance with the FTC's 16 CFR, Part 255:  "Guides Concerning the Use of Endorsements and Testimonials in Advertising"): Many thanks to Propeller Consulting, LLC, Collide Media Group and Columbia TriStar Marketing Group, Inc. for providing tickets to see this movie on its release in exchange for this promotional post.  Opinions are 100% my own and NOT influenced by monetary compensation.