Living in Florida presents a family with a plethora of choices in activities and destinations. Tampa is a great choice among the best things to do in Florida with a family.
For our homeschooling family, fun, adventure and learning are always high on the list when searching for the best Florida vacation spots.
Without fear of road trips, and a daddy who travels throughout the state for business, we are often blessed with the chance to get out as a family and explore. Only a four hour drive, Tampa has certainly become one of our favorite "staycation" spots in the Sunshine State. While we could talk about any number of the beautiful Tampa parks, fabulous art museums, or many educational activities, here are our highlights from last month's Tampa attractions.
Fun things to do in Tampa, Florida
Hands down. I mean hands up! Or as we say, "Brazos par arriba!"  Our favorite fun thing to do in Tampa is Busch Gardens. This fantastic and affordable theme park hits all the bases in our book. Its name describes the lovely grounds. This isn't just an amusement park- the gardens are incredible. As a gardening family, we enjoyed all of the native Florida foliage and exotic species. The park is full of wildlife species and certainly poses more entertainment than a day at the zoo! Taking the old fashioned steam train ride through the Serengeti Plain was the perfect antidote for tired feet and at the same time gave us prime viewing of incredible animals including rhinos, giraffes and gazelles. To get even a little more close up, they offer some behind the scenes adventures. We'll have to check those out next time.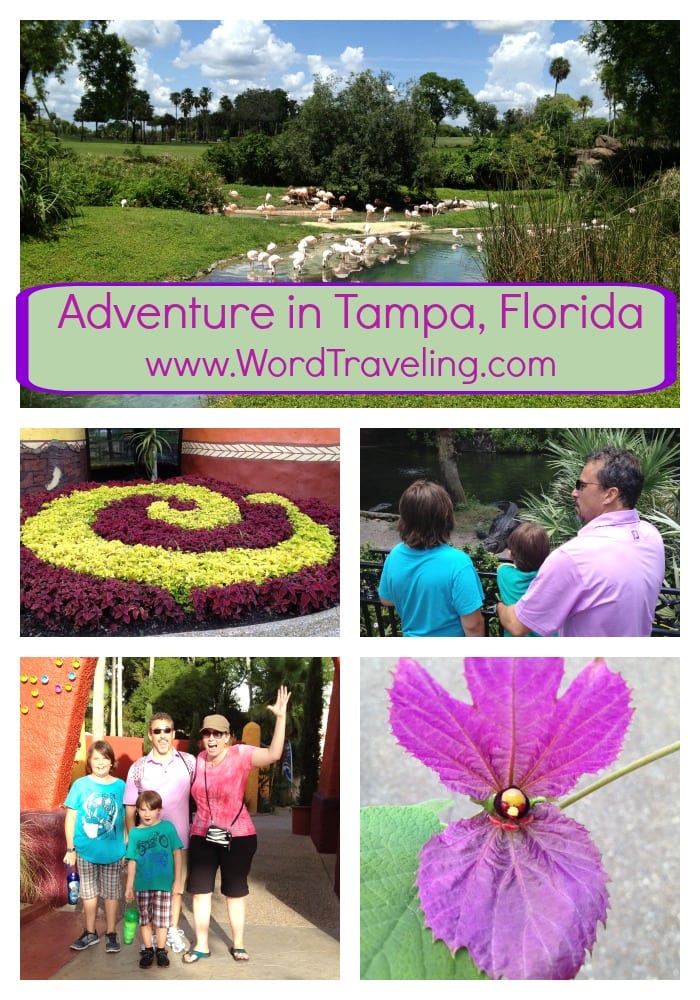 Our favorite part of enjoying a family day at Busch Gardens in Tampa is the fact that our six year old has lots of choices in exciting rides available to his 48″ height. We are hands-up roller coaster junkies in our family. The faster, the better! Busch Gardens is known for some of the best coasters on the East Coast, and their newest and longest roller coaster, The Cheetah Hunt, was incredible! Best part- it's height requirement was the low 48″ so our whole family was able to ride! The three slingshot launches didn't phase our youngest, and after Cheetah, it was off to Scorpion. That signature 360* loop reminded me of my childhood and the time I actually rode the Scorpion with my dad.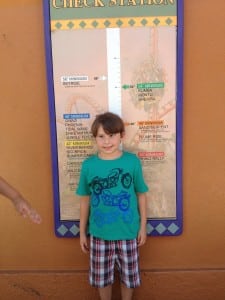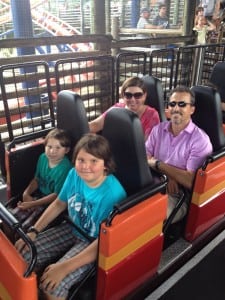 After the heat and sun have worn you down, never fear- just pack your bathing suits or your own big black garbage bags and use them for ponchos and go cool down by getting soaked on the many water rides like the old-fashioned log flume at Stanley Falls or the Congo River Rapids. I don't think we've ever laughed so hard together! And last I checked, laughter is the best medicine for good clean family fun! All in all, Busch Gardens will always be the one of the best things to do in Tampa.
Five tips if you go to Busch Gardens, Tampa :
1. Get your tickets online and save the lines.
2. Florida resident? The annual pass is totally worth it. Bite the bullet and ride as many rides as you can in a year! The memories are priceless and the price is fantastic!
3. Go early. It's not as hot, and in Florida, afternoons mean rain. Remember to pack those garbage bags for ponchos and you'll save about $50 for a family of four if you want to stay (mostly) dry.
4. Buy one of the refillable drinks and share for the day.
5. Snap lots of photos. You'll be taking your grandkids there someday.
Another Fantastic thing to do in Tampa
The MOSI. That's Museum of Science and Industry. No homeschool outing is complete without a day of hands-on education, and the MOSI is sure to impress! For a Floridian family, one overnight in Tampa can mean two fabulous days of adventure and learning in the Tampa Bay area. I highly recommend adding the MOSI to your stop for incredible adventures in learning.
The MOSI is packed with hands-on and larger than life learning including a planetarium show, an IMAX Dome theatre with incredible documentary films, and our favorite, the Kids in Charge section with tons of brain games and interactive learning exhibits. Our youngest was fascinated with the robotics exhibit in the Idea zone, and our oldest was actually there to help him along.
The MOSI is constantly fresh with rotating exhibits and we were fortunate enough to catch the 3D printing exhibit, Printing the Future. We used the doodle pens with their staff and wrote our names in tangible plastic- as a bonus souvenir.
I loved exploring the art in the butterfly gardens outside and watching the boys learn while laughing. We were rained out this trip, so our next trip to Tampa is going to include an adventure high above the dome on their new Sky Trail ropes course, complete with a zip line!  Like even more daring activities? Inside you can ride a unicycle across a tightrope wire! Yes, seriously!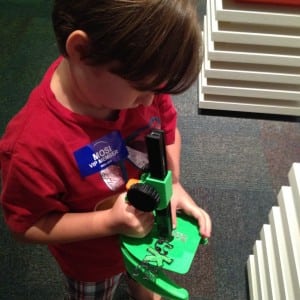 If you go to the MOSI in Tampa, Florida
1. Plan to spend a full day. I definitely recommend an annual membership. In fact, one membership can grant you access to hundreds of science centers across the country.
2. Closed-toed shoes are a must for the Sky Trail course.
3. Check the calendar for special events.
4. Plan your day based around the IMAX movie times.
5. Don't miss a Planetarium show, but get your free ticket early.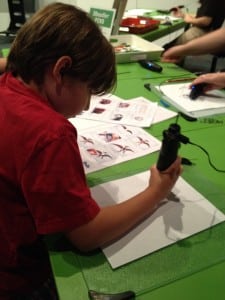 Whatever attraction in Tampa you and your family decide to experience, remember to snap those photographs! Your memories are priceless!
Bon Voyage~
Jen