After seeing the 2014 film Unbroken, directed and produced by Academy Award winner Angelina Jolie, I wanted to know more about the life, and especially the faith, of Louis Zamperini. When the filmmakers behind the new movie, Unbroken: Path to Redemption, asked me to review the film with my family and share our thoughts with you, I jumped (or rather, ran) to the opportunity.
"Seldom does a single life take two films to tell, but that is Louie Zamperini's remarkable true story," said Producer Matt Baer, who also produced Angelina Jolie's UNBROKEN. "The original film shares the first half of his story with incredible detail, and viewers can now continue the extraordinary journey into his post-war struggles and redemption in the brand new film.
A Story of Redemption
For a man to be a national hero and Olympic medalist and then to survive the disaster, being lost at sea, torture, and horror that he did is as close to any Biblical account of a man being chosen, humbled and saved by God as any I have heard or read. The torture he endured even reminded me of Christ's horrific beatings before He went to the cross.
Prodigal stories are some of my favorite. This film is not only an incredible depiction of redemption and forgiveness with God, but within our human relationships, the ones which matter most here on Earth. The unique love story between Louie and Cynthia is heartwarming, and true! Produced in part by  Louis Zamperini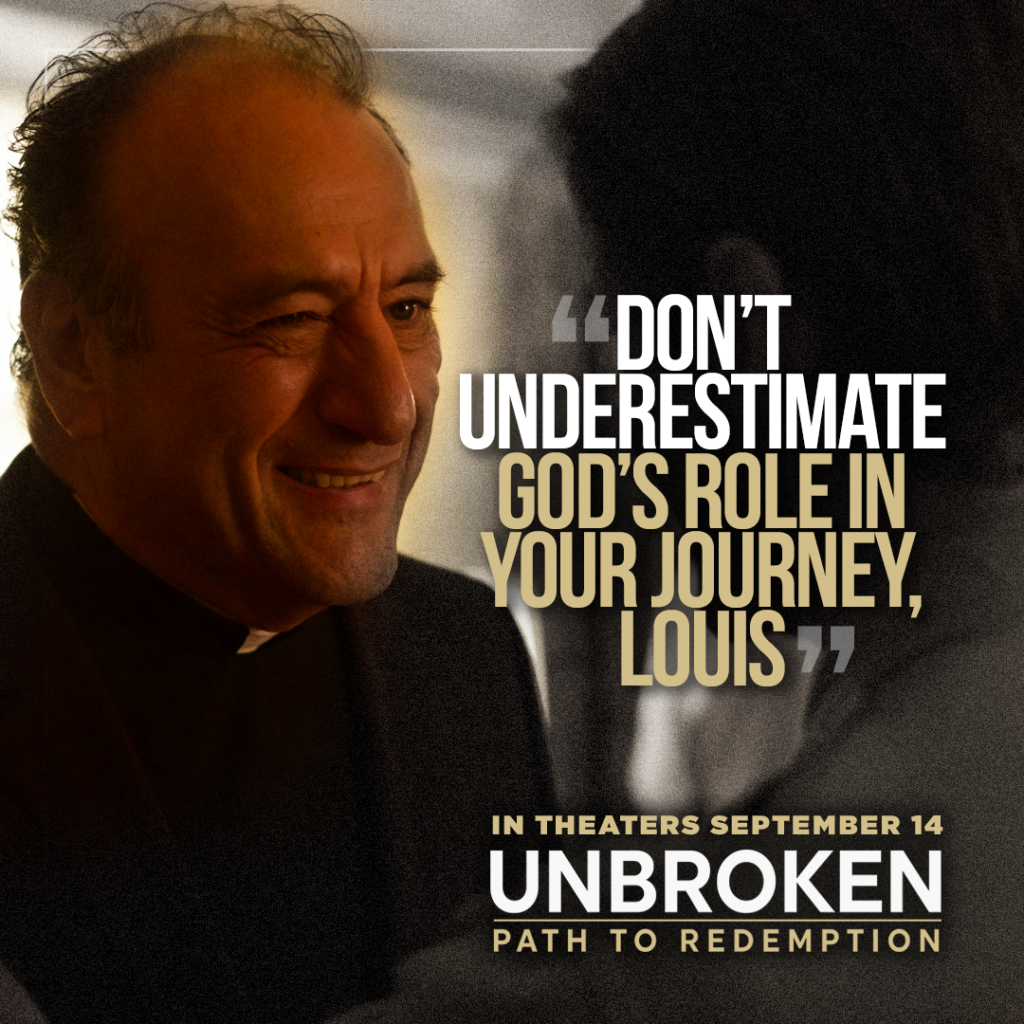 A Story of Grace
It was awesome to see Will Graham, the late Billy Graham's grandson, playing the part of his grandfather leading tent revivals in 1949 California.
"I've never tried to be my father or my grandfather. I answered my own call to evangelism," Will Graham, vice president of Billy Graham Evangelistic Association, said. "Now it's an honor to portray my grandfather in a moment that changed Louie and began a friendship into old age." 
Do yourselves a favor, head to the theaters this weekend to see the film. And, head to my Instagram page where you can win two tickets via Fandango to see the film.
My husband, Louie, an amazing man of God and hospitality executive, was profoundly moved and felt a deep connection to the film. Maybe it's the name?  😉
A Story of Perseverance
I asked him what I should share with you, my readers, and he responded without hesitation,  "This was one of my favorite films about trusting God to get through any and all difficult situations. It's a film about perseverance and forgiveness. It was captivating, motivating and inspiring."
"Exploring the extraordinary post-war journey of Olympian and WWII POW Louis Zamperini, UNBROKEN: PATH TO REDEMPTION is a lyrical, profoundly moving film, a story told with integrity, honesty and compelling beauty," New York Times best selling author of the book which inspired the films, Laura Hillenbrand proclaimed.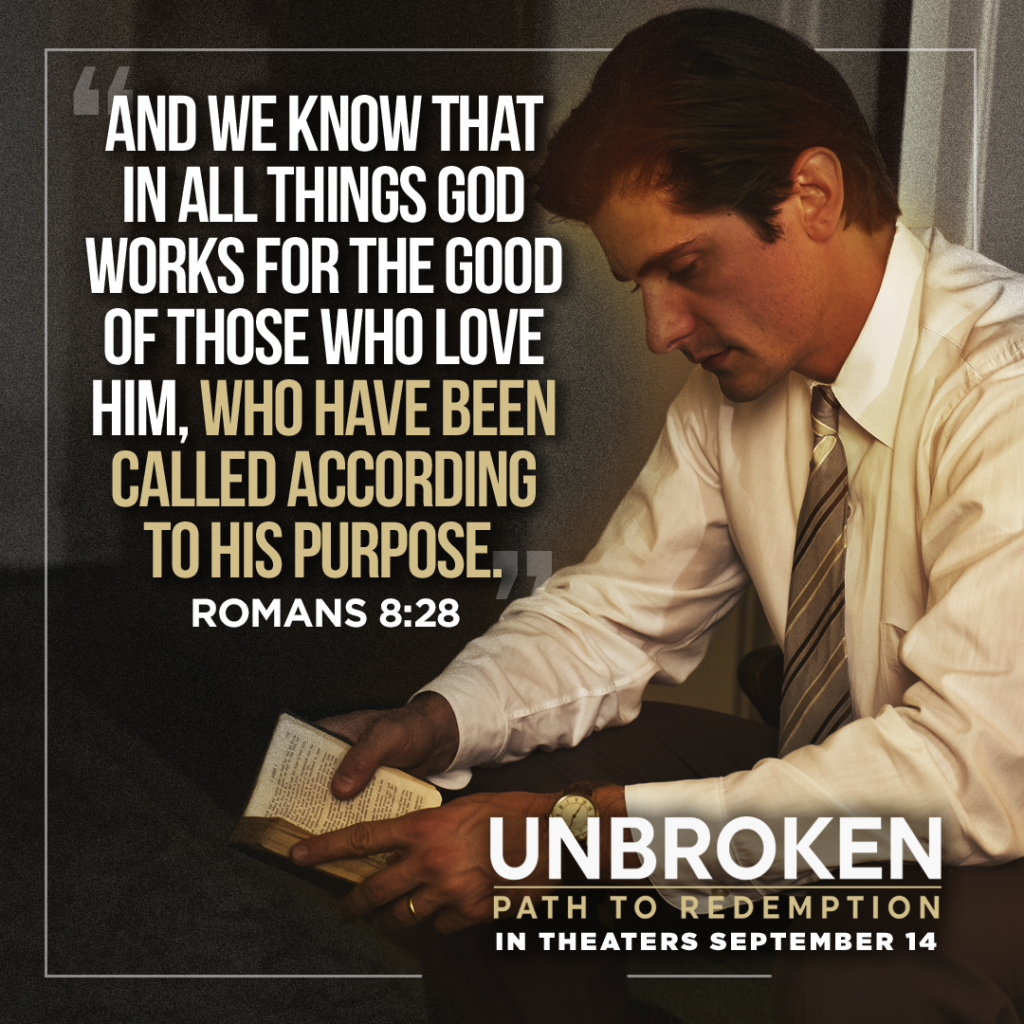 My teen son says, "the movie was very inspiring and I recommend it to anyone who saw the first Unbroken film. If you didn't see the first film, it's still a fantastic movie and one of my favorite Christian flicks. Go stream the first film and then don't miss this one in theaters."
If you haven't seen the first film, Unbroken, here's a synopsis from iTunes: "This epic drama that follows the incredible life of Olympian and war hero Louis "Louie" Zamperini (Jack O'Connell) who, along with two other crewmen, survived on a raft for 47 days after a near-fatal plane crash in WWII – only to be caught by the Japanese navy and sent to a prisoner-of-war camp. Adapted from Laura Hillenbrand's (Seabiscuit: An American Legend) enormously popular book, it's the inspiring true story about the resilient power of the human spirit."
Do yourselves a favor, head to the theaters this weekend to see the film. And, head to my Instagram page where you can win two tickets via Fandango to see the film. 
Disclosure (in accordance with the FTC's 16 CFR, Part 255:  "Guides Concerning the Use of Endorsements and Testimonials in Advertising"):  Many thanks to Propeller Consulting, LLC for providing this prize for the giveaway.  Choice of winners and opinions are 100% my own and NOT influenced by monetary compensation.  I did receive an advance screening and two tickets in exchange for this review and post.
Only one entrant per mailing address, per giveaway.  If you have won a prize from our sponsor Propeller /FlyBy Promotions in the last 30 days on the same blog, you are not eligible to win.  Or if you have won the same prize on another blog, you are not eligible to win it again.  Winner is subject to eligibility verification.