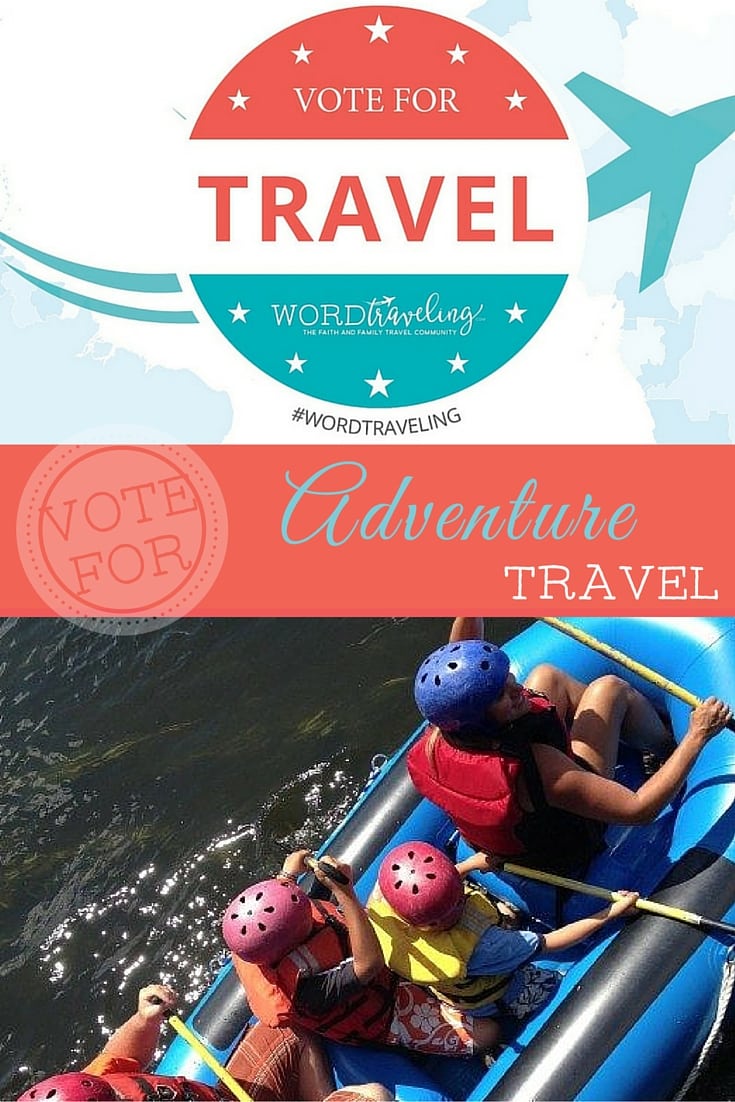 Vote for Adventure Travel
As the political seasons continues to heat up, I'm pleading my case to cast a vote for more adventure! Adventure is something that everyone needs more of and can benefit from.

So why should you vote for more adventure travel in your life?
1. Adventure makes you feel more alive! Getting out of your comfort zone is a great way to break the mold of routine. It's easy to get stuck in a rut doing the same things and going to the same places. Adventure allows you to feel like a kid again at any age.
2. Adventure helps you become braver and gain more confidence. Each time that you cross an intimidating adventure off your list, you get an extra confidence boost to tackle the next adventure.
3. You get the opportunity to model bravery. My kids love it when they get to watch me tackle something that intimidates me. They also observe that they don't have to quit trying new things as they get older by my example. (Like the time I rappelled off a 10 story building downtown for charity)
4. Adventure allows you to share incredible experiences with others. One of my favorite parts of continuously seeking adventure is the priceless memories that I create with family and friends.
5. Adventure allows you to meet interesting people along the way from fascinating subcultures. We need to learn from others who are different than us. Whether it's trying new foods at an ethnic restaurant for the 1st time or trying a hobby that someone else is really passionate about.
6. Adventure will help you become open minded and curious. History is a lot more interesting after you've visited the location in person or experienced an interactive exhibit that caused you to think about things from another perspective.
7. Adventure will help your kids become braver at an earlier age. I didn't even start riding thrill rides until I was in 8th grade because I was a scaredy cat. I love thrill rides now and I'm always amazed at how willing my kids are to try new things at a younger age. My youngest tried the trapeze at 4, luge at 5 , and ziplining at 6!
8. Adventure allows you to problem solve and learn valuable life skills. Most adventures never go as planned and so much in life is how we respond to it. Adventure helps you appreciate the journey as much as the destination.
What adventure are you voting to try next?
Nedra McDaniel is an adventure, travel, and lifestyle blogger at Adventure Mom. She loves to help inspire and encourage others to step out of their comfort zone to try new experiences. She loves thrill rides, trying new restaurants, architecture, taking tours, art, hiking, coffee, anytime by the water, taking pictures, finding hidden gems, and exploring with family and friends.
Come join our community of faithful adventurers on Word Traveling so we can keep inspiring each other to great things for the Lord, traveling to, with and because of the Word!
 Join our facebook group of Christian travelers here!
ENTER TO WIN BELOW:

The Prize – A Four (4) Night Getaway Includes:
One (1) winner* will receive
Four (4)-night stay at the Sanibel Inn on Sanibel Island, which includes complimentary bike rentals. One (1) room for two (2) adults, and up to (2) children valued at $1,300. Blackout dates—entire month of September 2016 as some construction will be taking place.
Tickets for two (2) adults & up to two (2) children to Edison & Ford Winter Estates, providing the option for a guided or self-guided tour, valued at $72. Winners will enjoy touring 20 acres of historical buildings and gardens, as well as Edison's Research Lab and Museum. No blackout dates.
Tickets for two (2) adults & up to two (2) children on a 1.5-hour Caloosahatchee River Tour, provided by Pure Florida. Winners will learn about the history of the Caloosahatchee River and the exploits of Thomas Edison and Henry Ford, and may encounter dolphins, manatees, bald eagles, and more. No blackout dates, must make reservations in advance. Tickets valued at $128.
*Terms and prize details can be found at WordTraveling