Why Vote for Slow Travel?
Slow travel gives us an opportunity to stop and catch our breath and immerse ourselves in the natural beauty and culture of the location we are in.  As slow travelers we have itineraries, but they are fluid.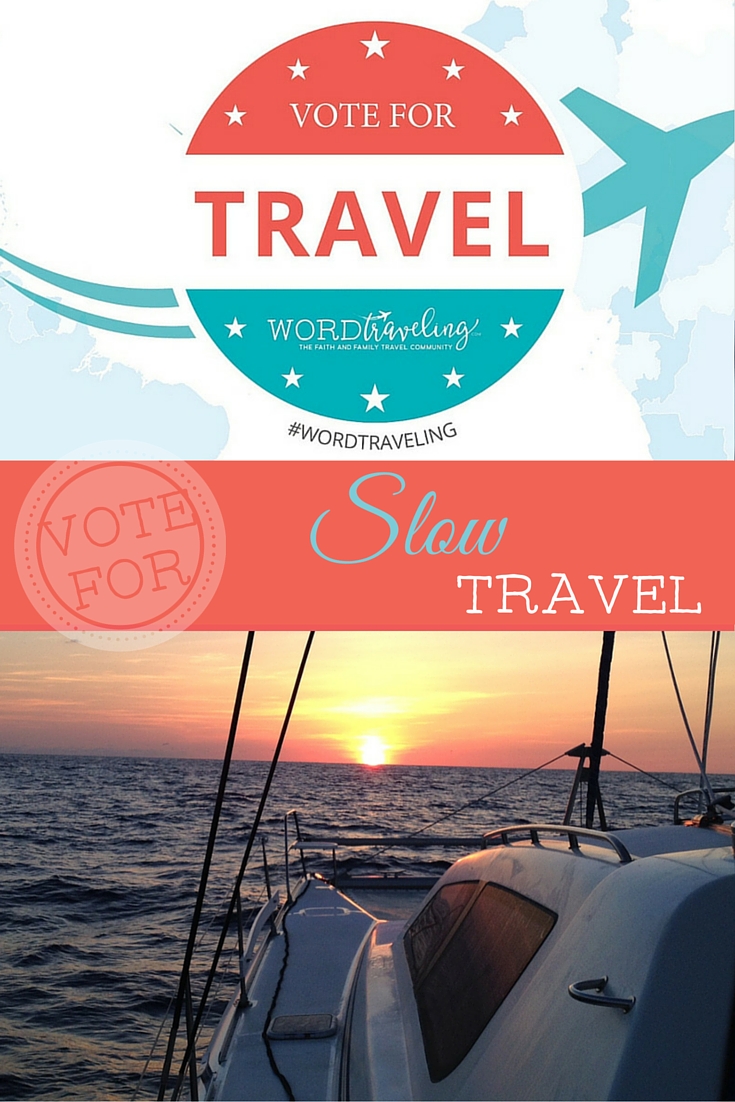 Last year as we were sailing through the Abacos in the Bahamas, we had planned to spend only a couple of days on Man-o-War Cay.  Having a fluid schedule, were able to stay 3 1/2 weeks and got to know the islanders and join in their community.  Being able to be a part of their community gave us an opportunity to attend their missions conference at New Life Bible Church and to connect with even more people, which has opened other doors for us with missions.
Sailing:  Our Slow Travel Choice
Both Jim & I were raised on the water, so as the expression goes, it's salt water that runs through our veins!  It was only natural that when we got married we would sail together.  We are both happiest when we are out sailing, with the wind whispering through the rigging and the sun warming our faces.
Being on the water for me is a truly spiritual experience, and one that just humbles me when I realize just how huge and powerful and mighty God is, and how tiny and insignificant I am, but yet God knows me by name and I am his kid.
When you sail, we are at the mercy of Mother Nature.  If the weather is bad, we stay longer.  If we don't have wind, we can motor to another location, or just stay where we are, if we choose.
 Missions-minded Slow Travel
Our current sailboat is a 47' Leopard catamaran.  She is our home on the water, but Indigo is also our platform for missions work.  This affords us the opportunity to immerse ourselves into the culture of the places we are visiting.  She is our "home away from home" and is an integral part of our being able to bring supplies, books, teaching materials, and other items with us to donate to various communities.  She is our "missions platform".
We have the privilege and honor of seeding into God's kingdom by bringing these items and other resources on board with us, and distributing them to the various communities that we visit.  This combines our favorite things:  seeding into God's kingdom, sailing and travel!
Because Indigo is our home on the water in every sense of the word, we entertain – a lot!  When we arrive in a location, it is only natural to connect with people – both locals and other visitors.  We can usually be found with at least a couple of visitors onboard Indigo joining us for dinner and long talks almost every night.  This has opened doors for us to visit with new friends from all over the world.  We are certainly blessed to be able to travel in this way, and to bless others along our journeys.
What's Next for 2016?
One of our goals for 2016 is to continue to make the right contacts to allow us to volunteer and give back while we are sailing.  There are several orphanages located throughout the out islands of the Bahamas, and we hope to be able to sail and volunteer throughout the islands.  We want to continue to bring supplies to the various communities that we visit.



Betsi is a 50+ globetrotting sailor, writer, speaker and entrepreneur. Exploring new cultures, making friends and experiencing new adventures bring her joy. Her passions are God, travel, adventure, and family. You can read all about Betsi's adventures on her site Betsi's World or connect with her on Facebook, Instagram and Twitter.