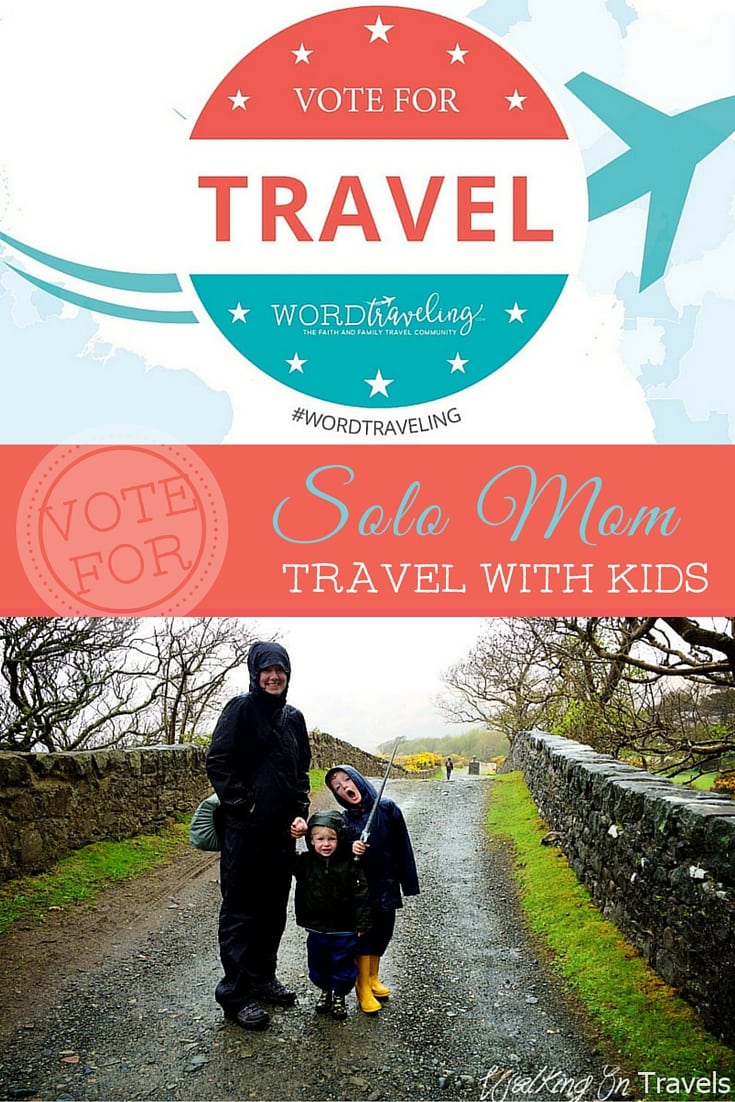 Family travel comes in all shapes and sizes—two parents with kids, single parent with kids, aunts with nieces, grandparents with grandkids, but one of my favorites is solo mom travel with kids. What does this mean? It means that I pack one or both of my boys up, leave my husband at home to work, and travel around the world a few days or weeks at a time.
This is not to say that I don't love my husband or love when he travels with my boys and I. My husband's time is limited. He has a full-time office job that he loves. My time is not limited, my job can travel with me, and I can't sit at home all day waiting for his PTO (personal time off) to accrue when my boys and I could be out exploring the world. It's just not going to happen, so I partake in some solo mom travel with my kids.

How I Travel The World Solo With My Kids
I've taken my boys on more trips without my husband than I can count, but most notably would be the two times I took my boys to Europe for five weeks. My husband spent 1-2 weeks with us during that time (he can't always be left out of the fun!); the rest was all me. People ask how I did this? Well, I simply packed up my kids, made sure I could actually carry all of our bags and at least one kid at the same time, and went. I didn't think about all of the "what ifs." I just decided that I wanted to keep traveling.
I'm lucky to have a few friends in Europe. We were able to bounce around visiting them as part of our travels, which was beyond helpful as a solo mom traveling with her kids. Extra hands and someone to brew that second pot of coffee in the morning is sometimes the only sane part of your day.

Why Traveling as a Solo Mom With Kids is Amazing
Although I experience long nights, afternoons filled with tantrums and didn't get to see every sight, traveling with my boys is still worth it. I deal with tantrums and sleepless nights at home. There the backdrop isn't so exciting. When you are rocking your baby back to sleep while looking out the window at the hills of Tuscany, it just makes it all a little easier. You are willing to push yourself a little more the next day to keep exploring, and most of all, you actually want to play with your kids for longer periods of time.

What I Found Out About Myself as a Solo Mom With Kids
One of the most surprising aspects of solo mom travel with kids is that you enjoy your kids more. I love my boys no matter where we are in the world, but when work is calling, the dishes are piling up and the cat just threw up again on the carpet, the last thing I want to do is play another rousing game of Monopoly at home, which inevitably ends when my toddler screams because he isn't winning and starts throwing pieces. At home we are stuck with the same old toys, schedules and sights. When we travel, it is all new for us. I want to get outside to explore, my boys want to get another ice cream cone, and we all have fun together.

You Can Travel as a Solo Mom With Kids Too
Solo mom travel with kids can sound intimidating, but it is much easier than you think. If you are already a stay-at-home mom or work-from-home mom, your life won't change much, just the scenery. True, you won't get that nighttime relief when your children's father walks through the door and you can tag him into kid duty and put your feet up. The destination is worth pushing through those last few hours of the day before you can collapse after the kids go to bed.
If you have never traveled solo with your kids, start off slow. Pick a destination close to home, or just take your kids to grandma's house or a friend's house for the weekend. See how you do and let your travels grow from there. You can do this!

 Keryn Means is a freelance writer and the founder of WalkingOnTravels.com, the award-winning site that gives hope to today's active parent who doesn't want to stop their lives; they simply bring their kids along for the ride as they explore the world. You can find Keryn dragging her two boys around the DC area most days and across the globe several times a year.
Come join our community of faithful adventurers on Word Traveling so we can keep inspiring each other to great things for the Lord, traveling to, with and because of the Word!
 Join our facebook group of Christian travelers here!
ENTER TO WIN BELOW:

The Prize – A Four (4) Night Getaway Includes:
One (1) winner* will receive
Four (4)-night stay at the Sanibel Inn on Sanibel Island, which includes complimentary bike rentals. One (1) room for two (2) adults, and up to (2) children valued at $1,300. Blackout dates—entire month of September 2016 as some construction will be taking place.
Tickets for two (2) adults & up to two (2) children to Edison & Ford Winter Estates, providing the option for a guided or self-guided tour, valued at $72. Winners will enjoy touring 20 acres of historical buildings and gardens, as well as Edison's Research Lab and Museum. No blackout dates.
Tickets for two (2) adults & up to two (2) children on a 1.5-hour Caloosahatchee River Tour, provided by Pure Florida. Winners will learn about the history of the Caloosahatchee River and the exploits of Thomas Edison and Henry Ford, and may encounter dolphins, manatees, bald eagles, and more. No blackout dates, must make reservations in advance. Tickets valued at $128.
*Terms and prize details can be found at WordTraveling