If you have traveled to EPCOT you have probably taken a ride on the Maelstrom in the Norway pavilion.  It's one of the few rides in the World Showcase so kids usually convince their parents to try it at least once.
The Maelstrom includes a water ride on a dragon-headed Viking "ship".  During your journey you will see many iconic Norwegian images like trolls in their mythical forests, polar bears and puffins, and an oil rig in the North Sea.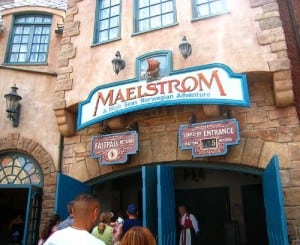 But exactly what is a maelstrom?  For the longest time I had no idea!  I figured it must have some relevance to the Norway pavilion (those Disney Imagineers are a stickler for details) and it probably had something to do with water, but other than that I didn't have a clue.  So, being a typical homeschool family, we decided to do a little research into the subject!
According to our go-to source www.dictionary.com, a maelstrom is a famous hazardous whirlpool off the northwest coast of Norway.  Upon further digging I found that Saltstraumen is the world's most powerful maelstrom and it's located outside of Bodo, Norway (here is a short video of the Saltstraumen Maelstrom.)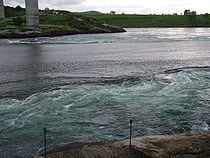 As you think back, you may remember some references from your literature classes, the Nordic word maelstrom was introduced into English by Edgar Allan Poe in his story "A Descent into the Maelstrom".  It was also included at the end of Jules Verne's "20,000 Leagues Under the Sea".
And for Disney fans everywhere, let us not forget the mention in "Pirates of the Caribbean: At World's End" …where does the climactic battle scene between the Black Pearl and the Flying Dutchman take place?? In a maelstrom, of course.
Good for you if you knew what a maelstrom was!  Next time you are in the Norway pavilion ask around to see if anyone else knows what it means…I've asked, and I haven't found many people that do.  It goes to show that the details are important, and those little bits of trivia are just the kinds of things that kids (and adults) will remember from their days of homeschool learning at Epcot at Walt Disney World.
This is a guest post by a good friend, Susan Williams. Thanks, Susan for sharing! 
Susan  is a veteran homeschool parent always looking for field trips and adventures to help bring learning to life for her family. 
She helps others educate through community at Education Possible 

Buen Viaje! ~Jen