Our trip to Italy was magical. I still have a lot I would like to share with you about the packing and our actual time in-country. But first, I want to offer these 11 things to know when traveling in Italy. Take note as you are preparing for your trip of a lifetime!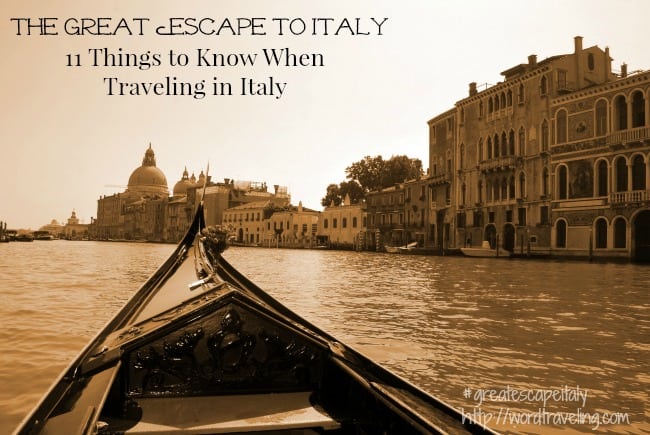 1. Bring your own wash cloths! There may be hotels that provide these but it was our experience, and I have heard from others, that wash cloths simply aren't used in Italy. If you need them to wash your face or for anything else, be sure to stow a few extras in your suitcase so you'll have what you need.
2. When taking the train in Italy from city to city, there is an extra step you need to take after purchasing your ticket – validation of your ticket. I'm not sure how it is when purchasing from a clerk but when purchasing from one of the many kiosks available inside the trains station, this important information is not given. Be sure to ask an employee of the station where to find the validation kiosk and validate your tickets before boarding your train.
3. Be sure to take tried and true shoes to wear. Before leaving for Italy I bought a new pair of sandals at the urging of a friend because she said they wer comfortable and excellent for all of the walking she had done in Italy. I was also given a pair of tennis shoes that I tried out before leaving and thought would be very comfortable. After walking in the sandals for about 1/4 mile, we went back to the hotel to choose something more comfortable. Once I spent a day touring Rome in my new-to-me tennis shoes, I had a new perspective on the kind of foot wear I needed as well as a new blister on each heel. Fortunately I had brought along other comfy shoes as well as an entire box of adhesive bandages so I was prepared for the walking that still had to be done over the next nine days!
4. Try gelato any time you can! While in Italy we ate gelato twice a day. Hey, we were on vacation and it was hot. Plus, after trying a few different shops, we had learned that once you try one gelato you have NOT tried them all! Depending on the city, and even the shop within each city, the gelato had a different level of creaminess and flavor, not to mention the many flavor options available at various shops around each city and across the country.
5. Bring your own washing powder to save money on laundry services When packing for our 2-week stay in Italy, we chose to include a tiny box of laundry detergent in our checked baggage and do laundry as needed in our room. Since we were in each city 3 days or more, this was easy to accomplish. The bathtubs were large enough to wash several items at once or if you have only one or two pieces the sink should suffice. In Italy, the bathrooms even have retractable clotheslines, so it was simple to wash our clothes and then leave them to dry during the day while we were out touring the city. Many hotels offer a laundry service, so this is always an option for you if you don't want to deal with laundry or need something cleaned in a pinch. However, it is not a cheap option, so be sure to budget for laundry if you plan to leave it to your hotel staff. Alternatively, there are sometimes laundromats available around town. You may wish to research this option to find out if it falls in the category of happy-medium and might be an acceptable option for you while traveling.
6. Research dish names While we were traveling I was adventurous. I was brave. I am wheat free, yet I tested and tried many pasta dishes. (The food in Europe is different and I was able to enjoy many things I cannot enjoy when in the U.S.) However, I do have my limits. Many of the menus in Italy were written only in Italian. Though my husband and I had learned a small amount of Italian before leaving, we still had to do our research via the Internet or ask for help from the waitstaff when reading the meals listed on the menus. Must know what I am eating and there are certain things that I will not try. 'Delicacies' are available in many different countries. If you are squeamish at all about what you eat, be sure to do your research. Arm yourself with knowledge and then feel free to dive in, or decline!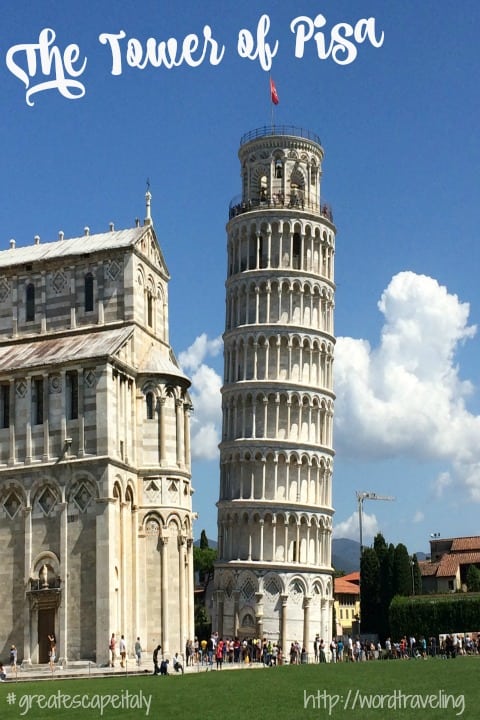 7. Consider adding an International Data Plan to your smart phone before leaving the country We found throughout our travels that each city had maps readily available for tourists. And we utilized them many times when we were out visiting the Colosseum, the Pantheon, Pisa. However, it was quite handy to have my husband's phone available so that we could research menu items, the pronunciation of words, places to see, utilize Google Maps, and more. We easily found our way around each city and across the country since we had access to the Internet. Having an International Data Plan was a huge bonus because we did not have to worry about extra costs associated with all of our searches. I highly recommend considering adding this kind of plan to your smart phone before heading out of the country.
8. Expect menus to be written in Italian. Though we had practiced a bit with our Duolingo app before and throughout our trip, neither my husband nor I read or speak the language fluently, or even proficiently. We each no a word here and there and were able to piece together what things meant, most of the time, when we had nothing else to go by. Fortunately, some of the menus did actually have multiple languages listed on the menu. In other cases, there was at least one member of the staff who could explain our menu choices to us. If you can learn a bit of the language before visiting country of choice, I highly recommend it! 
9. Sacred buildings have minimum dress requirements. I suggest doing your research for any museum, church, or other venue you wish to visit. However, the general rule of thumb is that both men and must wear pants, skirts, or shorts that reach the knee. Your shoulders must also be covered. Bring a sweater or large scarf with you so that you can easily cover up upon entry to places that enforce these dress codes. We also noticed that most venues had cover-ups for women to use if they were ill-prepared, but they are not attractive. On at least on occasion we witnessed a man being denied entry to one church because his shorts were too short. Be prepared, and you should be able to tour any site you wish!
10. You will be approached by many tour guides and the like wishing to 'help' you. Only you can determine if this is something you would like to take advantage of, but our observations proved that it was always a much more expensive route to take, and often took the same amount of time to reach the attraction. Also be sure that these guides are there in an official' capacity.
11. Have fun with the guys we dubbed 'callers' in Rome. We enjoyed watching them compete with one another to provide the best seating, view, and meals within the courtyard just outside the Pantheon, and we happily received their ministrations as visitors to this lovely and romantic city.
Have you traveled in Italy? What are some important 'things to know' that you'd like to share with us?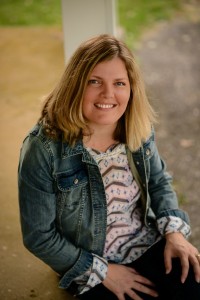 Wendy is a preschool teacher turned homeschool mama when her eldest daughter began to struggle with reading. Taking this homeschool journey was not a part of 'the plan' but has been rife with unexpected twists and turns, difficult days, blessings, and celebration. Wendy desires to encourage women to live life with passion and purpose no matter the circumstance. Be sure to connect with Wendy at Purpose Living Wife as well as through social media.