This was originally written for the Home Educating Family blog. Click over there and read the descriptions of a non-conforming homeschool!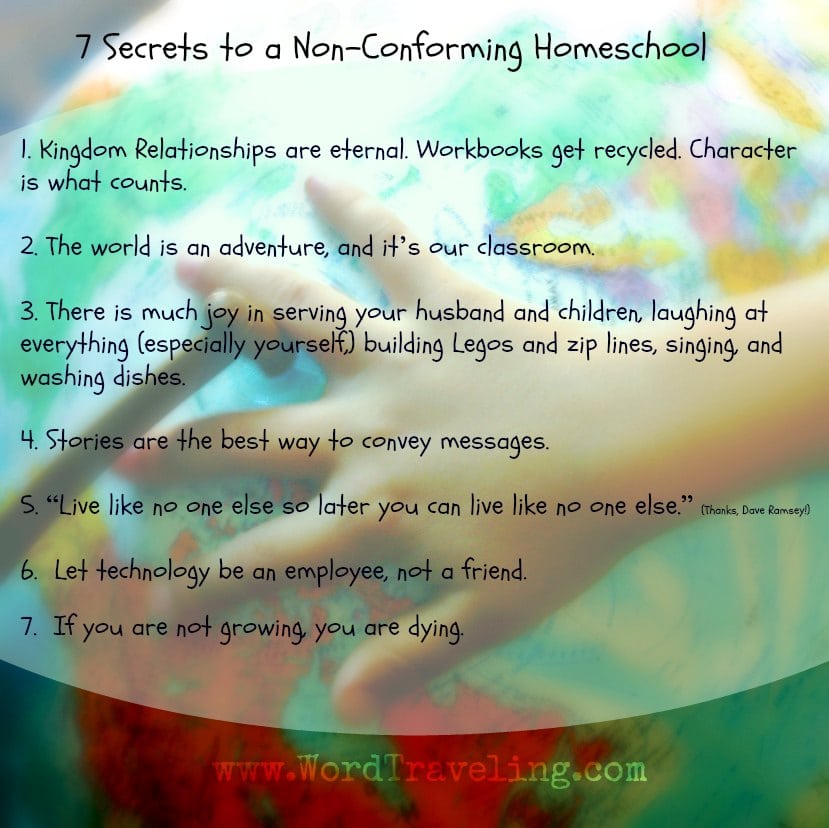 Do you remember a song from your childhood that sang "Make new friends, but keep the old… one is silver and the other gold?" One of my "silver" friends is a recent Floridian transplant from Maryland with three boys and a Masters Degree in Education.  She's inspired me on many levels: to try couponing, to really get back outdoors in this great Sunshine state, to join more co-ops, and today, brought an unexpected message of encouragement at the core of the reason I Homeschool. In conversation on our way to the roller-skating rink (a first for my two boys, and over twenty-five years since my feet have rolled!) with six boys in tow, she said, "Sometimes, I don't even feel qualified to teach my (three) boys. All those years of schooling I had in education and they really don't even teach you how to be a teacher.  They teach you how to teach students to comply." Chills went down my spine and I responded, " Girl, you are SO qualified! After all, we are just the facilitators in their education.
A majority of the reason I Homeschool is to raise men that "do not conform to the patterns of this world…" (Romans 12:2) I laughed and smiled as I said, "yeah, we don't really fit any mold. We seem to break them."
Here's my list of what really matters in this season in our home. I hope it inspires you to go against the grain of culture and fine the path where He leads you, together.
1. Kingdom Relationships are eternal. Workbooks get recycled. Character is what counts.
2. The world is an adventure, and it's our classroom.
3. There is much joy in serving your husband and children, laughing at everything (especially yourself,) building Legos and zip lines, singing, and washing dishes. 
4. Stories are the best way to convey messages.
5. "Live like no one else so later you can live like no one else." (Thanks, Dave Ramsey!)
6.  Let technology be an employee, not a friend. 
7.  If you are not growing, you are dying.  
Those sweet lyrics from above have been resonating in my soul for some months now, and I'm more in love with the Lord in the way I see answers to these resounding prayers of "what really matters?" while He opens doors to new silver friendships and golden adventures, in our Homeschool and in our lives.  The way friends learn from each other can truly be treasure, and non-conforming in this world is a chest full of riches waiting to be discovered, and ultimately, stored up in heaven.
Now it's your turn! Do you agree? Do you have other ways you don't conform? Use the comment area to let us know what you think.
Buen Viaje! ~Jen