Sponsored Post
We were so excited to attend Cirque Italia as a family across the street from the Palm Beach Kennel Club in West Palm Beach last weekend. While we've experienced many Cirque shows, this was our first Cirque Italia! The multi-cultural show featuring performers up close from around the globe now has two traveling shows and for the first time ever, the Gold Unit is in West Palm Beach!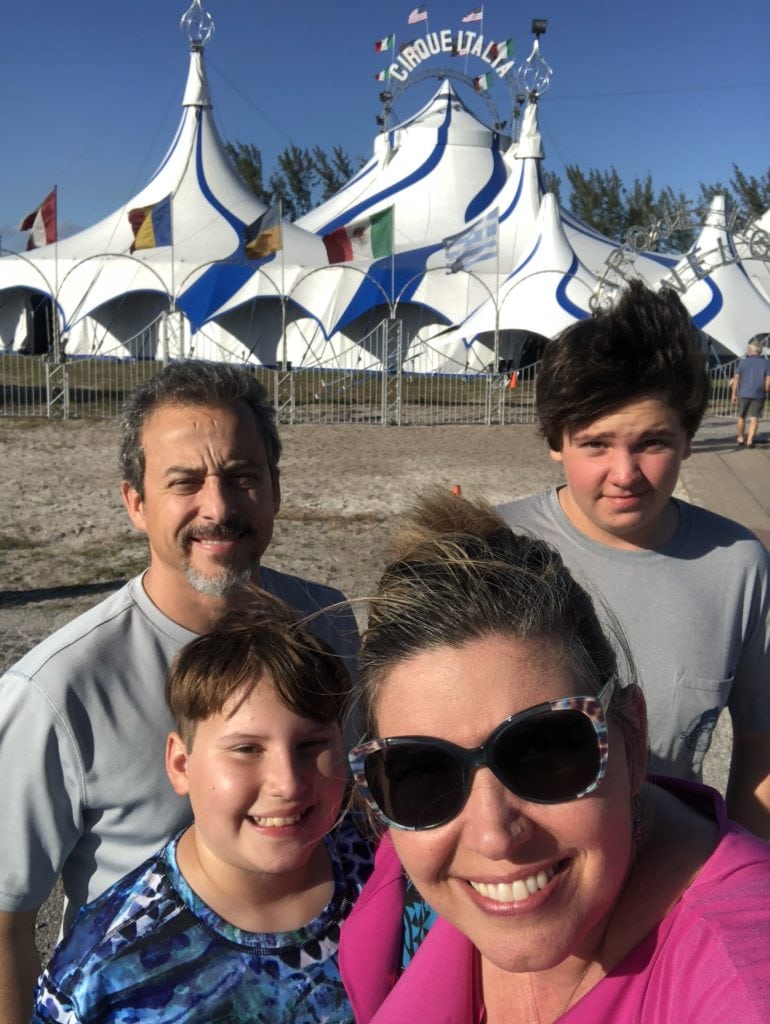 Keep reading through and I will share how you can get your children's tickets FREE!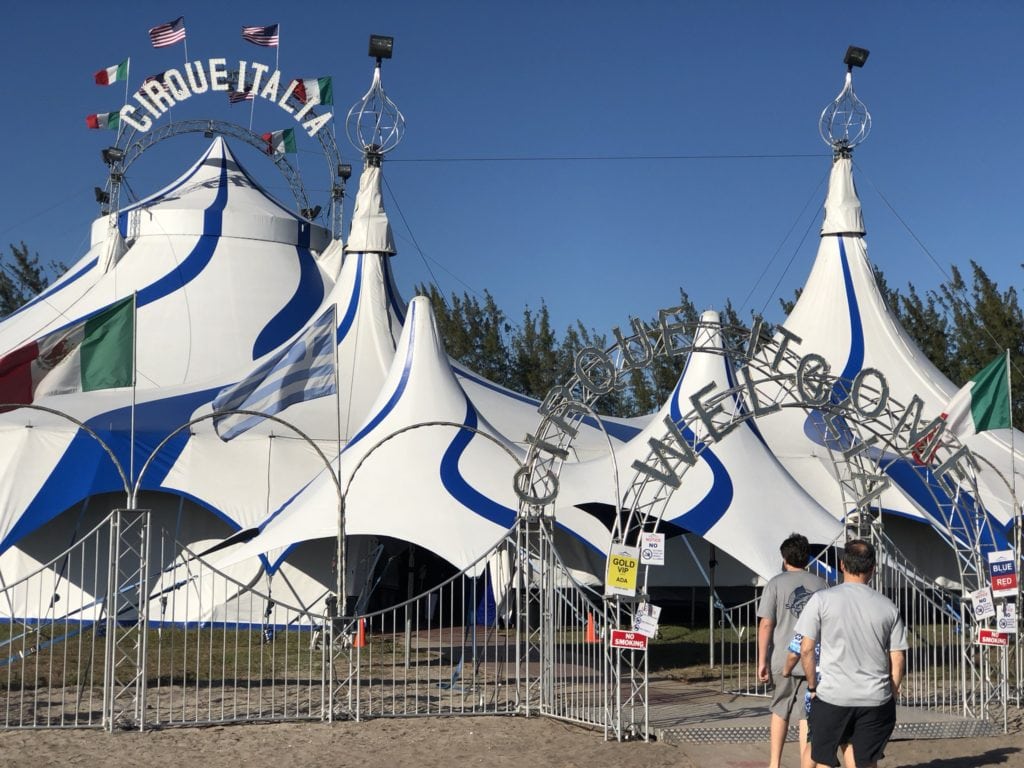 Awesome Family Entertainment Value
The small setting of the stunning blue and white big-top tent with its central stage made each seat (though a bit tight) a great seat.
With the affordable tickets, some as low as $10, and children free, this show is an awesome value. And, if you've never seen a Cirque du Soleil show, you'll absolutely love it! This is an animal-free event, full of the mystery and amazement of human capability.
My favorites were the jugglers from Argentina and the neon roller skaters from Italy. Luke, our 9-year-old loved the "Zipper" and the guy jump roping on the outside of the rotating cage. Super high-intensity!
Makani, our 14-year-old who has seen quite a number of other performance shows thought they were going to "do something cooler with the water."  But he really enjoyed the music, featuring his favorite Daft Punk, and especially the clowns. "They were really funny!"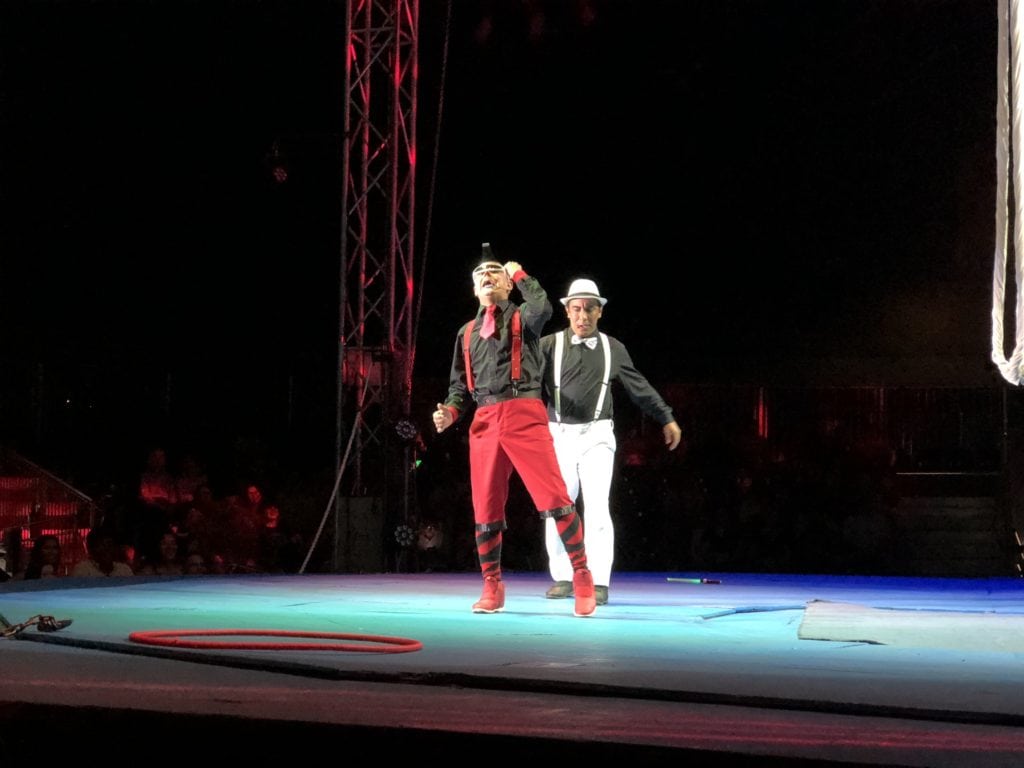 My husband Luis and I loved seeing talented performance artists from all over the world. At the end, they even made their rounds wearing banners representing their home countries, from Eastern Europe to South America and even Cuba. There was one female act I found a bit too risqué when paired with the sultry jazz rendition of one of my favorite songs, "Ain't No Sunshine," but overall, the performances and costumes were outstanding.
Luke (age 9) was engulfed watching the thrilling and death-defying act on the "zipper."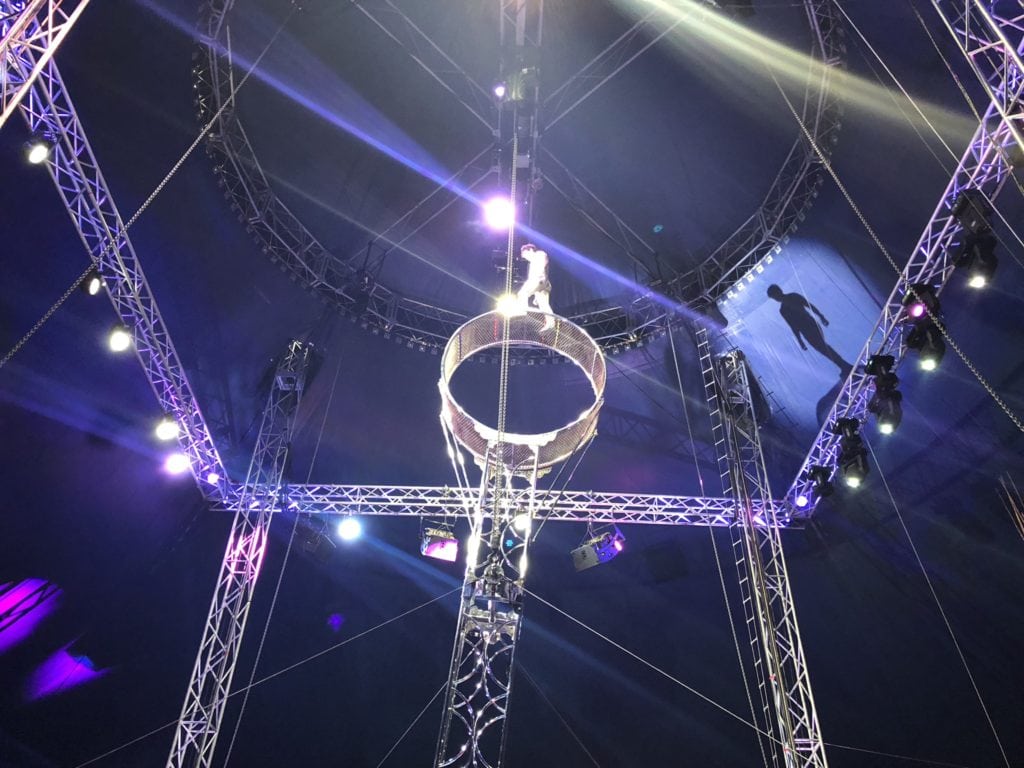 This is one thrilling, high-energy event for fantastic family fun. Cirque Italia was exciting. Cirque Italia high-tech. Cirque Italia was memorable.
Tips for Attending Cirque Italia
Try to arrive at least 30 minutes before the performance.
They don't allow video or photography of any kind, and I had to present my media badge a few times to get the video you see below.
Wear closed toed shows as you're on a sanded lot.
Take cash for the carnival-like concessions and reasonably priced ($10-$12) light-up toys for the kids will be begging for, they don't accept cards.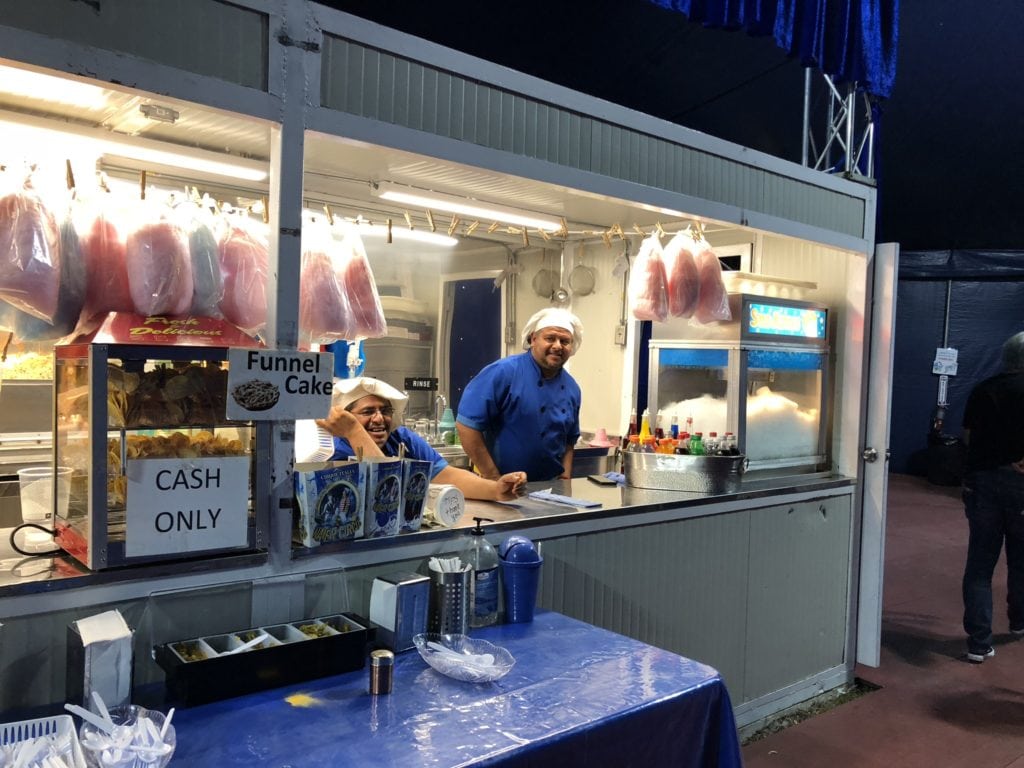 Event Info for Cirque Italia at West Palm Beach
When:  March 1-4
Where: 1111 North Congress Avenue, West Palm Beach, FL 33409
At: Across the street from Palm Beach Kennel Club
—Under the stunning White & Blue Big Top Tent
March 1 – Thursday: 7:30pm
March 2 – Friday: 7:30pm
March 3 – Saturday: 1:30pm, 4:30pm, & 7:30pm
March 4 – Sunday: 1:30pm, 4:30pm, & 7:30pm
Now Get Your Tickets
Tickets can be purchased now, starting at $10.00 through $40.00 depending on availability. You can purchase tickets through their website or by phone: (941) 704-8572. They also respond to text messages. Of course, you can also purchase them at the box office, and I've even seen them on Groupon.
Box office hours:
The box office opens on-site on Tuesday, the week of the show.
Non-show days: 10am – 6pm
On show days: 10am – 9pm
FREE Child Admission
Cirque Italia offers one free child admission with every full priced paying adult ticket in levels 2 or 3, using the code in the image below. This offer cannot be combined with any other offers, discounts or deals.
Here's a bit more about the show:
Beginning in 2017, Cirque Italia, the first traveling Water Circus, introduced a second unit, the Gold Unit: a luxurious experience where technology and preforming arts are mixed to create a one-of-a-kind show. Now for 2018, a brand-new performance has been created. With over 90% of their shows being sold out, they decided it was the best time to provide a substantial investment into doubling their presence at the national level.
This new performance features an ultra-modern water curtain that controls every droplet of water meticulously. Audience members can expect to see an artistic display of words and beautiful patterns with LED lights as the water falls to the 'lagoon' below.
The latest trends of the industry are challenged with every Cirque Italia appearance and this 2nd unit is not any different. A careful casting selection has united the best artists from all over the world. This production will feature acts all the way from Russia to Mexico. Cirque Italia believes in multi-culturalism as one of their strongest assets.
For more information visit www.cirqueitalia.com and make sure to check all of their social media accounts below.
Get Social with Cirque Italia
Twitter: @CirqueItalia
Instagram: @cirqueitaliashow
Facebook: @cirque.italia
Disclosure: I've partnered with Bloggin' Mamas & Cirque Italia to share this upcoming tour stop with my readers, and am being compensated for this partnership. All opinions and expressed excitement are my own.