This is a guest post by my dear friend, Lori Heiselman, who was one of the first passengers to sail with Fathom! We had an amazing time on the Adonia, so join our subscriber list and follow us on social , and follow #TravelDeep to keep up with our adventures! 
CONGRATULATIONS! You're about to Travel Deep with Impact Travel on the Adonia!

(You haven't booked?  click here for a special insider's discount! Or, use  discount coupon code "INSIDER 1537" off the already LOW inaugural rates when you book!)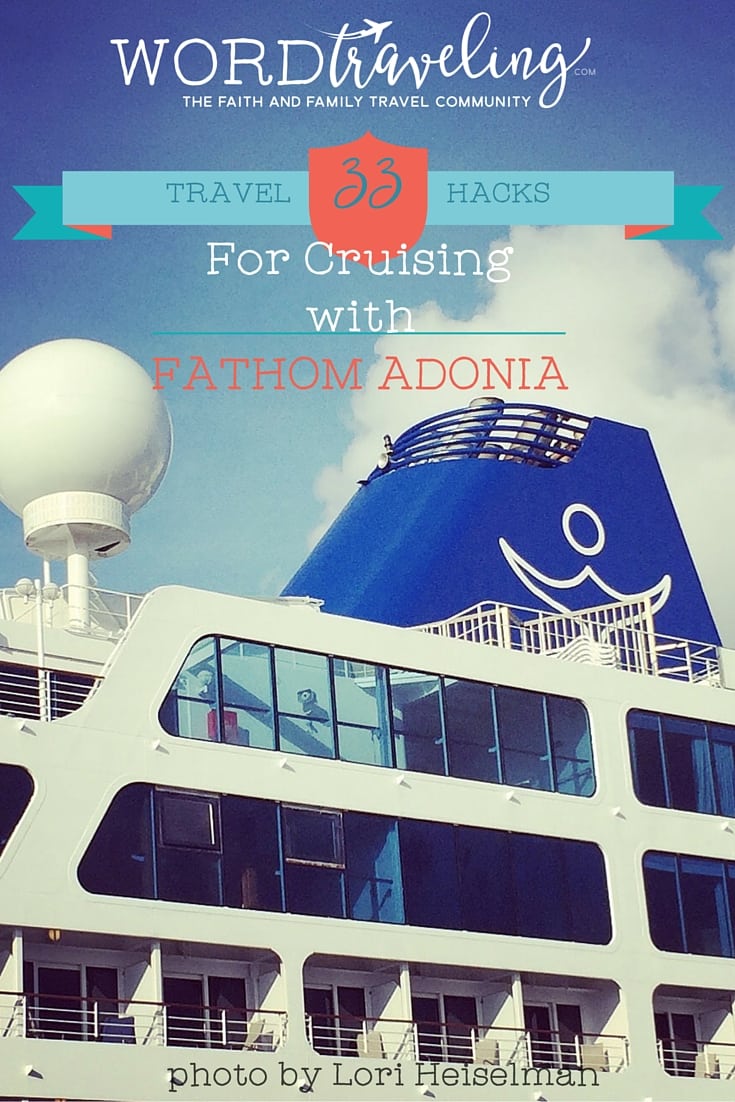 You are going to have an incredible vacation that you won't soon forget while you #TravelDeep and experience Impact Travel!  In the spirit of "life hacking," one of the  amazing sessions you can attend on board the Fathom Adonia, here are a few quick travel hacks to make your life easier!
Tips for Aboard the Adonia:
Your cabin will have a few really high-quality toiletries for you – shampoo, body wash, conditioner, etc. All products are organic and fair trade and you'll love them…but they don't refill them! So make sure you bring along a few little travel size toiletries.
There are washers and dryers on board, and after a few of the impact activities, you will probably want to use them. Make your life easier and bring along a few of those Tide pods and dryer sheets. I saw a few people carrying cups of powder detergent around from the duty-free…and I saw more than one spilled all over the floor. Save the hassle and bring those pods!
Cruise ships are metal – and while there was plenty of storage in our room for two, if you're traveling with a family, likely you'll need a bit more space. Grab some magnets with hooks on them at your local hardware store and you'll have bonus places to hang swimsuits and gym clothes. Also, bring along a few refrigerator magnets to get schedules, tickets, artwork that the kids create and keep other notes off your desk.
There is a lot of space under the beds – great for stashing your suitcase, or better yet, using your suitcase as extra storage!
Maximize hanging closet space by bringing some extra hangers.
Bring a light colored dry erase marker or two! There are great hallway signs for each room, but you need to have a dry erase marker to use them.
The wind can be pretty strong and chilly at night, so bring a sweatshirt. Also, a light rain jacket or poncho will likely come in very handy.
The Adonia is a British ship, so tea is plentiful. The coffee is good, but you may want to pack a few Starbucks Via packets in your luggage if you're in a pinch. And make sure to visit Raffles coffee bar for an excellent latte from Ryan! 
Bring at least 1 USB multi-power strip and a nightlight. You'll thank me later.
The library on the ship is completely underrated! There's a great selection of books, puzzles, board games.  (I heard they are reading The Boy That Harnessed the Wind as a book club!)
Think casual! You can dress for dinner if you want to – but don't feel like you need to. We could have dressed for dinner once or twice, but chose to just have a great time with our people in The Conservatory. I brought fancy shoes and never wore them.
Bring extra money for shopping on the ship. The stores on the ship are filled with fantastic fair-trade, ethically sources products. Shinola watches, Krochet Kids clothing, Body Shop lotions, and Proof Sunglasses. You'll want to take some of this stuff home with you.
All of the wines on the ship are organic and delicious. The coffees in the coffee bars (Raffles) are fair trade, organic and from the Dominican. Bring some extra cash and indulge in these yummy options! (You can also bring one bottle of wine per adult traveling to enjoy in the evenings without a corkage fee, and extra bottles of wine or champagne are a nominal corkage charge.)
Never hurts to bring along an insulated cup for cold drinks and a travel coffee mug for walking around the ship.
Bring a journal. I found myself wanting to take notes at several of the events around the ship.
Bring enough sunscreen and bug spray. It's pricey at Amber Cove!
WiFi is just ok on the ship – you can purchase data packages. If you are a big fan of sports in the US, you will likely use all your minutes trying to access ESPN and scores, as this, once again, is a British ship so American sports aren't shown in the rooms, but are available in the Crow's Nest or other bars. WiFi is free and plentiful at Fathom in Amber Cove.
Our other onboard hack? Bring along a lot of business cards and make sure you start following your fellow travelers on social media early on the trip. We have great photos of many people that we don't know how to reach!
Impact Activities
Bring a pen along with you. Nuff said.
If you're doing reforestation, concrete or water filters, you'll want to bring clothes that you can get dirty.
Wear close-toed shoes, bug spray, sunscreen and the people who brought their own work gloves were much happier! (You'll want bug spray for RePapel too.)
If you're heading to RePapel, bring some extra cash. The ladies have a store where they sell paper, crafts, and jewelry. It's all beautiful and you can get all your Christmas shopping done in one stop!

Keep in mind that the people of the DR are very conservative – so ladies, be respectful. Cover your shoulders and have long shorts or knee length skirts for teaching in the schools.

Other tourist activities in the Dominican Republic from Amber Cove:
Amber Cove is great – especially if you have kids. Pools, waterslides, bungalows, hammocks, zipline…it's great fun, and close enough to the ship to walk back and forth. BUT note that on Wednesday and Friday another massive Carnival ship will be docked at Amber Cove, bringing with it a lot of sun-worshipping travelers. If you want to spend a few hours or a day at Amber Cove, shoot for Tuesday afternoon, Wednesday evening or Thursday.
We found the Top 10 tour to be a bit of a bust. Our driver flew past the sites so many people never even got to see the buildings as we zipped by!
Here's the deal. You can get a cab at Amber Cove for between $70-100 for a day, and the taxi will comfortably hold six people. This driver will be with you the entire time and will be very happy to show off the sights and sounds of his town. Just let them know what you want to see, and they will make sure you are well taken care of.
Note – this is CASH. No cards accepted by these folks…and remember, you're here to make an impact! Tip well!
The places in Puerto Plata you don't want to miss:
Teleferico Puerto Plata Cable Car up to Mount Isabel de Torres – Incredible views as the cable car takes you up the mountain. I would recommend having one of the guides in the green shirts to accompany you on your ride. They will give you the full history, walk you around the botanical gardens and share great stories of the region. Also – at the top, it's worth it to have one of the kids in blue shirts take pictures for you (for a tip or a purchase from their gift shop!). They do a great job, and while we were skeptical at first, these are some of our favorite pics from the trip!
Brugal Rum Factory – It's rum. It's delicious. What's not to love? Prices are great in their gift shop.
Amber Museum – If you're with kids and they like bugs, this is the place. Surprising that a museum full of tree sap could be so interesting! They have a very large gift shop, but the prices for amber are very competitive.
Cathedral San Filipe – Beautiful church in a fun location. They have concerts on the plaza, a cute gelato shop close by and lots of shopping for souveniers. Also, get a great photo op out on the plaza by buying some bird food from one of the vendors outside the church!
Twenty-Seven- Yes, 27, Waterfalls – this is outside the city. We didn't get a chance to go, but apparently it's a gorgeous excursion. We were warned – first, it's pretty physical so be ready to walk. Second – only bring waterproof cameras! (an aside from Jen- My friend Maggie from Family Frugal Fun went on the waterfalls tour with her family. They LOVED it, but reminded us to bring water shoes! EVERYTHING you take with you from the car will get wet! Seriously- you're swimming through MANY waterfalls! They chose to do only 7 of the 27 falls, and it took about two hours. There are bathrooms/ changing rooms back at the entrance when you return, so you can leave a change of clothes and towels in your taxi.)
Grocery Stores – if you want to bring coffee, rum or chocolate home with you, ask your taxi driver to take you to a grocery store. Coffee is at great prices outside of Amber Cove. We become big fans of El Cibao coffee-try a cup at Amber Cove and then buy it at the grocery store!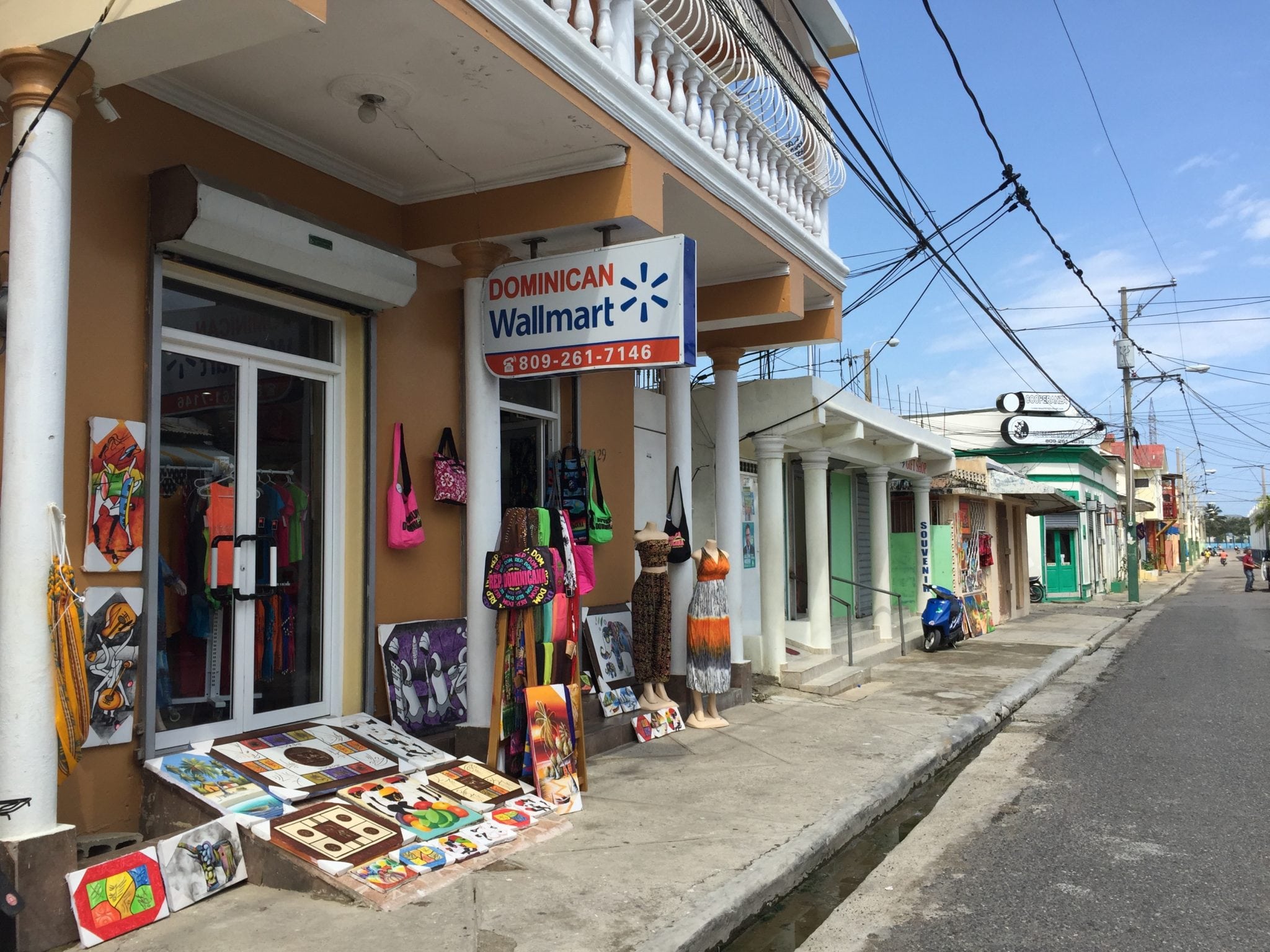 Are you cruising with Fathom? Do you have any cruise hacks you'd like to share with us? Want to learn more about Impact Travel? Click Here! 
And, Remember to use your Fathom Adonia Cruise Insider's Discount/ Coupon Code when you book here! "INSIDER 1537"
Vaya Con Dios- Bon Voyage!