There are seemingly endless options when it comes to types and variety of travel. Solo travel, slow travel, empty nest travel,  road trip travel, adventure travel. What about impact travel? Have you heard of impact travel? What is impact travel?
Admittedly, I had never given impact travel a thought until I was invited to join the folks at Fathom Travel for a week long impact travel adventure. My cruise to the Dominican Republic on board the Adonia sets sail later this summer. I can't wait to experience impact travel for myself and I am taking some time before my trip to reflect on what impact travel means to me.  
What is impact travel?
Impact travel is a whole new travel category that can be described as travel with a purpose. It is travel with the intention of having a positive impact on the lives of others that may just have a profoundly positive impact on you as well. To me, impact travel is an amazing concept as the benefits are so multi-faceted.
Impact travel involves traveling to a location and volunteering to work in some capacity to improve the lives of others. For travelers aboard the Fathom Cruises to the Dominican Republic or Cuba, it can mean teaching English to young children, planting seedlings to aid reforestation efforts, working in a chocolate plant to help the entrepreneurial owners grow their business, or it could be making and distributing ceramic water filtration pots.

Who is impacted by impact travel?
Obviously, the people that are being helped in the  location are immediately impacted. But the ripples of hope and transformation will continue to impact the lives of others long after you have returned home from your trip. Perhaps you yourself may be transformed as you immerse yourself in another culture and work to make a difference in the lives of others.
For me, I am hoping that our journey to the Dominican Republic will have a lasting impact on my son. I hope to continue to teach him about compassion and caring for others outside of our comfort zone. We do a lot of volunteer and service work in our local community but this will be our first opportunity to interact and volunteer in a community and culture much different than our own. I am hoping to expand his worldview and understanding of the basic similarities between people all over the globe. We are all more alike than we are different and getting to experience and learn about other cultures is one of the greatest learning experiences I can share with my child.
Why impact travel?
Well, why not? If you know me or follow along on my adventures through our blog Vacation Maybe, than you know I live by my personal motto that I will try anything once. But to me, impact travel is so much more than a one-time "give it a try" experience. Making a positive social impact is how I choose to live my life.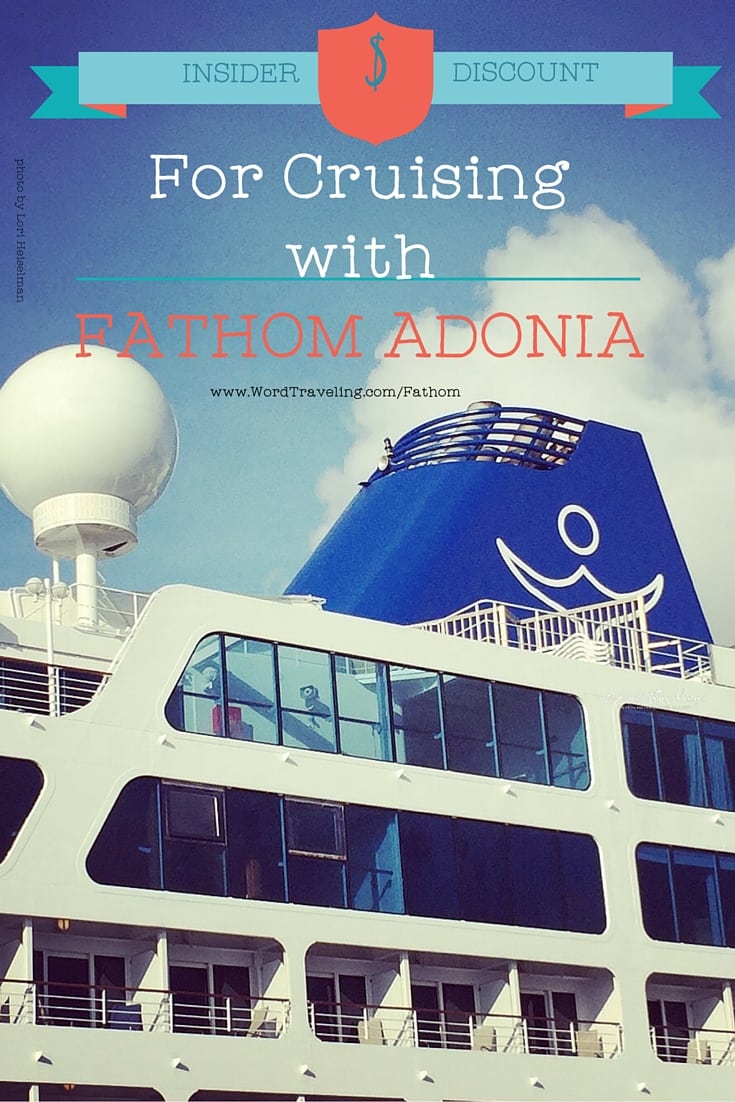 My desire is to touch as many lives as I can by sharing the warmth of a smile, kindness, and love with everyone I meet. Count your blessings then give them away by sharing them with others. If we all take a moment to truly reflect on our blessings we will soon realize there are too many to count and the best way to show gratitude for all our blessings is to share them with others.

Vote for impact travel!
I hope I have sparked your curiosity to learn more about impact travel. You can discover more about impact travel through and the opportunities through Fathom Cruises at their website.   Also, be sure to come visit me at Vacation Maybe, later this summer to hear all about my trip and impact travel experiences in the Dominican Republic.

Gina is an adventure seeking road tripping travel lover. Her personal motto is "I will try anything once!" She is the only girl in a house full of boys but they all adore her and would follow her anywhere. They know where ever she leads them is sure to be a ton of fun! As a homeschooling family, she believes that experiencing new people and places is essential in educating her children. School can happen anywhere and does.
Come join our community of faithful adventurers on Word Traveling so we can keep inspiring each other to great things for the Lord, traveling to, with and because of the Word!
Join our facebook group of Christian travelers here!