A few years ago, we made a promise to our two girls.
We told them that we may not have the fanciest cars, the biggest house or the newest things, but
we would do everything we could to show them as much of the world as we possibly could.
We travel as often as we can, for different reasons, but there is always learning involved, and this time, we were able to make our family cruise educational.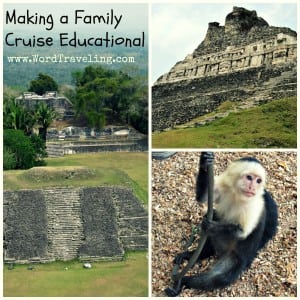 Recently, we took a cruise and through our planned excursions, we were able to tie in geography, history, critical thinking and science; all while enjoying family time.
During this vacation, we visited Cozumel (Mexico,) Belize, Costa Maya and the Island of Roatán.
In Cozumel, we ran The Cozumel Amazing Race. The race took us from the touristy, cruise ship area, all around town to where the locals live. We met many friendly people, checked out the maritime museum, shopped in a residential market and saw more of Cozumel on this family trip to Mexico than I expected. We even won the race! Our kids used their amazing critical thinking skills to help us solve most of the clues.
We traveled to Xunantunich, a Mayan ruin while visiting Belize. Our younger daughter (who doesn't like history) was enchanted by the Mayan story while climbing the impressive temples and our oldest (who loves history) thought it was the "coolest thing ever." It was wonderful to see some of our history studies come to life in such a tangible way.
Our whole family was anxiously waiting for our port at the Island of Roatán. We have been studying land animals in science this year, so I planned an excursion that would give us the opportunity to meet and hold capuchin monkeys. This was definitely one of the highlights of the trip for my girls and an experience that they never dreamed of having.
We went inside two different monkey cages while they jumped and climbed all over us. We got to hold, pet and feed the monkeys. It was something we will never forget. And our kids know a lot more about capuchin monkeys then they did before our excursion.
As you can see, with one trip we were able to extend our learning and make it more experiential. We always learn so much more when we visit locations, as opposed to just reading about them. That is why we enhance our homeschooling through travel whenever we can. One thing is certain; we'll never run out of amazing places to explore!
Megan was a reluctant homeschooler, who now can't imagine any other life! It was actually her husband, Craig, who wanted their two beautiful girls to learn at home. Many days you will find Megan's family out of their house doing something fun and educational, throughout Central Florida. She strongly believes in the power of community, especially for  homeschoolers. Connect with her at Education Possible

Buen Viaje! ~Jen