In my best attempt to be a Proverbs 31 woman, I've discovered my wisdom, strength and dignity comes in words of whimsy. And Poetry. My linen garments happen to be words. Below, I'll share a DEAL, valued at $21, on a fabulous new way to learn poetry for kids, and other poetry resources!
[Tweet "Did you know Verses 10-31 of Proverbs 31, The Wife of Noble Character, are actually an acrostic poem in the Hebrew alphabet?]
How cool! 
Here are my top 5 resources for sharing a love and joy in poetry for kids!
1. Rhyme Brain. Period.  You type in a word  for which you want to find a rhyme and PRESTO! LOADS of words! Use it with them, and it's a fabulous vocab lesson to boot! It looks like this:

2. Poetry For Kids.  The website of children's poet laureate, Kenn Nesbitt. He calls it a funny playground for poetry. You'll find humor, games, contests, lessons, activities, journals, and more!
3. Prime Rhyme free App As an avid iphone fan , so it's awesome to type in a word on the go and find just what you need! This one even goes a step further and gives you a definition. Excited to give this one a whirl on my new iphone 6! Here's a screenshot: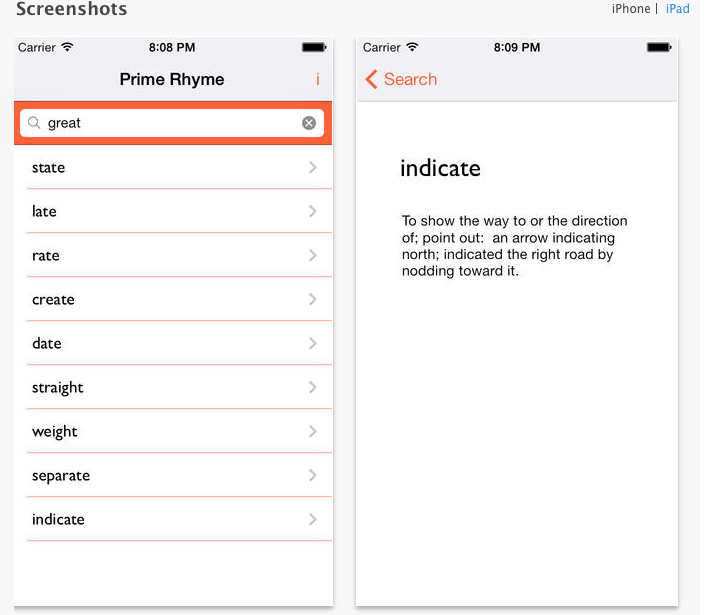 4. Back in National Poetry Month, I participated in a round-up of blog posts from poets specifically for kids. This list and links is an invaluable resource in sharing poetry with yours.  Here is the list of participating blogs and resources:
 Preschool Powol Packets: Intro & Not All Poetry Rhymes
 Homeschool Encouragement: Poetry: An Ultimate Homeschool Resource List
 Brave Writer's Life in Brief: Cinquain Poems
 The Measured Mom: How to Write a Color Poem
 Wildflower Ramblings: Poetry for Children Recitation Cards
 Line Upon Line Learning: How to Read a Poem & Billy Collins for Kids
 Word Traveling: Poetry is Music
 Teach Beside Me: Haiku Poems for Kids
 The Vicki Arnold Blog: Writing Acrostic Poetry With Kids
 Word Traveling: Poems are the Best Gift
 School Time Snippets: Five Senses
 Creekside Learning: 10 Favorite Poetry Books for Kids
 Planet Smarty Pants: Teaching Kids to Love Poetry
Are We There Yet?: Robert Louis Stevenson
Look! We're Learning!: Shel Silverstein
5. And this- Words With Wings-  is my favorite! Full of 13 fabulous lessons,  sweat, time and tears, and the cry of my heart for years- Words With Wings is a fabulous way to learn poetry "write" along with your kids, grounded in God's word. Written as a partnership between my dear poetical friend De, AKA WhimsyGizmo, Words With Wings takes flight here. And THIS WEEK- you can use coupon code FLY14 to get your First THREE LESSONS FREE!