written for the November poem a day challenge
Thanks, De for always inspiring me with your words. Please check out De's amazing blog of poetic ponderings here.
The Missing One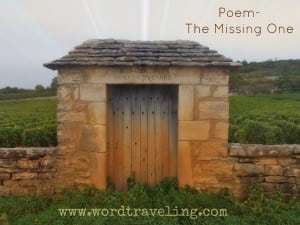 Eleven thousand dollars.
contained our Spanish bank account
yet our hearts were empty.
Hopeless-
it wasn't as planned
we were missing ONE.
It should read
one hundred eleven thousand dollars
to carry us-
you, me and baby
across countless dreams
thirty-five thousand kilometers
eight months
six countries
one foreign continent.
Funds failed.
Sure defeat in sight.
Desperate for that ONE.
We knocked,
softly at first.
He said he would appear-
a little louder.
He did!
Pounding on the door!
Fully-funded our depleted souls
unlimited securities and trust.
We were carried
By that ONE.
Him.
Ten years later-
the bank account is still full.
I dream countless dreams,
sing and pen more than thirty-five thousand hope words
twelve months
seven days a week
One familiar word.
ONE.
Buen Viaje! ~Jen