Our family is known for opening our home and being hospitable. We are big proponents of IRL- in real life- community. On Friday nights, on and off for about seven years, we host between 10-50 people for "Taco Night." We make a huge spread of meat and fixings across the kitchen island for make-it-yourself tacos. Then we gather in worship, prayer, and the spirit of a feast in honor of the Lord. We simply welcome the Holy Spirit to be our guest and "Taco 'Bout" Jesus. Food creates community, and community in the name of Jesus creates miracles.
I have been compensated with this product by Best Buy in exchange for this review of the Epson Home Cinema 4010. All opinions, quotes and experiences are honest and truthful.
Read more about working with me here.
Fellowship, Feasting and Fun on Fridays
This past week, thanks to the Epson Home Cinema 4010 projector, our fellowship time became so much more fun when we added big-screen movie theater viewing to our Friday night gatherings! After we've eaten tacos, seconds, dessert and partially cleaned the kitchen, our 15-year-old tech son sets up the Apple TV to stream the feature film of the evening. We popped popcorn to distribute, and then my teen helps me make and distribute fancy coffee drinks! (Amazingly blessed, yes!) This is what our teen son has to say regarding the Epson Home Cinema: "The projector has truly been life changing. I didn't realize how much I had to squint to see our picture on our forty-two-inch television before having access to this behemoth. I love it to bits and wouldn't trade it for anything." LOL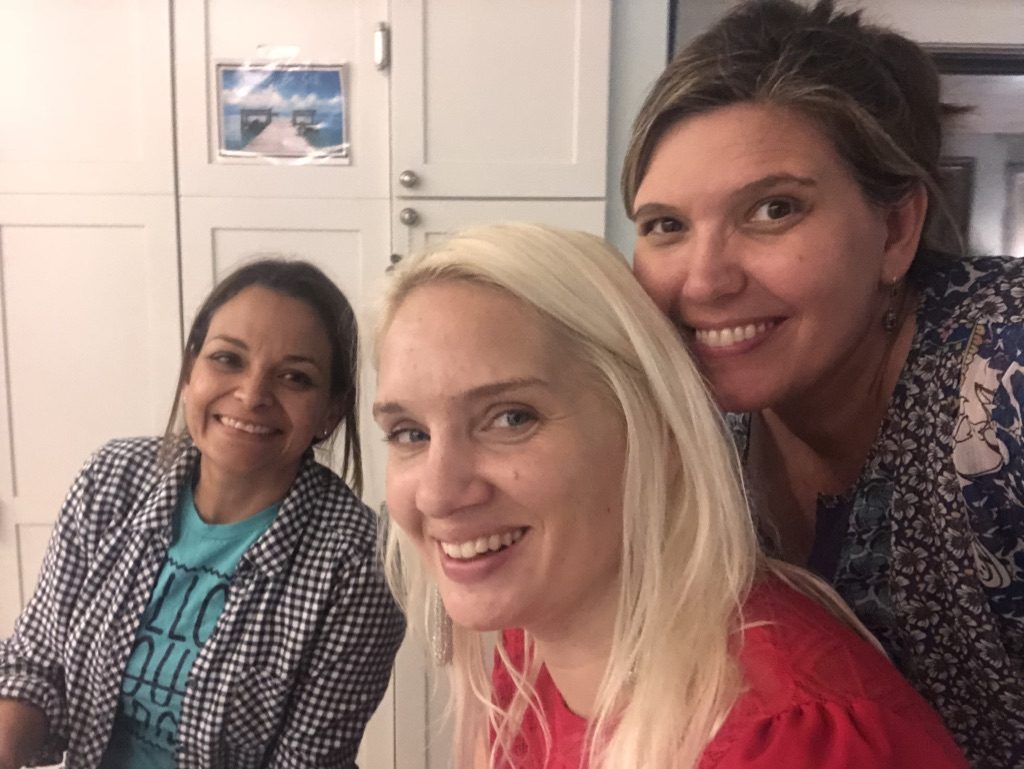 We're Techies
We've always been a tech family. When I was little, I was the one everyone asked to reset the blinking lights on the VCRs. I've certainly passed my love of technology to my boys. (High five to those of you tracking and laughing with me about the blinking lights right now.) Some of you have no idea what I'm talking about, and you've only heard your parents or grandparents talk about those video cassette player things!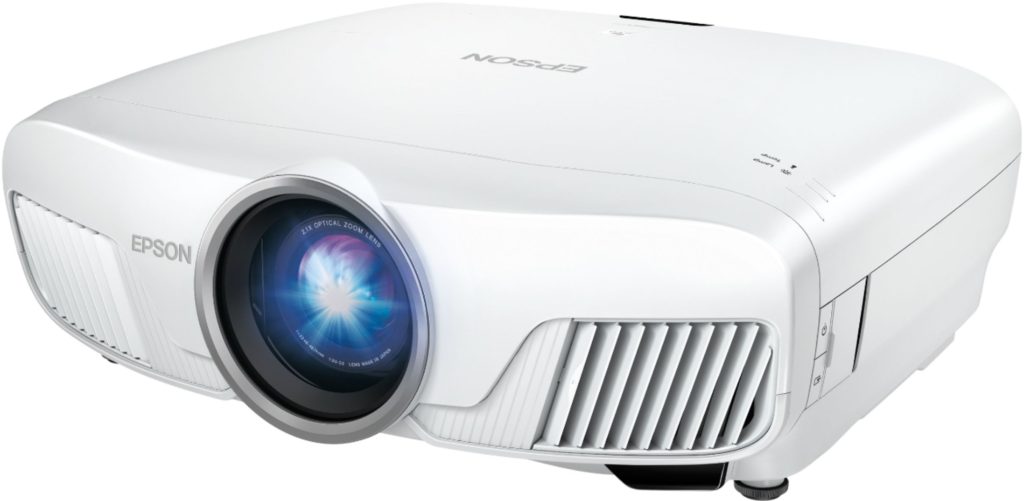 I have to say, I've never been so excited to receive a new piece of technology as I was this Epson 4010 Home Cinema! And, it doesn't disappoint! Children of all ages, ours especially, were beyond excited at the thought of hanging with a group of friends and watching on the big screen. And I'm talking kids from four to fifty-four.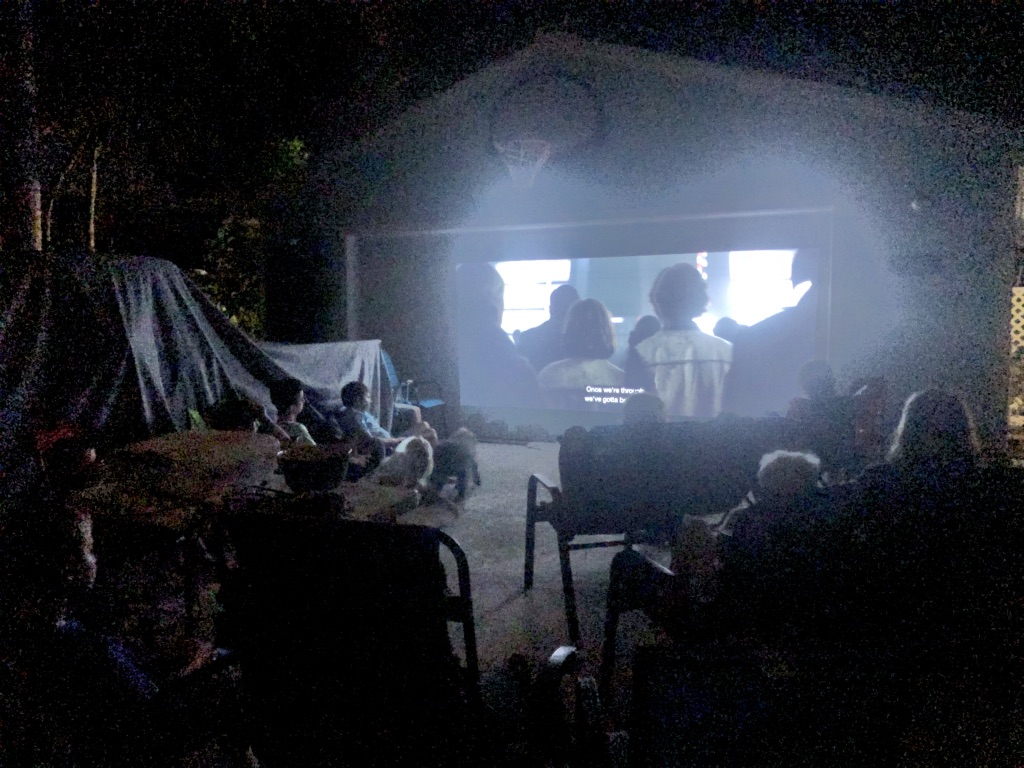 A New Twist on the Drive-In Movie
We set up 20+ camping chairs for the kids on the driveway and projected a movie onto the garage door. The picture quality was out of this world as we simply Wi-Fi streamed Solo: A Star Wars Story with ease from our HDMI cable connected Apple TV. The place I first saw the original Star Wars was a drive-in theater. 1977.  It seemed only fitting to give our Epson Home Cinema's first appearance a nostalgic drive-in vibe.
We were grasping the edge of the camping chairs, 30 minutes into Solo at the scene where Han and Qi'ra were fleeing from the Imperial Troopers. The couple was about to hand off the stolen vial of coaxium and finally buy their freedom … when the rains came. Well, it is Florida, so we were prepared with an umbrella and a backup plan.
Easy Home Theater Setup
In less than five minutes, all the kids, the bluetooth soundbar speaker and the projector were situated in the living room, and we were transported back to Outer Space. This time, we clipped a large roll of white fabric to our already existing wall unit to act as the huge screen — seven feet wide and four feet high. This thing projects undistorted, vivid images up to 300 inches wide, right on a wall! I can't wait to rearrange the living room to better accommodate it. After returning to the air conditioning, even more parents joined the big screen movie fun! I'm not sure if the tween boys who call the Epson Home Cinema "AMAZING" or the dads were more impressed.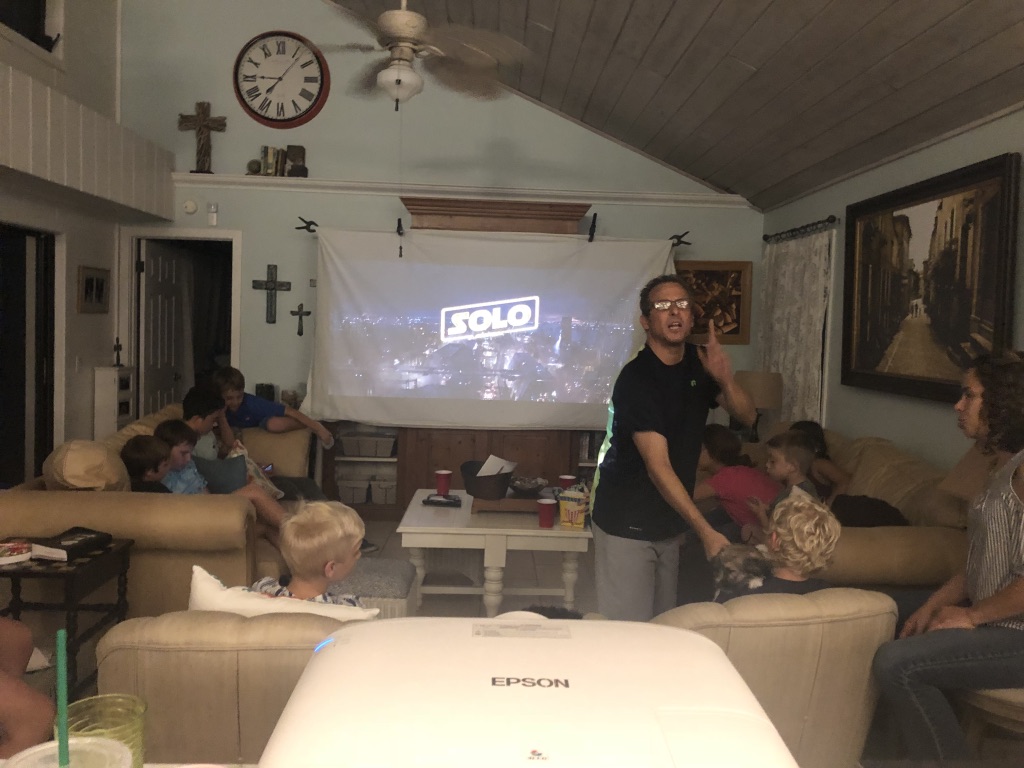 It's unanimous among our group of 10+ families: the picture quality and depth of color from the 4K capability on the Epson Home Cinema is BETTER than the movie theaters. The Epson 4010 is truly the ultimate home theater experience. And, let's not forget it's so much more cost effective these days to be watching movies from home!
What I'm Most Excited About with the Epson Home Cinema
Watching old home movies and images from our family travels effortlessly with the bluetooth and Apple TV connection.
Utilizing the projector at my retreats for teaching and watching together.
How the big screen is bringing our extended family together for some more fun.
The next feature film at Taco Night! We're thinking about watching the Chronicles of Narnia series.
"Dive-In" movies in the pool.
The guys are beyond excited about football season.
Taking the movies to my grandma, who is 97 and can't get out anymore.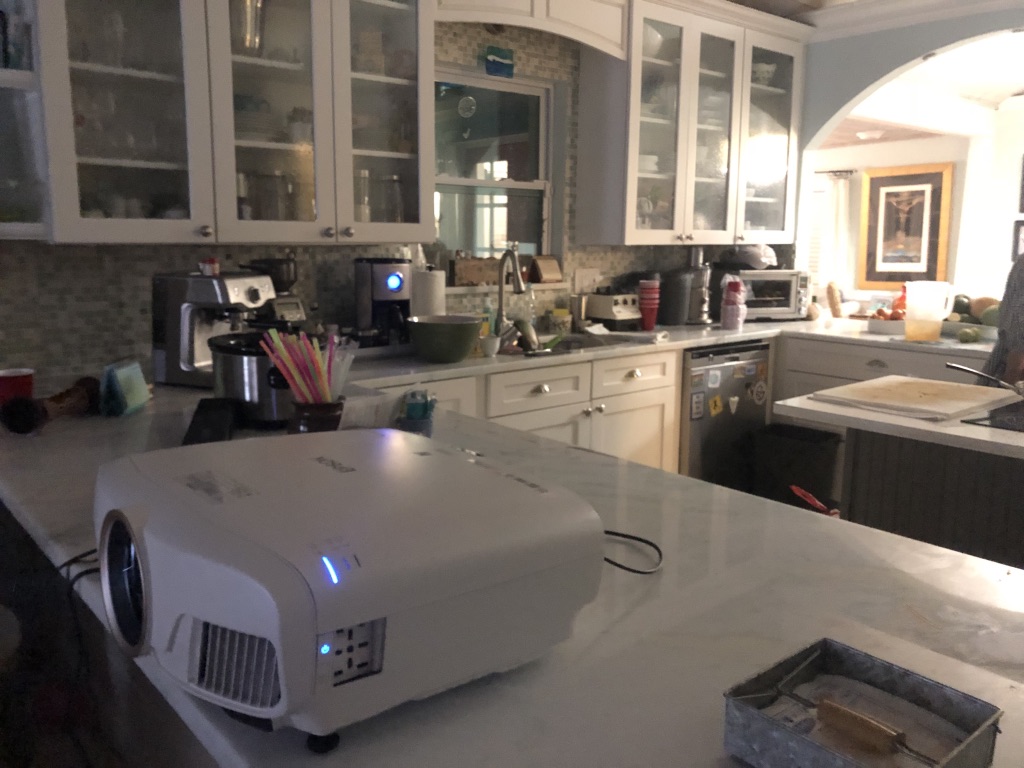 <
Amazing Features About the Epson Home Cinema
We were all blown away by the clarity of the picture and the incredibly vibrant colors from the moment we first connected the projector.
I can't say it enough. The clarity is SCARY– so incredibly real and immersive.
It's simple to set up. You really don't need to be super tech minded.
The remote control for automatically adjusting the direction of the projection. I have a friend with a projector who said hers is "a real pain to get the picture right by fussing with the feet (of the projector) and the angles!" She was blown away with how simply and quickly we could tweak the adjustments. I asked what she thought of ours and she replied, "The projector produced a crystal clear picture that far exceeded movie theater quality, and it was so simple to use!"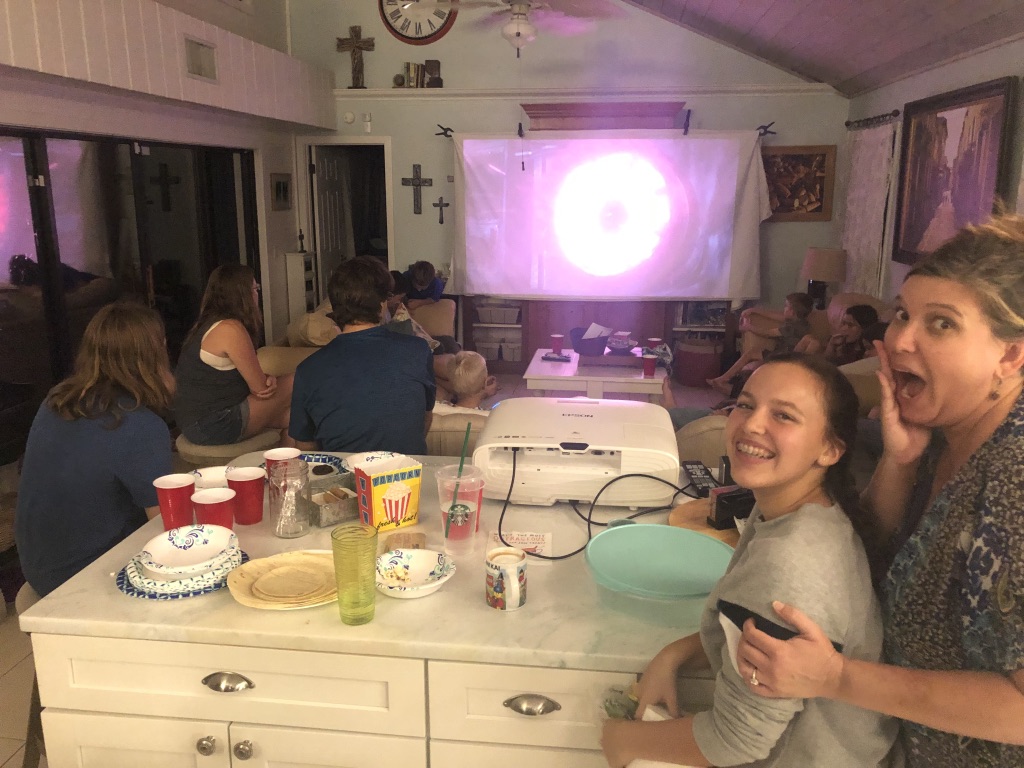 Things to Keep in Mind with the Epson Home Cinema
There's no sound in the system. Fortunately, we had a bluetooth sound bar we were able to remove from our teen's gaming center. And with this amazing projector, he's not even worried about losing it. But, you'll need to have some kind of speaker system. The good news is you can connect either wired or wirelessly.
It's heavy. Weighing almost 25 pounds, this thing isn't as portable as I was hoping.
It's not cheap. Coming in at $1999 before tax, it's a big investment. However, the rewards are priceless. It's not something I would've considered spending that kind of money to have in our home, but it the few short weeks we've had the Epson Home Cinema, the memories are priceless. Plus, I did some quick math for you (I'm a financial coach who is very intentional with spending), and it's really not as horrible as it sounds. Movie tickets are at an all-time high. But it's not just the tickets, right. There's popcorn even more overpriced than what we sell as a Cub Scout fundraiser, and drinks of which the cost could feed your family for an entire day. Take the average cost of going to the movies for a family of four across the US, which is at least $80. I know theaters where tickets are over $20 each these days, so that would be even more. But, let's say $80.  That's only 25 trips to the movies. In two years, just one trip a month, your Epson Home Cinema will more than pay for itself. And, besides, the memories are priceless, and you'll be seeing many more than just one movie a month!
My opinion? Save up the money (never go into debt for purchases) and splurge. You'll be the coolest family in the neighborhood and be hosting drive-in movies, too — with priceless memories.
Buen Viaje! ~Jen