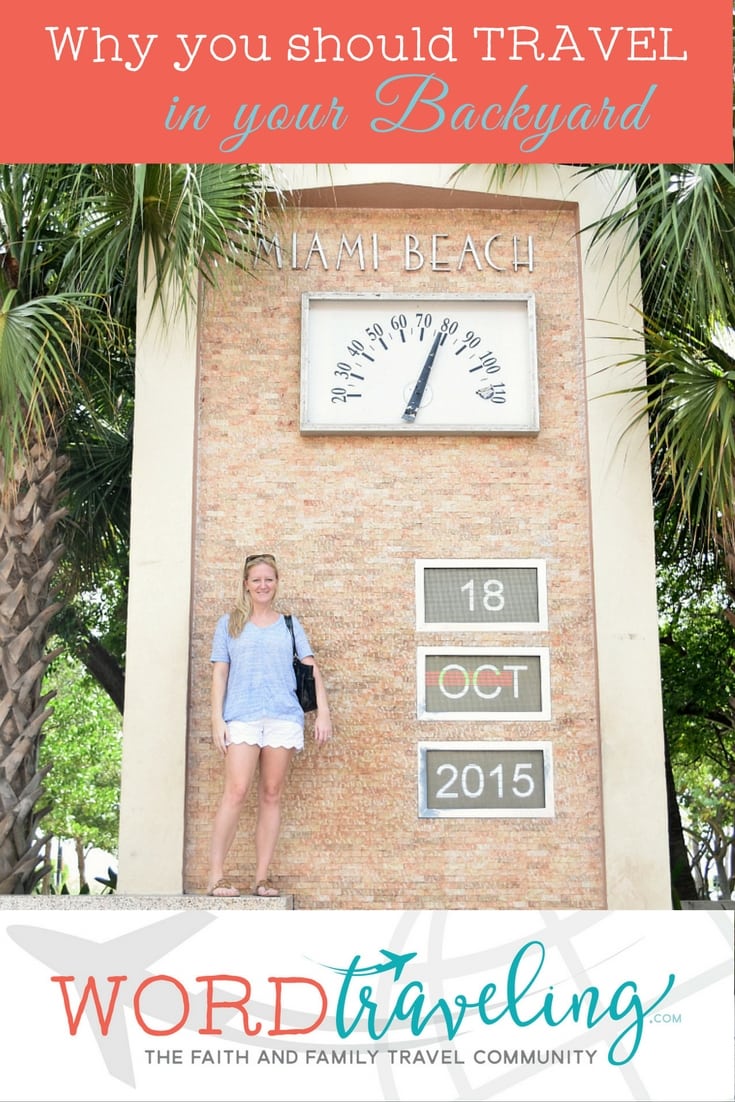 When we first moved to Florida two years ago, one of the things I looked forward to most was exploring the area around our new home.  When we lived in Atlanta, we did the same:  hikes in North Georgia, game days in Athens to see the Bulldogs play, dinners at amazing restaurants in the little hipster neighborhoods of the city, and stopping for roadside boiled peanuts in South Georgia. Our experience in Florida has been equally as adventurous, (although my husband still won't take me to Gatorama — a destination that is exactly what it sounds like and something I really need to see firsthand.)
In the two years we've lived here in the area, we have traveled all over Florida, and there is still so much to experience!  Travel in your own backyard has many benefits, and no matter where you live, you can find some one-of-a-kind destinations nearby.   Here are just a few of the advantages of local travel:
Save Money on Airfare
A trip to Key West could have been really expensive for us if we'd had to fly, but since we're relatively close, we hopped in the car and did the drive instead.  It saved us money, and we were able to admire the beautiful scenery on A1A and make stops along the way, like this incredible restaurant in Islamorada.  (Seriously, I would make the four-hour drive just to eat there.)  We still had to pay for our hotel of course, but saving on airfare made the trip possible, and it still felt like a true vacation.  You don't always have to go far to feel like you're getting away!
Discover Hidden Gems
We've also seen some incredible places that we surely would have missed if we were just following an area guidebook.  When you start exploring your local area, you're bound to find a few hidden gems, like the World's Largest Shell Factory in Fort Myers, Florida.  You can see live gators, play mini golf, and purchase all manner of kitschy Florida souvenirs there — all about 45 minutes from our house.  I'm sure every state has its equivalent of the World's Largest Shell Factory, and it's up to you to find it!
The beaches of Fort Myers/ Sanibel are some of the most amazing in the world, and you might even discover your own treasures from the sea! In fact, National SeaShell Day is coming up in June; and some of the most incredible shell finds across the globe can be found right in my backyard!
Embrace the Local Culture
Every big city has its own unique culture, and it might be time for a visit to one in your state.   Stay for a night or two right in the middle of downtown, and immerse yourself in the scene there.  Try the best restaurants, do some people watching, and maybe take part in some of the touristy stuff too!  We did this in Miami last fall when we stayed in South Beach for a night.  We had breakfast at a little sidewalk cafe on Ocean Drive, admired the Art Deco architecture, and took photos by the Miami Beach clock.  It was a fun weekend trip that allowed us to experience Miami culture for the first time.
Make Return Trips
One of the best things about travel in your own backyard is that it's easier to make return trips to the places you love!  We knew as soon as we moved to Florida that we wanted to get a Disney Annual Pass, and this year we finally did.  We've been to the parks six times this year, and the truly magical thing about that is getting to know a destination so well that it feels a little like home.  We have our favorite rides within each park, and we've experienced the Food and Wine Festival, the Flower and Garden Festival, and even the super busy holiday weekend when we got engaged.  We look forward to bringing our future kids to the park someday, and it will always be a really special place for us.  Choosing a destination close to your home and getting an annual pass — whether it's a theme park or the zoo or a theater or just your favorite hike — allows you to experience it in an entirely different way.
Vote For Travel In Your Own Backyard
Exploring all your area has to offer is a fun way to save money, find hidden gems, and discover your new favorite destinations.  Even after two years of living in the area, there are still many local places on my travel bucket list:  seeing the manatees at Three Sisters Springs,  The beaches of Fort Myers/ Sanibel checking out historic St. Augustine, an airboat ride in the Everglades, and of course, Gatorama!
What are your favorite local travel destinations?  Any places I should add to my list for Florida?