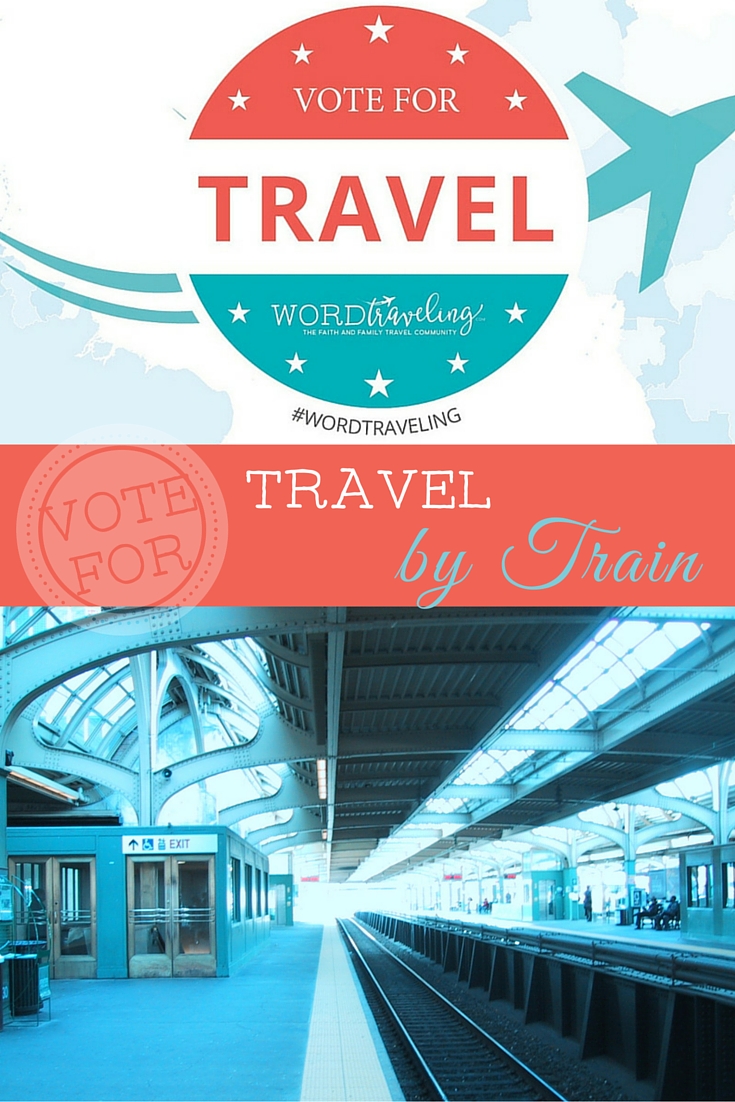 Like most little boys, my son became obsessed with trains from a very young age. It never mattered if it was Thomas the Tank Engine or the D.C. Metro, if the opportunity to ride one presented, the begging commenced immediately. One of the first picture books he remembers is The Polar Express.
The Christmas he turned 3, Santa brought a hardcover copy of this treasured book, along with a silver bell. He begged for many years to be able to ride a train to the North Pole and vowed never to stop hearing the ringing of that silver bell.
Sadly, I can't make that dream come true, but in just a few months, he and I will be boarding a train for the trip of a lifetime. I have begun planning a road trip with an Amtrak Rail Pass.
Amtrak Rail Pass
If like our family, you don't live in a city or town serviced by Amtrak, you may not be familiar with the Amtrak Rail Pass. I wasn't very familiar either until I began planning our upcoming vacation. The Rail Pass is an option for those who are planning to travel by train touring  the country (or California). For one price per person, you can travel for a period of 15-45 days across the U.S. or 7-days in California. For purposes of this article, I will be referring to the Rail Passes that allow for travel by train across the country.
Depending upon how long you wish to travel, you can choose 8, 12, or 18 segments of travel. This means that you can plan a road trip, stopping at sites along the way. Our family will be purchasing 30-day Rail Passes, allowing for 12 segments of travel. The cost for a 30-day Rail Pass is $689 for adults and $344.50 for children ages 2-12 (children under 2 ride for free).
Our Amtrak Trip
From the time you board a train until you exit it is considered one segment, no matter how long the distance. Our family will begin our first segment of travel in Chicago, aboard the California Zephyr. We will ride this train all the way to California, where we will spend the bulk of our trip, and then return to Chicago aboard a different train (and route), the Southwest Chief.
During our trip, we will ride through the Rocky Mountains, stopping in Denver, CO and Salt Lake City, UT, Yosemite National Park, San Francisco, Sacramento, and the Grand Canyon, among other places. Planning a trip of this magnitude is no small feat, which means I have already been researching and planning even though we are several months from travel.
In my research, I have learned so much about how travel by train works: the benefits, possible pitfalls, expectations, a few tips and tricks, and more. But, you may be wondering:  Why travel by train?  Before I get to all the must-have information for planning a road trip with an Amtrak Rail Pass, let's talk a bit about the benefits of travel by train.
5 Benefits of Travel by Train
Comfort and Relaxation
Traveling by car is fine (especially if someone else is doing the driving), but it's often cramped and the only time you get to stretch your legs is when you stop for a potty break or meal. On an airplane, the seats are small and the leg room is practically non-existent. Climbing over people to get to an even more cramped bathroom hardly qualifies as moving around.
With someone else doing the driving, comfortable seats, plenty of legroom, and the ability to move around at will, trains are one of the least stressful and most comfortable forms of transportation available. You can even upgrade your ticket to a room with a bed, private bath, and shower if you'll be traveling overnight. During the day, you get to relax and enjoy the beautiful scenery from the observation car,  instead of fighting the traffic and fiddling with maps or GPS.
Liberal Baggage Policy
For no charge, each traveler can bring 2 checked bags (up to 50 lbs each), 2 carry-on bags (up to 50 lbs each) and 2 personal items (up to 25 lbs each). If you've traveled by air recently, you'll know what a deal that is, since some airlines are charging even for carry-on bags these days and nearly all charge for checked bags. If you need to bring even more luggage, you can check 2 additional bags for $20 each.
Convenience
No arriving 2-3 hours ahead of your departure time; arriving 30 minutes before your train leaves is probably early enough. No worrying about how many ounces of liquids are in your shampoo bottles (there are no maximums with liquids like on airplanes). No long security line checks. No removing your shoes. No pat downs.
Train stations tend to be right in the heart of the city, so no long, expensive taxi rides to get to your hotel, but if you do need a taxi, they'll be right there. Long-trip trains, such as the California Zephyr and Southwest Chief have special glass observation cars to watch the scenery and meet other travelers, dining cars, and showers.
Cost Savings
Compared to air travel, travel by train can be very economical. When planning a big trip such as we are, it may even be cost-effective compared to the wear and tear on a car (or the cost of a rental), gasoline, and more frequent stops for meals and overnight at hotels.
For shorter trips, the cost savings can be even more dramatic. Also, you're more likely to find cost savings with AAA discounts, half-price fares for children, student and military discounts, and other special deals that you're not likely to find with airlines.
Tips For Planning Your Amtrak Trip
I realize that travel by train may not be for everyone. But if this sounds like an exciting prospect for you, here are a few tips for planning your own road trip with an Amtrak Rail Pass, from the information I have gathered in my research.
Trails and Rails
To enhance your road trip, Amtrak has partnered with the National Park Service, to bring the Trails and Rails Program. This initiative matches trains with National Parks, to make it convenient for travelers to travel to many historic landmarks and cultural sites via Amtrak.
Download the Trails and Rails Schedule
How to Plan a Field Trip with an Amtrak Rail Pass
The first thing to understand about the Amtrak Rail Pass is that it is not the same thing as your train ticket and it does not guarantee a reservation for a particular segment of your trip. You will still need to make reservations for each segment.
Choosing Your Route
When planning a road trip, of course, you'll want to decide where you wish to travel first. It might be helpful to look at a map of where Amtrak travels for ideas. Once  you have matched up Amtrak's maps with your travel destinations, you can begin your planning. The two routes we will be using both originate (or end) in Chicago. So we will also need to consider transportation from Kentucky to Chicago as well.
Next, you'll need to determine how long you want to be gone. Rail Passes are available for 15, 30 or 45 days. Once you have begun your travel, you will need to complete your travel within the time period of your pass. It will be important to carefully plan your trip to get you back to your final destination before your time is up.
Carefully count and keep track of your segments. It will be easy to get carried away with wanting to stop at many places, but if you have a 30-day Rail Pass, you are limited to 12 segments. Perhaps consider that as 6 segments coming and going if you'll be doing a round trip.
Tip: Once you have your route planned out and know how long you will be gone, make all of your reservations for your segments of train travel before making hotel, rental car, or sight-seeing reservations. The further you plan ahead, the more likely it will be that you can get reservations for the days you wish to travel. This is especially important if you have overnight segments and want to consider upgrading to a sleeping car (which are very limited). 
Packing Tips for a Train Trip
Wear comfortable clothes. The dress code even for the dining car is casual. Also, wear comfortable shoes (they are required at all times).
You won't need to bring towels or linens if you have a room for overnight, but if you don't, do pack along a small blanket and travel pillow.
Don't forget charging cords for your devices (there will be outlets at your seat to charge them). Be sure to download any books, audio-books, movies, or podcasts you want because wifi and phone service are sketchy.
Don't forget noise-canceling headphones and a sleep mask if you will be sleeping in your coach seat.
Tip: Bring along a power strip if your family has lots of devices to charge. 
Sleeping Car
Sleeping cars are available on the long-distance routes, but they are limited in quantity. Accommodations include roomettes (2 adult beds, no private bathroom or shower), bedrooms (2 adult beds, in-room toilet and shower), bedroom suite (4 adult beds, 2 in-room toilets and 2 showers), and family bedroom (2 adult beds, 2 child beds, no in-room toilets or showers).
You can usually find one accessible bedroom per train (2 adult beds and in-room toilet, but no shower). These rooms are not included in the Rail Pass price, but you can upgrade for an additional charge.  There are restrooms and showers available in the same car for the rooms that do not have them in-room.
Turn down service, electrical outlets, reading lights, fresh linens/towels, and windows for watching the view are included for all of these rooms. Many people just sleep in their coach seat and use the public bathroom.
Tip: Wait until everyone goes to bed and then stretch out in the observation car. 
Dining Car
A few things to know about dining. The long-distance trains have dining cars, but unless you have upgraded to a sleeping car, you'll be buying your meals, so be sure you budget for that. Credit and debit cards are accepted. Know that  you'll likely be dining with new friends at your table.
Tip: Pack some snacks. 
More Tips for Travel by Train
The quietest seats with the best views are at the tail end of the train.
July and August are the busiest months, so definitely make reservations as far ahead as possible if you're traveling during those months.
All Amtrak trains, buses, and stations are 100% non-smoking. Some trains make smoking stops where smoking is allowed on the platforms next to the train.
One you purchase a Rail Pass, you must use it within 180 days. You can choose when to travel within that time period, but once you use it the first day, you must complete your travel within the period of time designated (15, 30, or 45 days). You do not have to travel every day.
Rail passes are refundable, as are Amtrak tickets. Refunds may be subject to a fee in some cases. You cannot receive a refund for a Rail Pass once your travel has begun.
A few of the negatives that I've read about (but don't deter me):
Apparently the bathrooms can get pretty disgusting. I guess moving trains and men aren't a good combination.
The wifi and phone service is sketchy at best. Even though this is maybe the worst news for a blogger, traveling across the country on a train (I was at least hoping for an Instagram journal), I am looking forward to conversations with Ben and other travelers, and getting caught up on my reading (must remember to pack my Kindle).
Most of these trains run daily, as in once a day. If you miss your train, you're gonna be delayed for 24 hours.
It can get noisy (so pack some noise-canceling headphones if you need peace and quiet).
Amtrak is not always reliably on time. So don't schedule an expensive tour for 2 hours after you're supposed to arrive. I've ready that the long-distance trains can often be many hours late. If you have a guaranteed connection, apparently they will take care of you somehow, even if it means an overnight hotel stay.
We are looking forward to our trip by train and hope you will consider travel by train too!
Important Links
Join the Amtrak Guest Rewards Program
Need help planning your Amtrak vacation? Here are some packages and deals.
Have you ever taken a road trip with an Amtrak Rail Pass? What's your best tip?
Marcy Crabtree spent nearly 15 years as an Ob nurse, sometimes juggling homeschooling with the job she calls her first ministry. Grateful that her main ministry today is at home, she has been married to Tom for 17 years, and is 14-year-old Ben's proud momma. Her homeschool style is delight-directed with lots of unit studies, lapbooks and notebooks. She is greatly influenced by Charlotte Mason's love of living books. If she ever writes a book herself, it's likely to be titled "Homeschooling by the Field Trip Method," though homeschooling by the "rabbit trail" method might be more befitting. She blogs about homeschooling, faith, biblical parenting, and ADHD on her blog, Ben and Me. She would love to connect with you on Facebook, Twitter, Pinterest, and Instagram.
Come join our community of faithful adventurers on Word Traveling so we can keep inspiring each other to great things for the Lord, traveling to, with and because of the Word!
Join our facebook group of Christian travelers here!