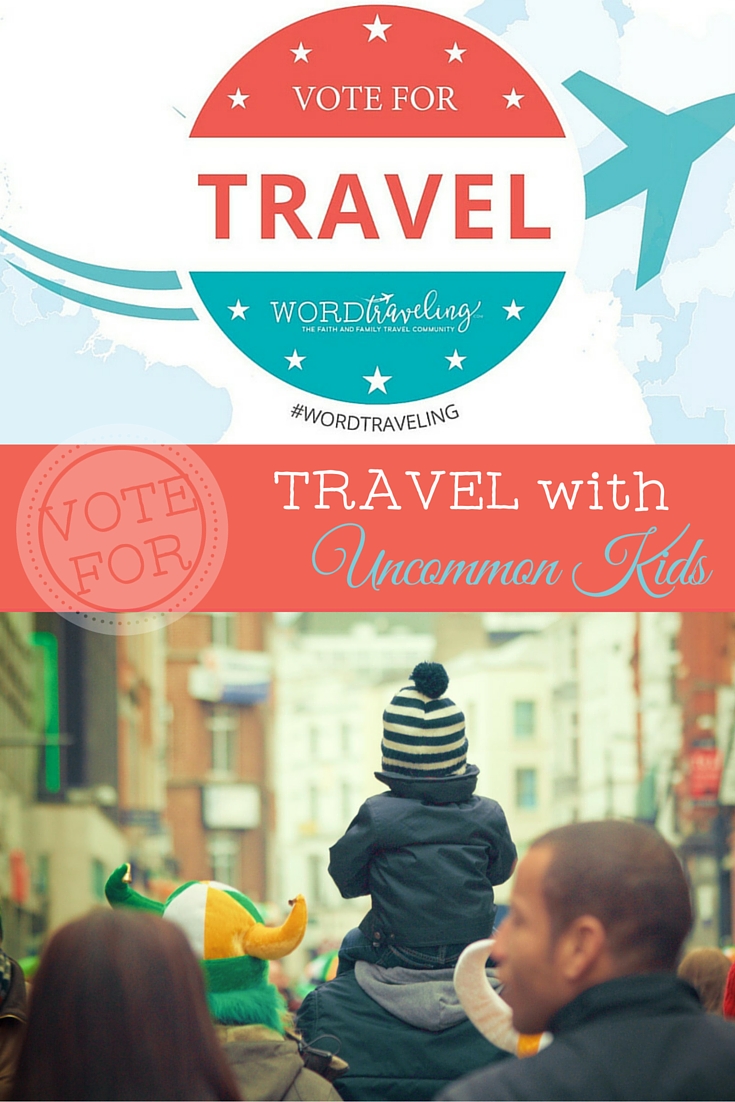 We'd all like to think we're uncommon, but what exactly does that mean?
Let's face it, most of us have seen the tantrums and breakdowns while on vacation – if not in our own kids, then in other families. And chances are, it can be witnessed multiple times at expensive amusement parks you've saved months just to be able to get there!
I may or may not have even uttered to my own children in their pre-school years, "There's no crying at Disney!"
After all, our kids should be grateful for these incredible trips they get to experience with us, shouldn't they? The problem starts when they start taking these incredible opportunities for granted. When travel becomes commonplace, there is no room in their hearts or minds for gratitude, humility or even generosity.
Does that mean we should travel less? I certainly hope not!
So how do we not only avoid the common pitfalls of travel, but turn the corner and embrace the uncommon? We create the solution by raising uncommon kids.
Why Traveling is More Fun with Uncommon Kids
When you raise kids who are less focused on their own needs and more in tune with the needs of others, it makes every moment more fun, especially travel. You'll find you will start spending less time 'monitoring' your kids and more time seeing the world through their eyes. And it should go without saying that uncommon kids go against the status quo, so they won't automatically flock towards what everyone else is doing. Instead, they're more willing to explore, take risks and initiate activities.
Where to Travel with Uncommon Kids
When you raise your kids to be uncommon, the world is literally at your feet! In fact, I suggest starting with a staycation so you can not only discover some hidden gems in your backyard that you may have never taken the time to stop and appreciate before, but also so you can discover the need next door. When you help your kids see beauty in their backyard, it makes them even more appreciative of that trip you've saved all year for or an ever bigger journey across the ocean.
How to Prepare for Uncommon Travel
Sometimes traveling with uncommon kids isn't so much about where you go as what you do in preparation for your trip. Depending on the ages of your kids, you can assign each child a day of the vacation to plan out the activities, meals and sites to see. For younger kids, consider making a lap book so they can begin learning about the culture, people, and landscape of where you're going before you even leave; a lap book can also include fun activities for the plane or car, as well as challenges for them to complete once at the destination. For instance, we created a Disney Cruise Lapbook that not only involved a lap book for each country we visited, but some fun games, too. Their favorite activity was "Crew Bingo," where they had to introduce themselves to crew members from 25 different countries and learn how to say "hello" in their native language!
How to Raise Uncommon Kids
So I can hear you saying, "That's great Sami, but how do I pull all this off?". I can tell you, it doesn't happen in a day and it's not a one and done process. In fact, instead of focusing on behavior you want to eliminate, pick one thing you want to add into your children's lives that's positive. For instance, if you feel like you fight a never-ending battle of buying souvenirs on each trip you take, why not start by focusing on gratitude? If you travel with extended family frequently and the cousins always seem to be at each others throat, how about introducing the concept of peace? The key is to make it clear what it is you're doing as a family and make your expectations known…then model the behavior. Before we can ever expect to have uncommon kids, we must first be uncommon ourselves!
You can visit 12 Days of Uncommon Kids for a synopsis of each of the 12 characteristics I included in my book, Raising Uncommon Kids, along with suggestions for how to put each characteristic into practice.
After all, the purpose of travel is to make family memories to last a lifetime. The question remains, will you settle for the ordinary, or will you vote for traveling with uncommon kids? I hope you'll choose the latter.

Sami Cone is a blogger (SamiCone.com), radio host & TV correspondent mentoring others to live their dream life on less and pursue their passions. She draws on her experiences as a writer, editor, university professor, performer, professional athlete, and pageant winner to help women realize their full potential in life. Sami is the author of "Raising Uncommon Kids", is known as the "Frugal Mom" on Nashville's top-rated talk show "Talk of the Town", hosts the nationally syndicated "Family Money Minute", and educates over a million listeners every morning on radio's "Family Friendly Morning Show". She is proud to call Nashville home with her husband of thirteen years, Rick, and their two children (a daughter & son) who are 19 months apart. They love traveling and are happy to sacrifice the "stuff" of life so that they can fuel their mission of being a family on the go together!
ENTER TO WIN BELOW:

The Prize – A Four (4) Night Getaway Includes:
One (1) winner* will receive
Four (4)-night stay at the Sanibel Inn on Sanibel Island, which includes complimentary bike rentals. One (1) room for two (2) adults, and up to (2) children valued at $1,300. Blackout dates—entire month of September 2016 as some construction will be taking place.
Tickets for two (2) adults & up to two (2) children to Edison & Ford Winter Estates, providing the option for a guided or self-guided tour, valued at $72. Winners will enjoy touring 20 acres of historical buildings and gardens, as well as Edison's Research Lab and Museum. No blackout dates.
Tickets for two (2) adults & up to two (2) children on a 1.5-hour Caloosahatchee River Tour, provided by Pure Florida. Winners will learn about the history of the Caloosahatchee River and the exploits of Thomas Edison and Henry Ford, and may encounter dolphins, manatees, bald eagles, and more. No blackout dates, must make reservations in advance. Tickets valued at $128.
*Terms and prize details can be found at WordTraveling