What is a Pilgrimage? 
What do you think of when you hear the word pilgrimage? The dictionary defines a pilgrimage, in the noun sense, as:
a journey to a place associated with someone or something well known or respected.

"making a pilgrimage to the famous racing circuit"

life viewed as a journey, like  "life's pilgrimage"
Definition of Pilgrimage
Encyclopedia Brittanica (it's a website now, not the old vintage books!) defines pilgrimage as "a journey undertaken for a religious motive." I believe a pilgrimage is so much more than religion. It's about deepening your relationship with God, the Creator of all in order to become more creative.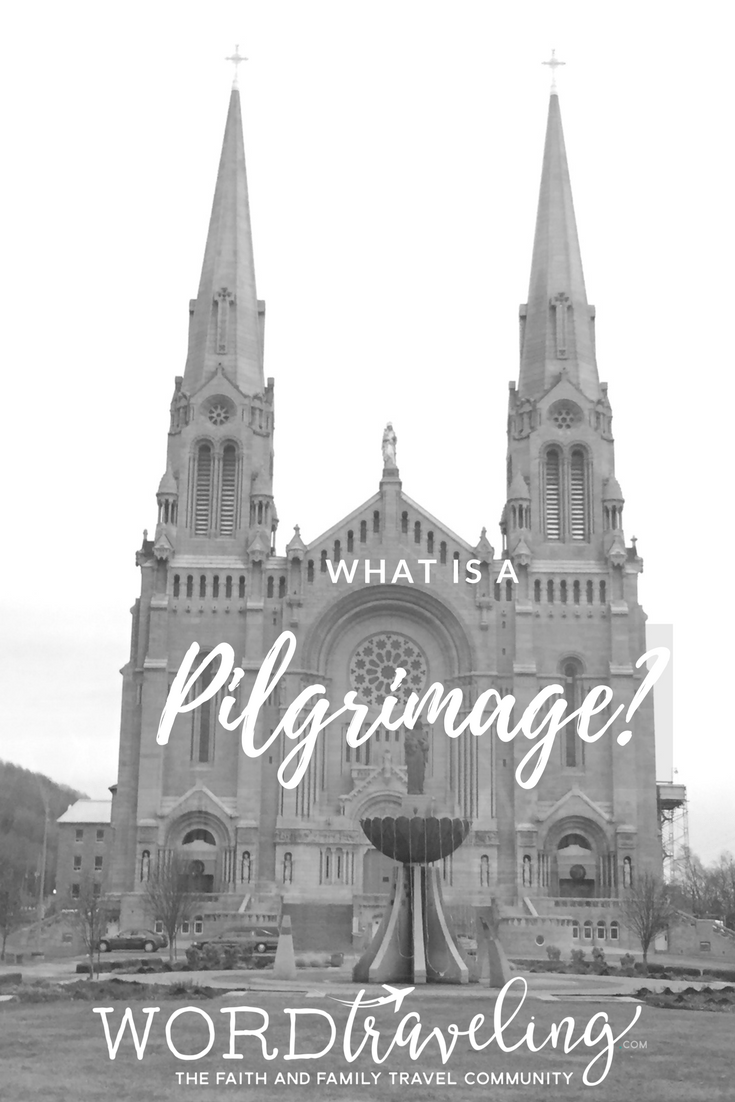 Where Can You Take a Pilgrimage?
If you imagine what is a pilgrimage, you might envision a journey to Israel to walk in the footsteps of Jesus. Perhaps you imagine walking the steps of the Apostle Paul in ancient Greece. (I did, and it was amazing.) Maybe you remember the movie The Way, co-produced and starring the father/son team of Emilio Estevez and Martin Sheen about a pilgrimage along the Camino de Santiago, from France to the coast of Spain. The town of Lourdes, France is a famous site for Christian and Catholic pilgrimages, as is the Vatican in Rome and the village of Taizé, France. (Below: Lecto Divina)
Disclaimer: we were guests of the Ark Encounter and the city of Québec, but all opinions & experiences were unbiased.
American Pilgrimages
This summer, we made a sort of pilgrimage to the Ark Encounter, a life-sized replica of Noah's ark in Kentucky.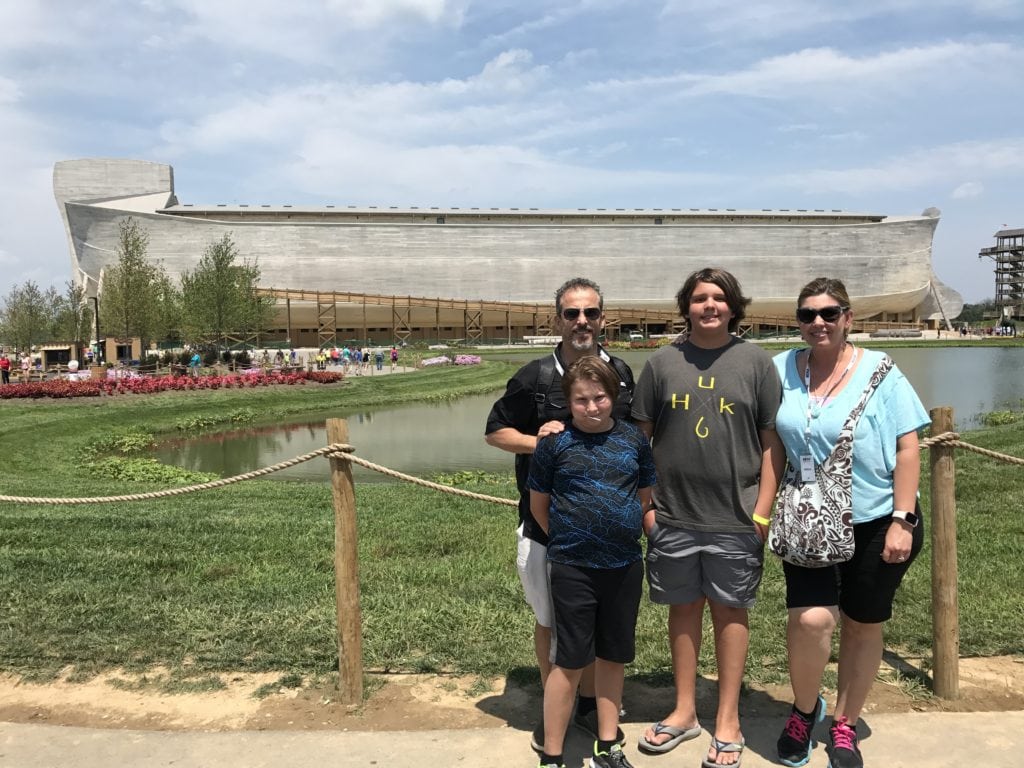 The Museum of the Bible just opened in Washington, DC and can act as another pilgrimage site of sorts for us right here on American soil.
Is Pilgrimage A Verb?
Pilgrimage, in the verb usage, has become a necessary part of my existence, and in my empowering and liberating walk of faith in Christ.
My Life "BC"
Before the most incredible adventure of journey back to faith and truth in Jesus Christ, I made spiritual journeys to study Buddhism in China, Mayan ruins in Belize, and visit Hindi temples in Bali as well as visited cathedrals and Christian monuments such as the Chapel of the Holy Cross in Sedona, Arizona and climbed to the top of the spire in the yet unfinished Gaudi architectural wonder in Barcelona of La Sagrada Familia.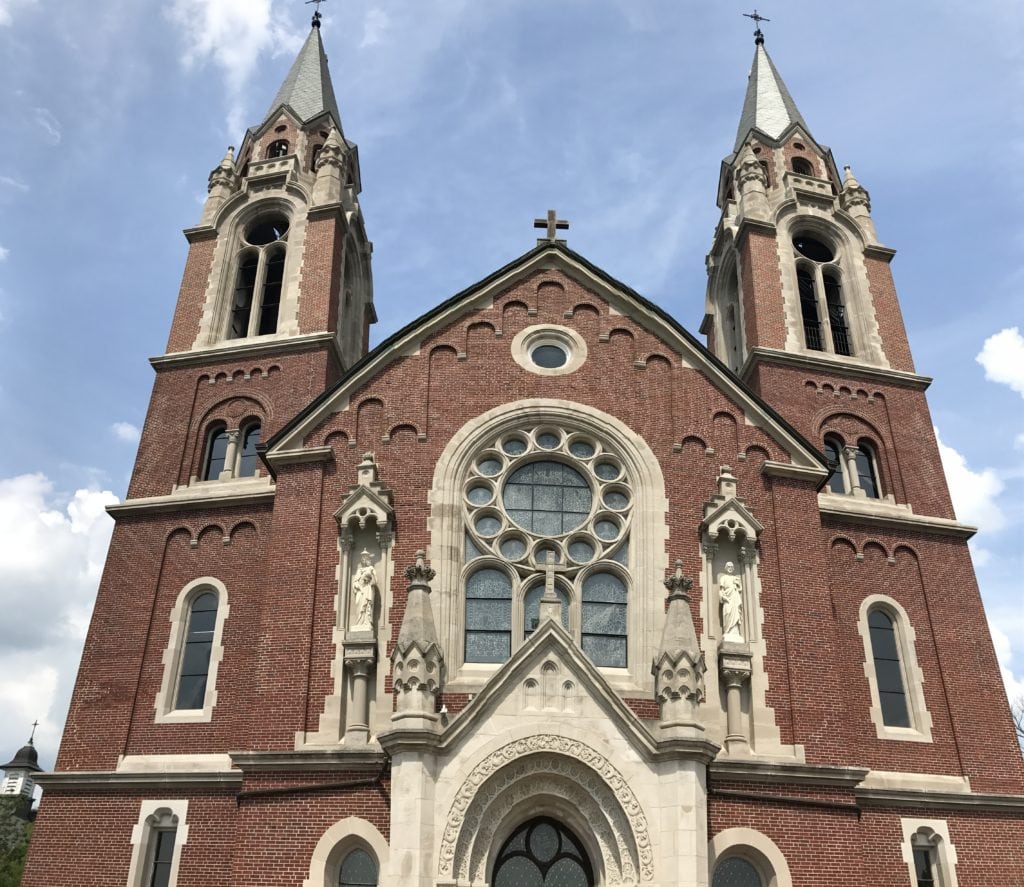 With each step of a pilgrimage, my quest for the true God grew deeper. Since becoming a Christian, in addition to our regular attendance in church, we've traveled with our children to be inspired and in awe of cathedrals near and far, including St. Peter's in New York, the Notre Dame and Sacre Couer in Paris, the incredible Holy Hill in Wisconsin, the ancient villages of Corinth, Greece, and more. I still wonder, what is a pilgrimage?
Can Children Take a Pilgrimage?
There is nothing more touching than seeing your children take a knee in reverence and light a candle in a prayer of their own.
The Tradition of the Holy Door in Québec
Last year, perhaps no spiritual journey of my life has been so moving in unexpected ways, as our visit to the pilgrimage site of Québec City, Canada.
The only "official" Holy Door site in North America, the Pope declared an unscheduled (they usually only happen every 25 years)Year of Jubilee and Mercy and a decree that the Holy Doors should be opened, as the world is in need of mercy and grace. In the words of the Pope, ""be merciful, just as your Father is merciful."
According to the official site for the Holy Door experience, "During our lives, every door represents a passage. They are transitions from one place to another, a change of environment. Sometimes, when we move from past to future, they represent a rupture."
It continues, "as a significant symbol of spiritual experience, the Holy Door offers the opportunity to collect lost parts of our life. By going through the various stages and transitions of his own living, one can find his current yearnings and discover what he's truly looking for. Here, pilgrims will commune with persons who are precious for them, specifically family members, close ones or persons who, just like them, are facing closed doors of life they're looking to open."
A Surprising Pilgrimage Site, Québec City
My husband, Luis and I visited Québec City together to pass through this spiritual door,  just a week before I was to have a second stapedectomy surgery to restore my hearing loss from otosclerosis. But the trip almost didn't happen.
We arrived into the Canadian airport at nearly midnight, and were close to the last ones to pass through customs. We were shockingly detained due to a glitch in our paperwork. The customs officer explained that Luis wouldn't be able to enter the country, and he'd have to wait at the airport for the next morning's flight home.
Devastated, we began to kindly question authority, "please, isn't there anything we can do?"  and of course, to pray together. We believed for a miracle. Surely the Lord didn't send us here to shut the door! Symbolically, doors were being opened, and we needed that in real life, too, here and now!
We explained why we were in Québec, to pass through the Holy Door. After a roundabout of events, including returning to the agent someone's credit card we found on the floor on the way to the restroom, and the longest two hours of our lives, we were released! Hallelujah!
A different armed customs officer approached us and handed Luis his passport, saying in his French Canadian accent, "you must be very good people. Here you go. Welcome to Canada. Next time, fill out this paperwork," and he handed us a different set. Praise God! Indeed, our God opens doors no man can open, even across government borders!
"I know your deeds. See, I have placed before you an open door that no one can shut. I know that you have little strength, yet you have kept my word and have not denied my name." Revelation 3:8
Where to Stay on a Québec Pilgrimage
We ventured to our sacred and near silent accommodations, the restored monastery of  Le Monastére des Augustines, for a surprisingly spiritual stay. Beautiful guest rooms are renovated nun's accommodations, and the prayerful atmosphere feels as if it's deeply engrained in the walls. The entire contemplative environment (and the signs on the walls) invite you to unplug. (As I poetically aim to inspire readers to do in my book, Reset.)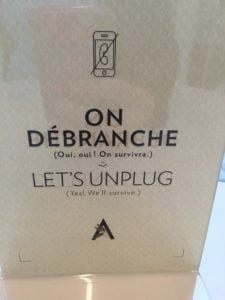 The next morning, I prayerfully walked Le Monastére and happened upon a sign and quote from one of the founding sisters, "I praise God with all my heart for the grace He has bestowed on me in leading me to Canada." I broke down in tears as I, too, prayed this same prayer. I knew our pilgrimage was to realize God's incredible mercy and grace upon our lives, and to share it with others. We may not be founding a hospital, like the Augustine sisters did as the first one north of Mexico in the 1600s, but we are, too, a part of healing souls in restoring relationships to our Creator.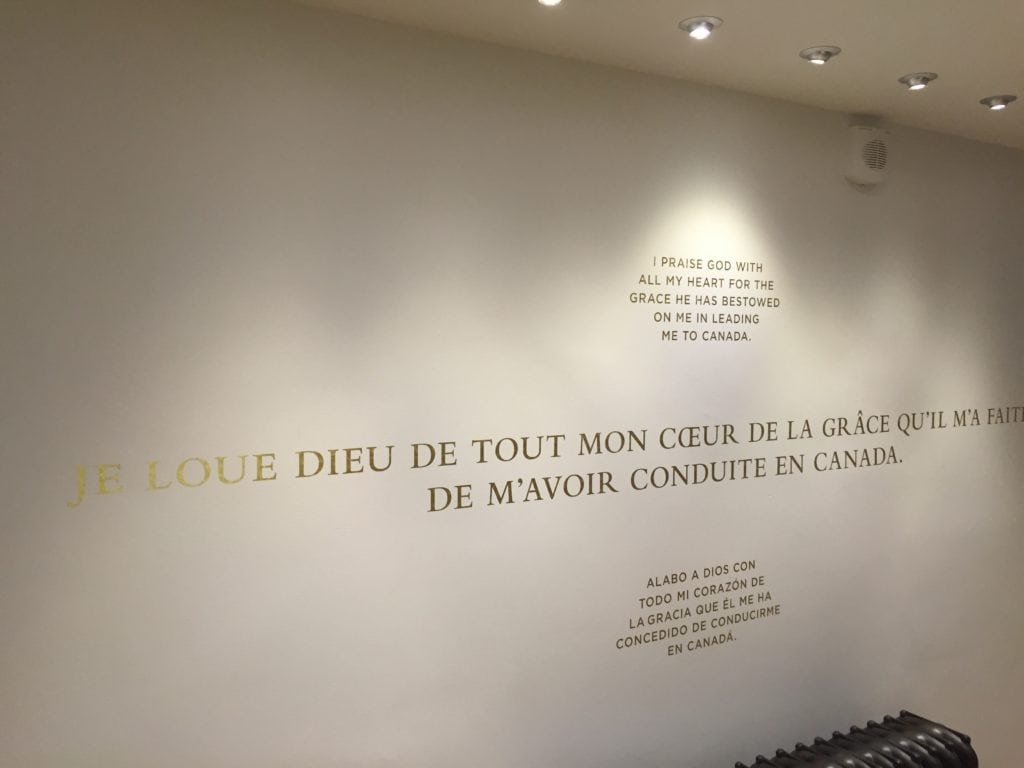 The door to our simple yet elegant tech-free room had a low door frame, originally constructed as a reminder of walking in humility. A delicious and health-conscious breakfast, many of which ingredients are farmed fresh onsite and inside UV towers, is enjoyed in silent meditation.
The traditions of the Augustine sisters, pioneers in health care in North America and dating back to 1639 in Québec, are continued in the center's mission for holistic health, in both innovative and inspiring ways. Try a massage package at the wellness spa, some of their unique custom herbal teas, and a visit through the museum, a vital piece of the heritage of Old Québec. Don't miss the opportunity to sit in the chapel and hear the Sisters' morning prayer chants. It will transport you to a spiritual place.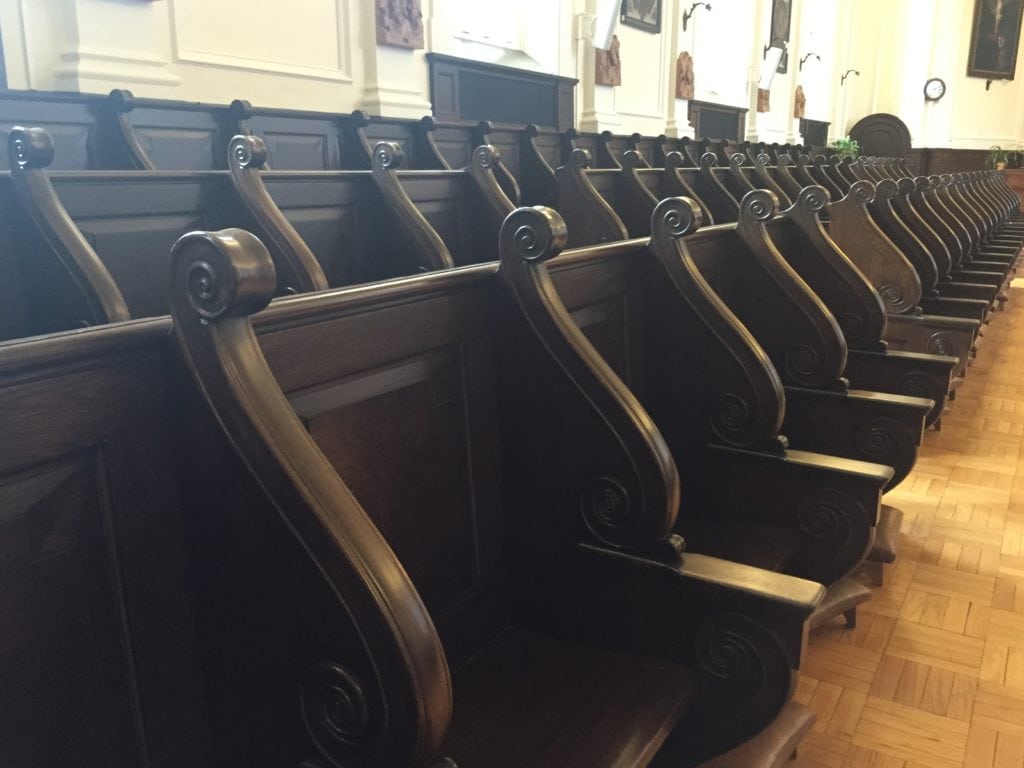 Historial artifacts at Le Monastère des Augustines
The sisters are incredibly welcoming and the halls are filled with history, art, sculpture and mysterious charm. Your stay at the contemplative Le Monastère des Augustines will be one of the highlights of your pilgrimage.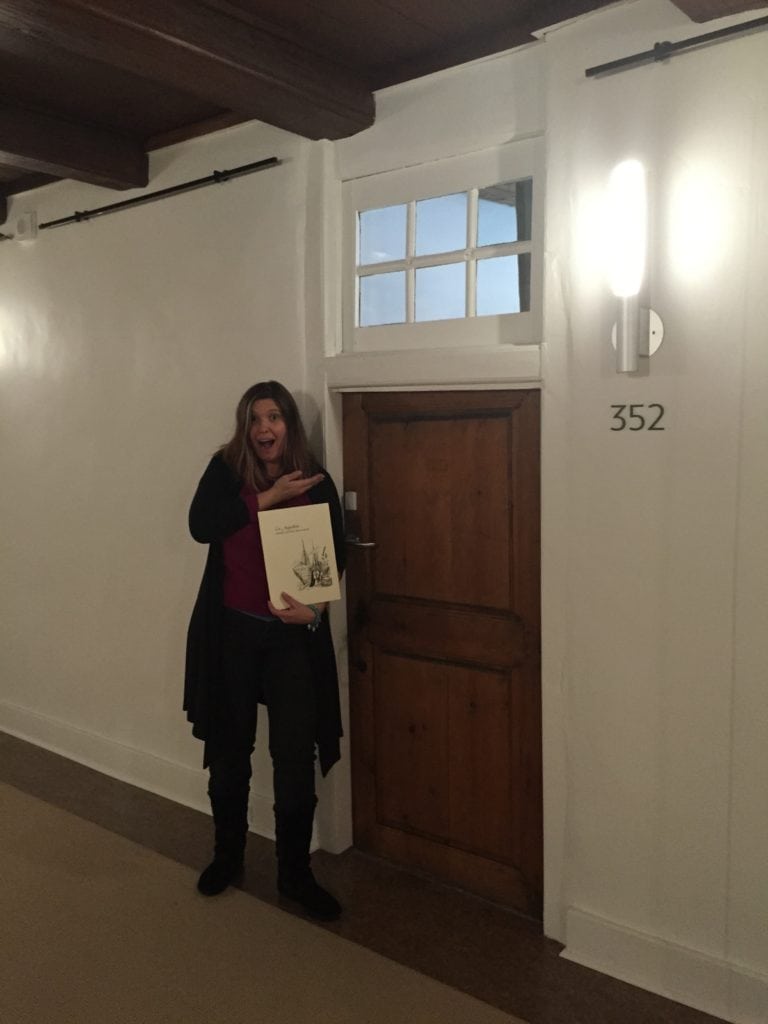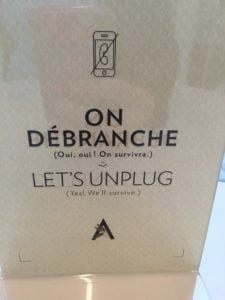 Basilica de Notre–Dame
You'll marvel at the splendor of the French influenced Basilica de Notre Dame, right inside Old Québec. Established in 1664, and rebuilt twice after different fires, at any time it's possible to arrange a personal pilgrimage. It's a holy experience to witness your child light a candle and take a knee in a prayer of their own. I know I've been deeply moved when I've seen my boys in other famous cathedrals, and I can't wait to return with them here!
Visitors will see various works of art and archives with an amazing interior including stained glass windows, a crypt below grounds, and the incredible work of gilded gold art hanging above the pulpit in the baldachin, designed and built by François Baillairgé, a famous French Canadian architect, painter, and sculptor. The masterpiece, appearing to float above the main altar, represents angels surrounding a risen Christ. This is the first basilica I've visited where Christ is not depicted on the cross, but instead alive and risen! I absolutely was mesmerized!
The Holy Door of Québec
At the Basilica, you'll witness the only official Holy Door in North America, an incredible bronze sculpture of its own. The hand of Jesus is outstretched in the bronze, symbolizing all are welcome in His church body. "Behold, I stand at the door and knock. If anyone should hear My voice and open the door, then I will come in to him and will dine with him, and he with Me." Revelation 3:20
Pilgrims from all over the globe make the journey to experience the Holy Door, especially during it's opening years when you can actually pass through the door.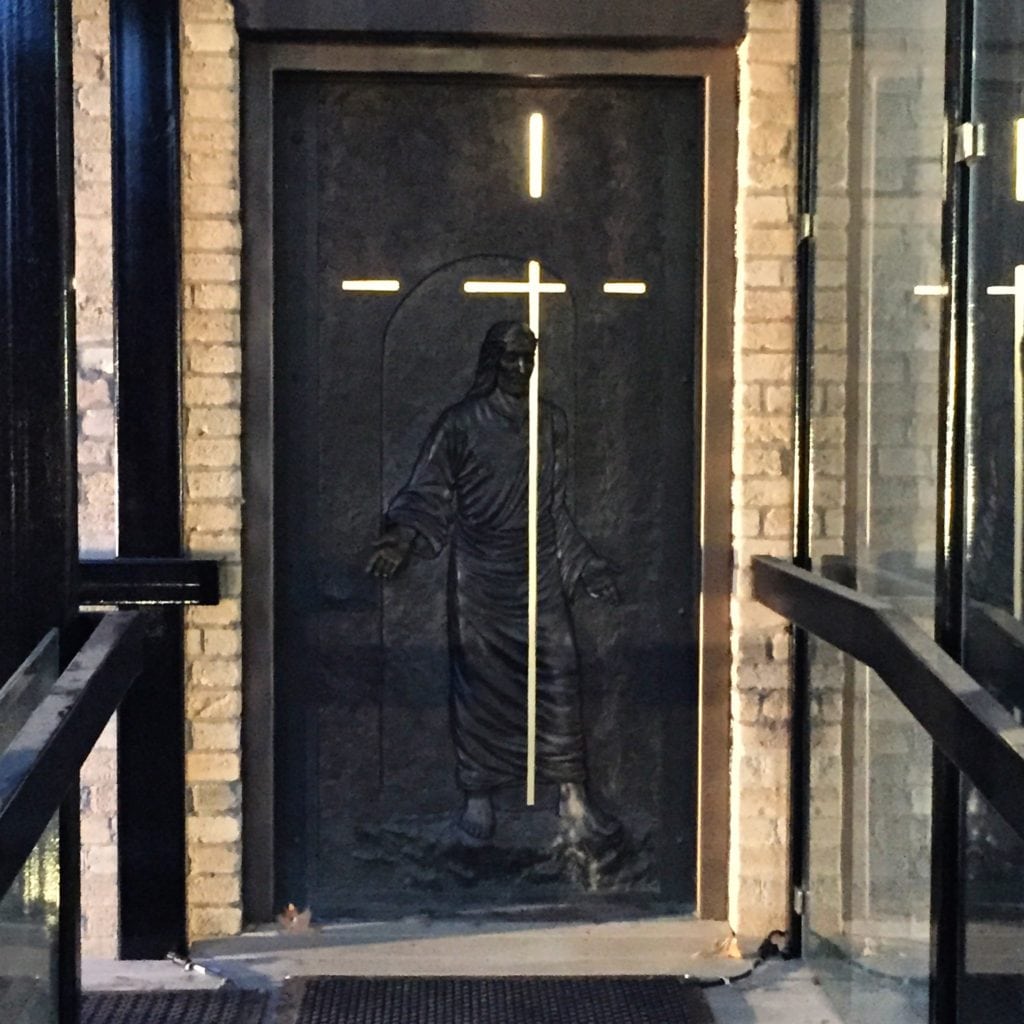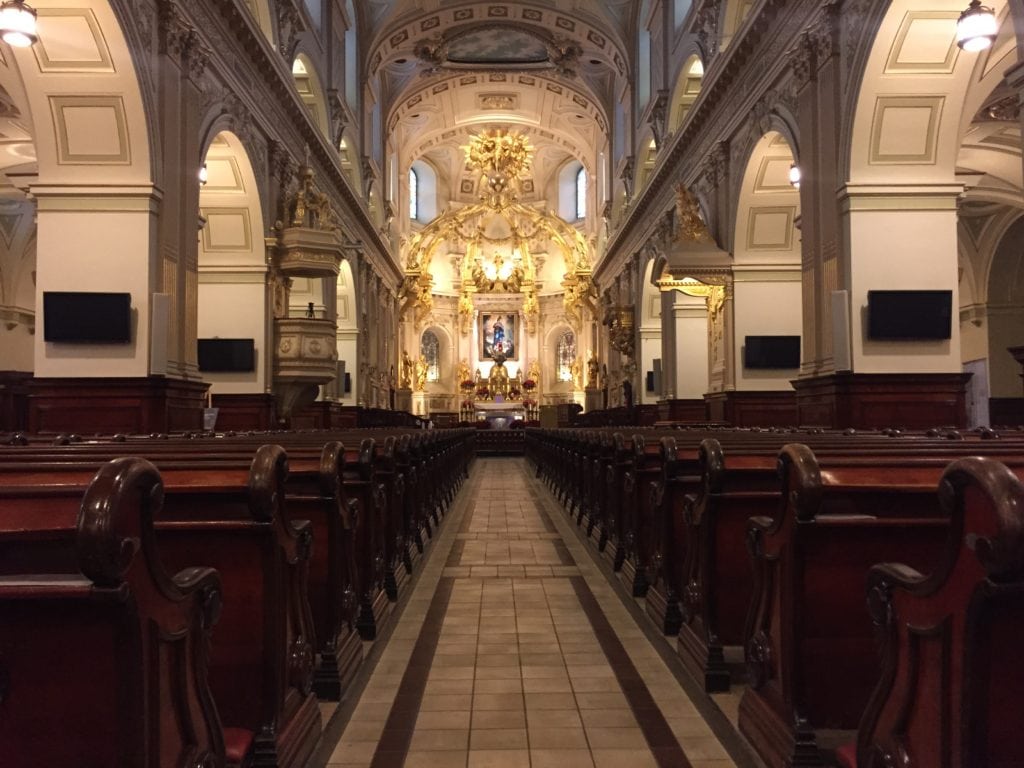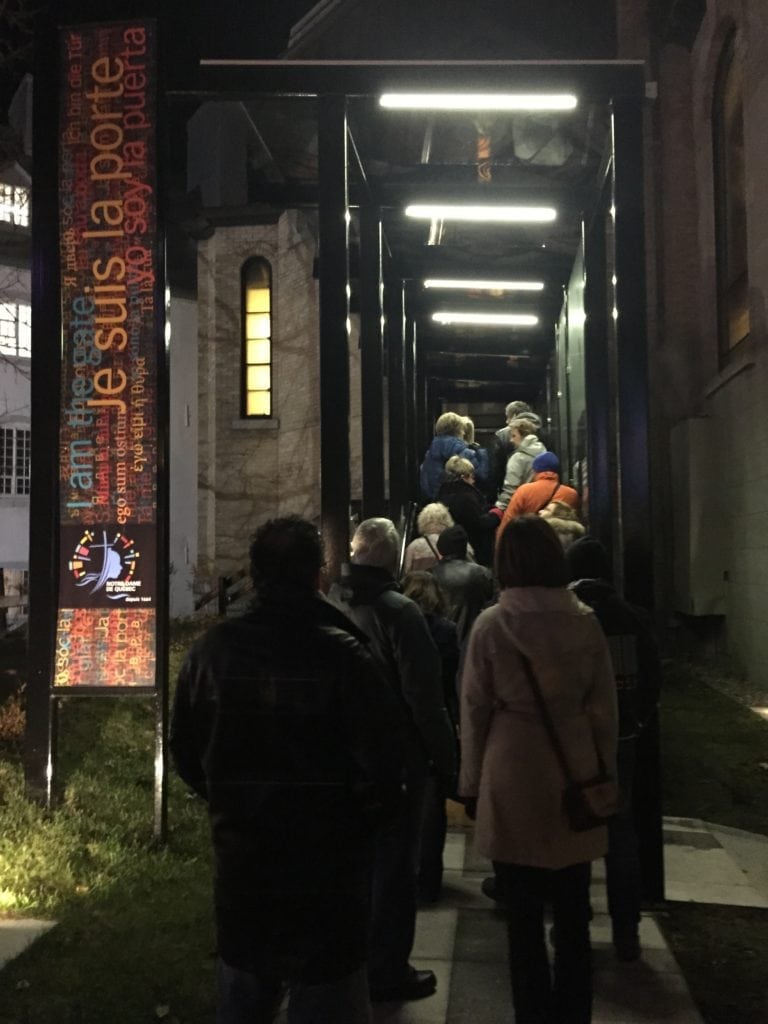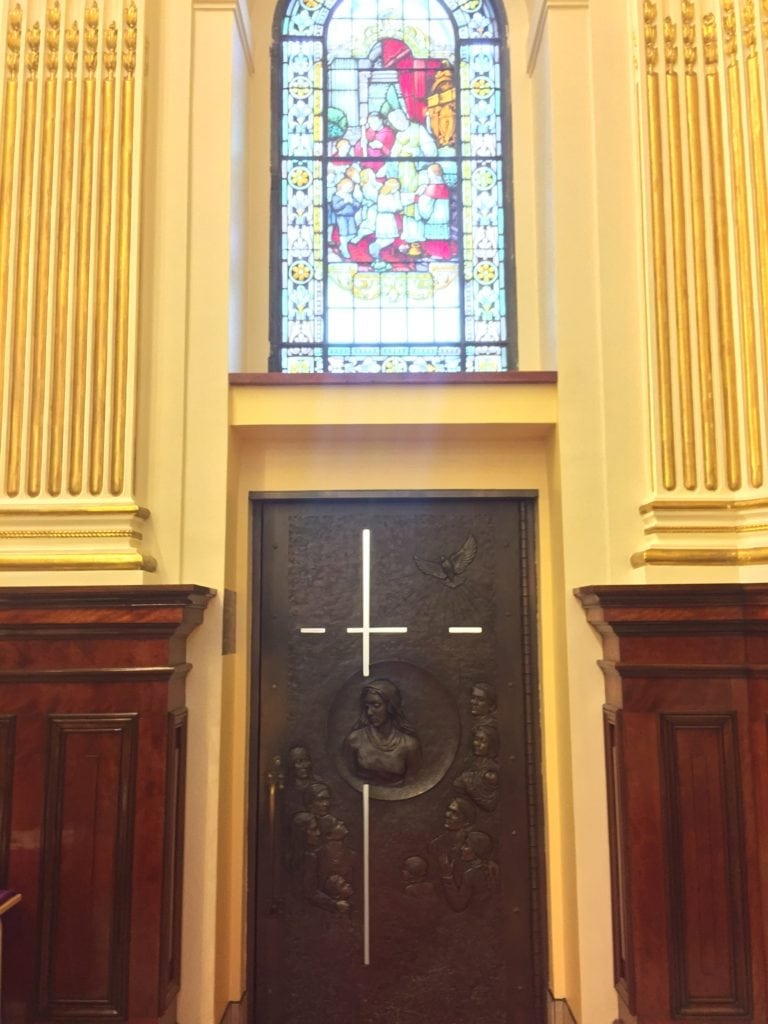 Sainte-Anne-de-Beaupré Shrine
Just outside the town, your spirit will soar at the glorious and enormous Sainte-Anne-de-Beaupré Shrine, the oldest pilgrimage site north of Mexico. Pilgrims have been journeying to this site, one of 5 national shrines in Québec, for over 350 years to pay homage to Saint Anne, the grandmother of Jesus. It is said many miraculous healings and other miraculous answers to prayer have taken place here. Inside the cathedral, stand in awe and admiration at the glorious stained glass, paintings, mosaics, and sculptures adorning the basilica. We visited at Christmas time and the decorations and nativity scenes were incredible. Make sure your way below to uncover more history, and find the replica of the Shroud of Turin and the full-sized marble sculpture copy of Michelangelo's Pieta.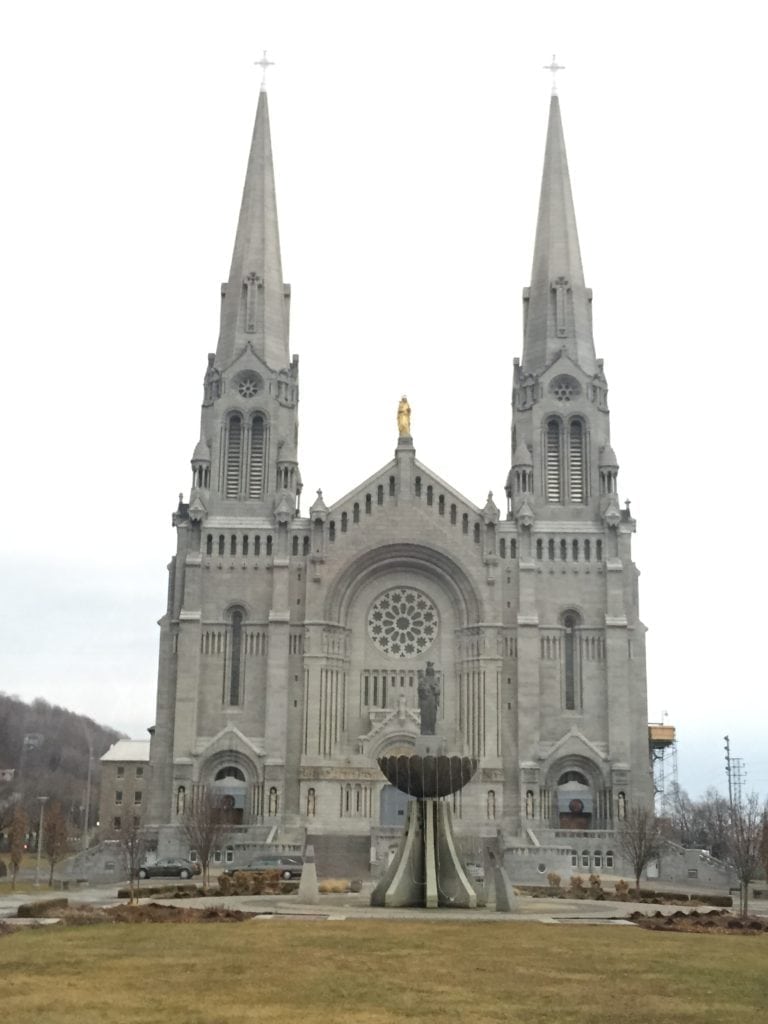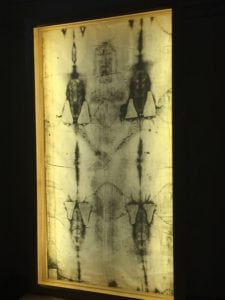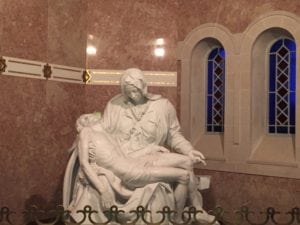 If you haven't taken time for a retreat or pilgrimage, I highly recommend regular times of rest and reflection to deepen your walk of faith. Traveling takes us outside our routines and comfort zones, and exposes you to seeing God in new ways, all around. And He certainly shows up in unexpected and even miraculous ways when you intentionally journey seeking Him.
Vaya con Dios~