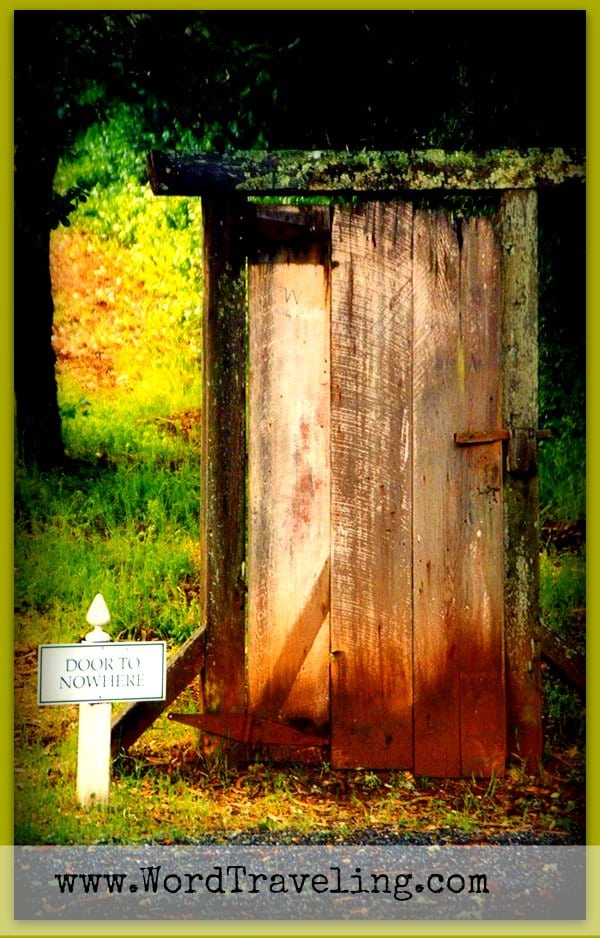 Welcome to "Where in the World Wednesdays?"
Follow these rules:
1) Check in on Wednesday to the "where in the world Wednesday?" link, right here on Word Traveling
2. Grab a guess at where (or what) the image is…
3. WRITE. WRITE. WRITE. Poems, thoughts, inspirations, stories…. wherever the words take you.
Post your words in the comments below! Homeschoolers and poets are WELCOME and encouraged to participate!
4. Enter your email at right to follow my blog.  LIKE us on Facebook.  Link your words and my contest to your site! (please share the link love)
5. Come back the the following Wednesday, I'll announce the winner of the signed, matted 5×7 image which inspired the winning words!
6. Write again. There will be a new image to inspire words! The instructions will remain, but the image will change!  Scroll through past comments to see other entires as they take flight!
This Week's Image- The Door to Nowhere:
Where in the World Wednesday

The Reveal from Last week:

Where does this image take you?

Congratulations to S.E. Ingraham for being last week's winner!
I title the above image "Watered Faith." Though there are many Biblical references to a mustard seed , it was a challenge for me to grasp the enormity  of what that meant until I immersed myself in its growth in Napa Valley  during the late spring. This shot was captured, not with an abandoned barn behind the initial blooming of spring vines, but at a world- class winery along famous Highway 29.
The mustard  is everywhere. To the left, right, ahead and behind. There is not a road to be taken without a glimpse of its tall, sun-kissed blooms. Not only is it gorgeous to our eyes, it plays an integral role in winemaking. The spring mustard is imperative to vineyards and winemakers, as it acts as a ground cover to keep the soil in the right conditions for growing the finest fruit which will later be pressed into an exquisite bottling of wine- God's gift to man. The mustard is preparing the soil for the fruit. (Not to mention making my eyes water from the pollen!)
Standing chest-deep in row upon row of mustard crop brings a whole new depth to the living word of God to understand the importance of the seed Jesus used as His example. There are other tiny seeds, but none that spread so vast, wide, beautifully, and importantly for preparing our hearts, the soil, for Him- the true vine. "I am the true vine, and my Father is the gardener." -John 15:1
The gardener needs the mustard. The vine needs the mustard. We need the mustard. And, I pray that like the irrigation being used in my image above, the Holy Sprit would water our faith so it would grow like the mustard seeds.
Until next week-
Be blessed- Jen

Praying to be always be deeper connected to the vine.