THIS GIVEAWAY ENDED… BUT SIGN UP to stay in the loop! Another AWESOME one is coming this May, 2016!
Throughout the month of May, a group of our friends will be celebrating the travel effect with posts and a fabulous Florida vacation giveaway! Keep reading to find out more.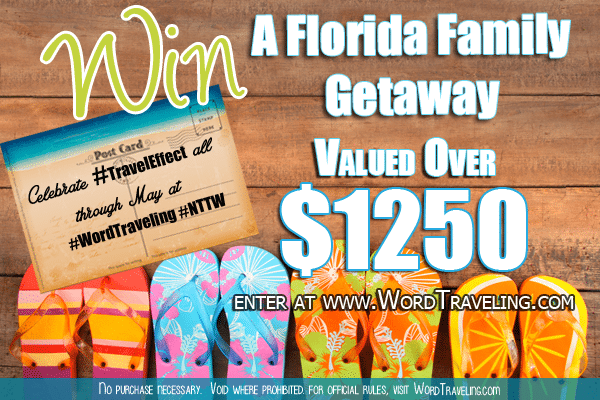 Find out what our blogging friends have to say about the Travel Effect!
5-1 Jen at Word Traveling shares Come Celebrate the Travel Effect with Us. (You are here!)
5-1 Amy at Homeschool Blogging shares about Traveling to Conventions.
5-2 Stacey at I'm A Lazy Mom shares My Newest Lazy Mom Travel Essentials.
5-3 Jen at Word Traveling (that's me!) shares NTTW Kickoff! Infographic & Video Contest Announcement
5-4 Amy at Homeschool Encouragement shares Free Travel Printables for Kids!
5-5 Katie at Paradise Praises shares Large Family Travel Tips
5-6 Jen at Word Traveling shares Travel Effect- The Effects Travel Has on Family.
5-6 Jen at Conservamom shares the Dave Ramsey School of Traveling with Your Family.
5-7 Jenilee at Our Goodwin Journey shares Tips for Surviving Well in Small Spaces
5-8 Jen on Ultimate Homeschool Radio Network shares Travel Brings Online Friendships to Life.
5-9 Suzette from Godly Rose shares Disney on a Dime.
5-10 Marcy from Ben and Me shares 10 Tips for Saving Money on Vacation.
5-12 Kendra from Homeschooling IRL shares Traveling With Kids Is Worth All the Effort!
5-13 Wendy on Word Traveling shares The Great Escape to Italy: Planning Our Getaway.
5-15 Trisha at Intoxicated on Life shares 4 Passes to Access Over 3,300 Educational Family Adventures
5-15 Jen at Florida Parent Education Association shares Making Memories at Your Homeschool Convention.
5-17  Tonya shares Practical Ways to Save Money on Your Next Road Trip
5-18 Taylor shares A Homeschool Graduates Journey to Global 365
5-20 Susie (age 6) shares Flying as an Unaccompanied Minor.
5-21  Leslie shares Getting Outdoors While Traveling with Kids.
5-23 Phyllis shares Do You Travel With Children?
5-26 Jen shares on Treasuring Lifes Blessings The Ins and Outs of Cruising.
5-28 Kathy shares Boredom Busters For Road Trips
Ready to hear about the big Travel Effect Giveaway????
One winner will be blessed to receive:
3 nights stay at Casa del Rey in Hobe Sound Beach, and a chance to meet Jen-value -$450
2 nights stay  for a family of 4 plus Breakfast at Sun Tower Hotel Suites in Fort Lauterdale – value $500.
Geo Matters Maps & Geography Bundle TBA ~$150.
Wonder Maps from Bright Ideas Press – value $49.95.
Apple Core homeschool record keeping-one year subscription- value $55.
Car Cache– THE solution to keep your handbag safely within reach. value $23.95
Words With Wings One Year Subscription from Word Traveling – value $59.