Scroll below to read my review in prose of Beech Retreat!
In 2004, when I wandered the year in Europe with a broken plan, empty wallet, husband in the vines and a baby at my breast, my ever encouraging brother-in-law said, "You should start a blog."
"What's that?" I responded. This was 2004, friends. No smartphones. No high-speed connections or wifi in Europe. I was still dealing with sardine packed, unshowered people puffing second-hand smoke clouds in basement and back alley dial-up internet cafés once a week to stay connected to our family in the US. Did I mention I had a baby? I carried our trusty Dell laptop and journaled along the way. Toward the end of our nine-month journey, I spent weeks arranging my photography, new found European music, and journals into a Windows movie. It was fabulous.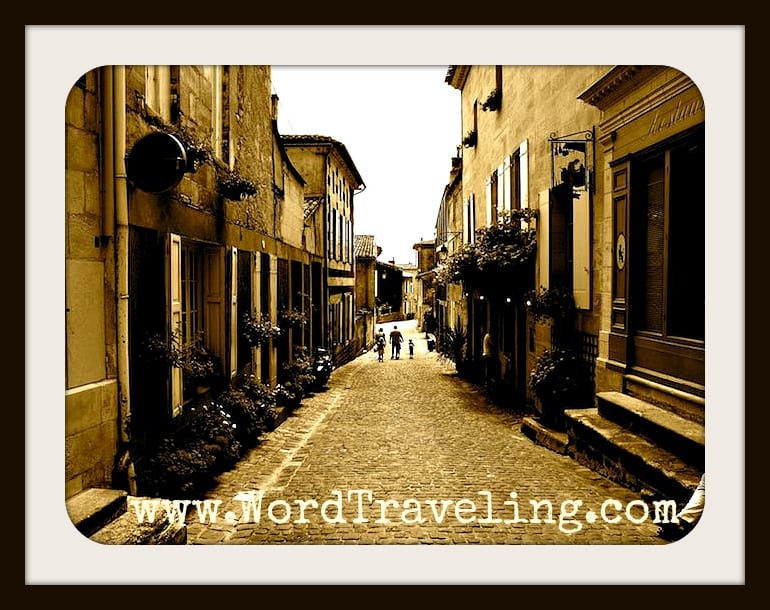 And then, my computer crashed.
No photos, no journal entries, no movie, no getting back the two hundred plus hours making of the film or the months of recorded journal entries. Luckily, I had been backing up many of our photos along the way, and I had occasionally been scribbling in spiral notebooks. Through tears and anger I attempted to remind myself that the memories are forever.
Fast forward until today, 2013. My baby is now almost ten, and I'm keenly aware  the memories may be forever with me, but not him. It's time to get them out. The clock of ever growing urgency is expanding: at least in my soul.
Looking back on this nine month European adventure,  lessons were everywhere. Everyday. Every roundabout and kilometer and stranger's hospitality, piazza espresso, smoky internet cafe, sweet glance from my knight, baby's laugh, and certainly directed path by a Heavenly Father I was only beginning to know.
As for my blog, there's no day like today.
Michael Hyatt said this weekend at Beech Retreat, "Failure is never final unless you quit."
He also said to "start with WOW!"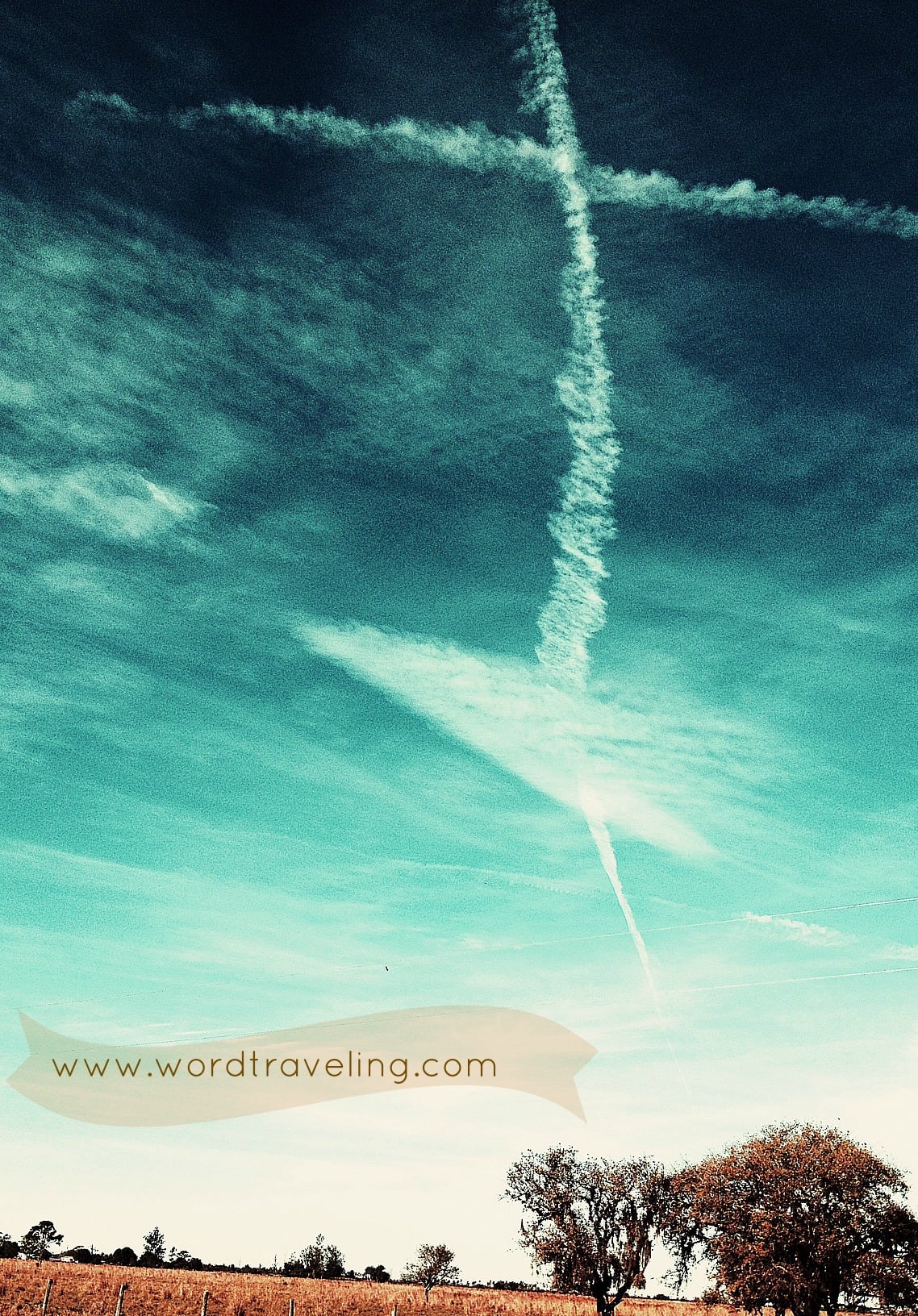 This is my WOW. I'm sure this cloud has been following me.  Our Heavenly father will relentlessly, lovingly pursue us until we- until I– finally get the picture. Even if He has to write it in the clouds. Can you see His heart? (This is the second time in one month I've seen this cloud. There was no skywriter.)
With all the talk of the internet "cloud," I'm beginning to see that term on a different level. The cloud in the countryside I captured on my iphone  represents to me a voice- my voice- crying in the wilderness of the 168+million blogs. Only for Him. Because my story is different. And, it's time it is told. It's the adventure He gave me. And, I'm sure  you have one too.
While I have always known I am a writer, I didn't consider myself a blogger until this weekend.
And, it was refreshing. Refreshing to see so many others with adventures being unfolded and told, all connected through this cloud.
As a homeschool mom, I pay plenty of attention to the learning styles of my boys. My learning style is immersion. I went to Beech to immerse myself in the business of blogging so I can "work smarter, not harder." While it will take me a while to get the hang of SEOs, blog planning calendars, and scheduling status updates and tweets, without having attending Beech, I would have not had the cloud hit so close to home, and my heart. Thank you to all of the speakers, leaders, fellow bloggers who I am now blessed to call friends.
I gave myself freedom- and a teacher planning week the past five days to absorb what I've learned. As my keys click, in the background, I hear my son ask, "Mom, can you post one more thing on my blog for me?" This is homeschool this week. I am immersed. I am recording our new, and old, adventures in the cloud for someone to see. I've asked the QBQ: The Question Behind the Question: and this blog- it's my personal accountability; my accountability to the cloud. While He has me stopped here, I will stay. This is the beginning of a journey I do not want to miss, and surely you don't either. #Grateful to each of you for an unforgettable experience at Beech Retreat. Marking off the days until the next.
Here's my voice…
Like poetry? Want your kids to learn some too? Click here for our fabulous new poetry lessons & contest!
a Beech Retreat Summary in Prose:
My thoughts are whirring
head's spinning
information download-
uploaded-
has me grinning.
And SEO'd. (Seriously Excited and Overwhelmed yet Optimistic)
I've finished ironman (and cried) hearing Letters from Dan
"Ya'll" will be praying differently after time with Zan!
Thanks,  Crystal Paine for believing in me,
"Oh, Yes I can!"
Jolanthe's got me kicking time's butt
After all- the clock's just  numbers in places to put-
Luau- starlit, fireside chat with Jimmie
leaves me craving more connection
(speaking of cravings- I'm still craving Good Greens chocolate mint bars, watermelon Hint water, International Delight French vanilla iced coffee and Almondinas)
I'm fondly recollecting.
Blessed by time at the South Seas
Sharing stories of parallel journeys,
Peaceful and crazy reflections ( of preschoolers?) 😉
Dazed by Jenn's Adventures,
Overflowing through Finding Rachel's Joy
A talk with Bri,
Compassionately,
Oh, how our love can be deployed.
Laying hands on a sick roommate,
Smiling when she's feeling better-
With real Swett equity-
Friendships last forever.
Michael Hyatt's ending note brought  jumbled thoughts to connection.
It's a platform we are building- (some with lego education.)
Hoping we all take away
Our unique voice is a treasure.
Each and every one,
Filled to Overflowing Measure – TIME to SHOUT!
Collectively,
I propose
we sing
(and Hoot Suite) like birds,
Use more prose
fly as Media Angels, with wings
Living God-sized big dreams
To impact the world with each small & tiny thing.
I tend to think in Fragments,
Sometimes, my thoughts do rhyme
It keeps me in a childlike fog,
for my two young boys, it's fine.
Together, we will Build his blog-and mine.
It's our time.
Our bright ideas indeed will glow,
sharing worlds of wonder –
and borderless geography,
(this needs no Apologi-a)
Expand our language skills through writing,
Behind the eyes of an (almost) ten year old –
it's  truly exciting!
We will type and post and link
Field trips, friends and passport stamps,
Brick by Brick, Joke by Joke, Pic by Pic- think by think.
Using iPhoneography Elements- just know that
The Diary of a Homeschool Kid is really where it's at!
With all I've learned,  I pray I may
Say the words I'm meant to say,
Share adventures, stories, dreams & giveaways
Even Trophy Moms blog, ok?!
Add a dash of Homeschool
Pics, mentions, links, swagbucks and #hashtags too-
Stir, bake, serve – see what your words can do!
Plant a little seed of (dole) joy to you, and you, and you.
Life is different within His words-
Under the covering of His cloud,
the Snails Pace will be the runner!
So post your words OUT LOUD!
On a serious note, this poem I wrote- it really did take time,
But each typed and retyped word came from the bottom of mine.  (heart)
Now, off to work- Where to Start? (I'm thinking About  about?)
I hope you've enjoyed my silly rhyme
It's not goodbye, only until next time.
I've left Beech incouraged. Springing through my days.
Addicted to, and Intoxicated on Life

Think outside the box. 
What box? It's just in the way.
Disclaimer: If I know you, and you didn't make the poem- sorry. I did my best:) Many of the above links were sponsors of Beech Retreat, and many I met there became friends. I have not been paid to post any of these links.