This is a guest post from a dear friend, Kendra Fletcher. I love the first packing video! Thanks, Kendra! 
My husband and I are the parents of 8 children, but occasionally we get to take a long trip without any of them. Yes, we miss our kids, but traveling just the two of us is beyond fabulous. Still, there are those things about traveling that are annoying, and waiting for checked baggage (or worse, losing it) is one of them.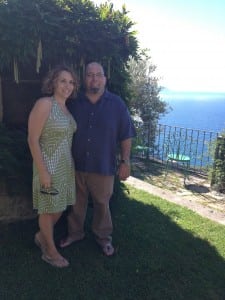 Last month we spent 3 days in Paris and then flew down to the Amalfi Coast in Italy for 8 days. Our niece was married near Positano, and in addition to the days spent in wedding celebration, we also toured Pompeii and enjoyed a day speeding all over the island of Capri on a scooter.
We both knew we wanted to ditch the big checked luggage, so we challenged ourselves to stick to our carry-ons.
We immediately knew we'd made the right choice when we hopped onto the Paris Metro with just those mid-sized bags, a travel purse for me, and a backpack for him.
How we did it:
1. We had purchased Rick Steves' carry-on's  for a trip we had made a year before, and we knew these were the best bags we could have had. First of all, they're created by people who travel with the intent of just using carry-ons, and they are very smartly designed. I never even used all of the zippered compartments on the bag.
2. I thought long and hard about what I would truly wear for the entire trip, and I was not at all put off by the fact that I would be wearing an outfit two or three times. In the end, I didn't even wear one of the tops I'd packed. Overpacking by one item? Score! We knew that Paris had the possibility of being colder than southern Italy, but we would only be there for 3 days and I didn't want to pack a jacket for the whole trip. Since we were visiting a friend in the city, I asked her ahead of time if I could borrow a jacket in case of inclement weather. She said, "Of course!", but I never did have to wear more than a pashmina. Had I not had the option of borrowing, I would have considered just waiting to purchase something in Paris if the need arose.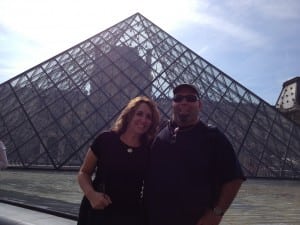 As Rick Steves says, "Don't pack for the worst-case scenario, pack for the best-case scenario!"
Really, if it's an emergency, you can probably buy what you need at your destination.
3. I thought long and hard about what clothing items would take up a lot of space my bag, so immediately jeans were out. My husband packed jeans with no problem, but he's a guy. He also didn't have to leave room for a cosmetics bag. I took one pair of black leggings and several long tops to wear over them. The leggings could be hand-washed when needed, and in a pinch I finished drying them with the hairdryer provided by the villa where we were staying. Not the most efficient system, but most Italians where we were don't have clothes dryers. Still, totally worth it to me. I also packed a light-weight black skirt from the Chico's Travelers line, which I snatched up on their summer clearance rack before the trip. Specialty items designed for traveling (Travelsmith is another company with well-designed travel clothing) are absolutely worth the money, so I often wait for sales to stock my wardrobe. I still wear a quality black top from Chico's that I purchased for a trip to New Zealand in 2002. 1 pair of leggings, 1 skirt, 5 tops. I also wore yoga pants and a comfy top on the plane going to and from Europe. That outfit was washed during our trip and saved for the ride home, but it took up very little space, as well.
4. Shoes can take up a ridiculous amount of space in a bag, so I thought long and hard about what I would pack. In the end, I packed a pair of nice flip flops (Hey! We're from California; we believe in nice flip flops) and a good pair of black flats. I can tell you that wearing flip flops through United States airport security is a brilliant plan, something I learned the hard way once while trying to quickly remove boots in Chicago. Obviously, flips won't work if you're visiting someplace icy, but consider a pair of shoes that are easy to remove and won't be bulky in your bag.
5. Before packing everything into our bags (and yes, we even had room to bring home souvenirs), we watched this guy's great little tutorial on packing light. Rick Steves has his own video and these are worth watching.
In the end, packing light made the trip that much more enjoyable.
In fact, I'm headed to the other side of the country this week with two major layovers, and I'm not planning on checking anything. Makes for easy travel, and they can't lose my bag!
Connect with Kendra at Kendra Fletcher and Preschoolers and Peace. Until then, Bon Voyage! 
Buen Viaje! ~Jen