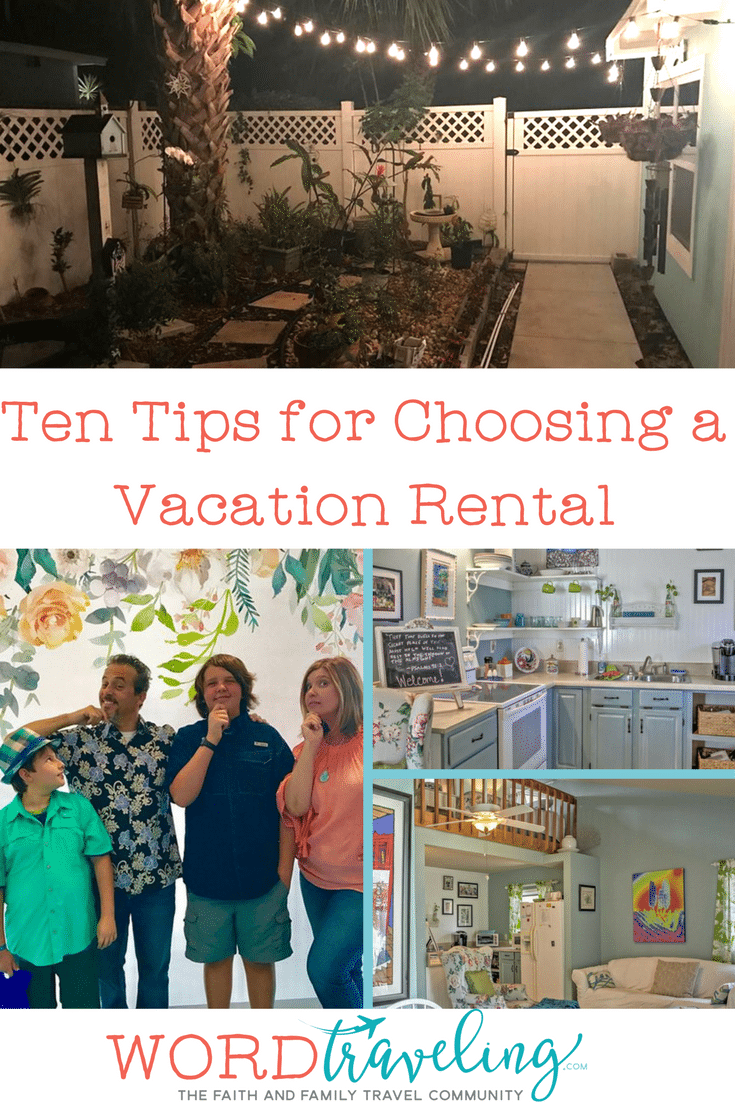 Even before my husband Luis and I were married, we've shared twenty years of travel experiences (fourteen with children) and one of our favorite ways to vacation is (almost) always in a vacation rental. Sometimes, we've rented with the "big ones" like Home Away, VRBO and AirBnB, other times it's through a local property management company or even an agri-tourism agency.
We've rented guest homes all over the world, including Costa Rica, Tuscany, Paris, Hawaii, Seattle, Oregon Coast, Destin and the 30A beaches of Seaside in Florida, The Florida Keys, Orlando, New York City, and Coeur d'Alene Idaho for large family gathering for a wedding.
We've got favorite memories of the tiny apartment we rented in Paris and it's bunk bed like loft and central location on the island in the Seine, Ile Saint Louis. In Champagne, France, my mom came to visit and we celebrated our sons first birthday.
In Costa Rica, howler monkeys came to visit our patio every morning. And in Tuscany, we spent days under the sun dreaming by the infinity pool overlooking the sunset and the vineyards.
You'll absolutely love staying in vacation rentals when you travel with your family!
Here are our ten best tips when looking to book a vacation rental:
Know that often the best places are off the beaten path, and you should spend some time calculating your driving distance to your desired destinations. Vacation rentals can be a bit out of the way of main attractions and more rural (which we've learned to love.) Make sure you check google maps and even Earth to see the surrounding areas.
Evaluate the kitchen. This is our favorite reason to rent vacation homes. It's the best idea for saving money on vacation through at home breakfast, packing picnics, getting started to your holidays at a leisurely pace. It's in the kitchen where you'll really set the tone of "wherever you are together is home." Enjoy your favorite bottles of wine with a meal and not break the budget.
Review the owners. You'll want to know who you're renting from. This is as important as looking at other guest reviews. Look at the owner's recommendations. I also want to make sure they're collecting taxes and doing things the right way, with integrity.
Check the other guest reviews, and the comments from owners on the reviews. You'll gain some real insight about the area and the place you'll be renting, and make sure it's right for your family.
Check the amenities. What's the location, what kind of coffee will you need?  Is there a blender if you make smoothies?  Is it kid friendly (especially important if there is a baby in the mix) and any thing else you might need to make the place feel like home.
What are the laundry facilities like? Having a way to do laundry while you travel, especially with family, makes packing light, even for a trip to Europe, a reality.
 Are there any family board games at the property? Might be a simple thing, but board games = memories made, and less time connected to devices.
Check into the cleaning fees, check in and out times, and make sure you know what's included- do they leave you toilet paper and paper towels, or do you need your own?
What deposits need to be made in advance? You'll usually need to leave at least 50% upfront, sometimes even more, to secure your rental. Check for any hidden fees and make sure you know any extras up front so you'll be prepared.
Don't be afraid to negotiate the price, especially if you're booking last minute. We've been able to both get and give great deals on vacation rentals as last minute travelers.
My friend Tamara, from We3Travel says,"make a requirements list and a wish list when searching for your perfect vacation rental."
These sources can help you find and book an awesome vacation rental, perfect for your family.
VRBO :
We've used VRBO as a trusted source for years. The listing for our beach cottage vacation is there, and we've had great success renting homes and meeting some fantastic hosts from all over the globe.
Faith Stay:
We're super excited for this new vacation rental platform, setting out to change the way Christians travel and engaging and connecting others. We're super excited to be working with FaithStay, both as hosts, and also travelers. We'll be with them in Nashville this summer on our way to cuing nationals.
EVOLVE:
A vacation rental management and booking company. They handle all my bookings and advertising on sites like Home Away and VRBO, and AirBnB. We pay them a commission and booking fee, but they make it so simple by handling the insurance and details.  (If you're interested in hosting, check out this post!)
 Airbnb:
Airbnb came in a few years ago and changed the game- made it super easy for hosting and renting. With no fees to hosts- I was having super awesome results when we were the only property in our area— but things changed as more people hopped on the Airbnb party. You can rent just a room, a whole unit, or even just an air mattress on the floor (thus the name, Airbnb.)
If you want to try Airbnb and use THIS link, you and I will both receive a $40 travel credit! Awesome!
Smaller and local rental agencies:
Booking with smaller companies can give you incredible personal service and a real knowledge of the surrounding area.
Some of our favorites:
Newman Dailey:
One of our favorite spots in the entire world is the 30A/ Destin area in the panhandle of Florida. No one does a Destin vacation better than the team at Newman Dailey resort rentals. From lavish beach front estates to condos, town homes and everything in between. Their service, hospitality and selection is unmatched. Their service is probably part of the reason we love Destin so much.
BookIt2Gether:
My friends Casey & Arianne Jones, owners of BookIt2Gether, have a fantastic way to connect travelers with unique vacation rental destinations, and to help hosts market their properties.
Want to book a vacation rental in Italy?
Check out the agriturismos. 
Looking for a guest home in France?
Consider renting a gite rural.
Want to hear more? Check out my podcast interview on Vacation Mavens about using vacation rentals.
Do you have any tips for traveling with vacation rentals? What are some of your best experiences?