The other night, we were watching The Secret Life of Walter Mitty. I giggled when Walter's sister commented on the great mix tapes he used to make.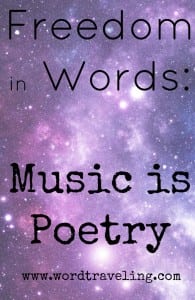 That was me. Glued late nights to the radio listening for my favorite songs to record and dub and re-record- then mix and give away to friends. When I met my husband sixteen years ago and he was running the House of Blues, it was almost love at first tune. Music moves me.
I loved playing school when I was a little girl on the road in the motorhome. (No one called it an RV back in the late 70's.) My mom used to tell me stories of how she once taught an English Lit class to a bunch of misfit, high-risk twelfth graders by using Simon & Garfunkel to explain poetry. I guess that soundbite always stuck with me.
Enter school for myself, and as smart and straight-A as I was, by the eighth grade, I was bored stiff. Oh, how I longed to be transported back to the days of my second grade classroom and poetry contest with Mr. Freseman where I was  crowned "Poet Laureate."
As a grown woman now homeschooling my own boys, I love poems with them. All sorts- from Shel Silverstein to Emily Dickenson, the Psalmist and Dr. Seuss.  Together, we sing (ok- I do) and point out the  poetry in lyrics. And, I "poem" (yes, a verb) myself more than ever thanks to some encouragement from an amazingly talented Poetess sister, and this verse:
 And I'll be the poet who sings your glory – and live what I sing every day. ~ Psalm 61:8, MSG
Maya Angelou, one of the most well-known poets of today said this, "Music was my refuge. I could crawl into the space between the notes and curl my back to loneliness."  and this… "Everything in the universe has a rhythm, everything dances."
Some of my favorite poetic lyrics:
"And I will call upon Your name
And keep my eyes above the waves
When oceans rise
My soul will rest in Your embrace
For I am Yours and You are mine" – Oceans, Hillsong United
"Sail on silvergirl,
Sail on by.
Your time has come to shine.
All your dreams are on their way.
See how they shine.
If you need a friend
I'm sailing right behind.
Like a bridge over troubled water
I will ease your mind." – Simon & Garfunkel, Bridge over Troubled Water
"I believe in the kingdom come
Then all the colors will bleed into one
Bleed into one
Well yes I'm still running
You broke the bonds and you
Loosed the chains
Carried the cross
Of my shame
Of my shame
You know I believed it
But I still haven't found what I'm looking for" -U2, I Still Haven't Found What I'm Looking For
"Headed in the right direction
I can see the light of day
I've got love as my protection
There's no need for me to be afraid" -India Arie, Headed in the Right Direction
And this…
"Staring at the blank page before you
Open up the dirty window
Let the sun illuminate the words that you could not find
Reaching for something in the distance
So close you can almost taste it
Release your inhibitions
Feel the rain on your skin"-Natasha Bedingfield, Unwritten
So, I ask you- what's left unwritten for you? Perhaps pursuing poems with your kids will bring out their lyrics- and yours.
Until next time-
I pray your words find wings. Make sure you click subscribe for your freebie and to get pre-launch pricing on our new poetry contest & curriculum, coming soon- "Words with Wings!"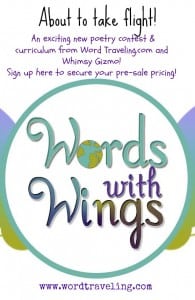 Ciao-
Jen
CO HOST HTML:
Preschool Powol Packets ~ Homeschool Encouragement ~ Brave Writer's Life in Brief ~ Word Traveling ~ The Measured Mom ~ Wildflower Ramblings ~ Line Upon Line Learning ~ Teach Beside Me ~ Living to Learn ~ Vicky Arnold Blog ~ School Time Snippets ~ Creekside Learning ~ Are We There Yet ~ Look at What You Are Seeing ~ Look! We're Learning! ~ Our Homeschool Studio
Buen Viaje! ~Jen