JRR Tolkien said it best when he penned "Not all who wander are lost".
Welcome to Day #10 in our Travel is… series!
Whenever I read that line, I feel like I get a little twinkle in my eye and start planning our next family adventure. It is so easy to get stuck in the same patterns day after day, get up, clean the house, buy the groceries, do all the stuff, fall into bed at night, only to wake up the next morning and do it all gain.
Oh, but to intentionally break up the routine by adding a little wandering, travel, adventure into your days together as a family. It is just like adding that dusting of cinnamon to your normal cup of coffee. It adds just a little depth and richness, something special to the everyday.
When we began our homeschool journey 9 years ago, one of the major themes we wanted in our families life together was the freedom to travel.
Mike and I both had such rich experiences and learning adventures as we traveled both when we were single and first married, that we wanted to make sure to give the same opportunity for that type of growth to our kids.
People thought we were nut jobs when we packed up our tiny brood and went to Peru to live and work and teach for a summer alongside missionaries to rural pastors who needed much needed encouragement and training.
After that trip, It was so much fun, we just kept packing the kids up and traveling to places like…Costa Rica…Nicaragua and all over the US.
The funny thing is, now the kids will start to get a little restless at a certain time every year and say…."It is time to go out traveling again." I guess we have cultivated a sense of adventure into their hearts and minds. For that I am grateful.
Over the years we have had the great joy and privilege to learn about God, new customs and cultures, his beautiful creation and all of the things he is up to in this big world through travel.
Even as we speak we are planning our epic trip to Italy late this summer and we are all thrilled at the prospect of engaging with that culture in person instead of just through books and stories. Because our children are all very involved in competitive athletics, we travel the US more then we have the opportunity to travel abroad.
Both of these types of travel take planning, creativity, the willingness to budget, save and look for great deals. If you can do that, you can travel and learn and wander together as a family where ever your little heart desires. Not to mention all the fun it is dreaming of where you want to learn together next.
Please click the image below to see the other posts in this series.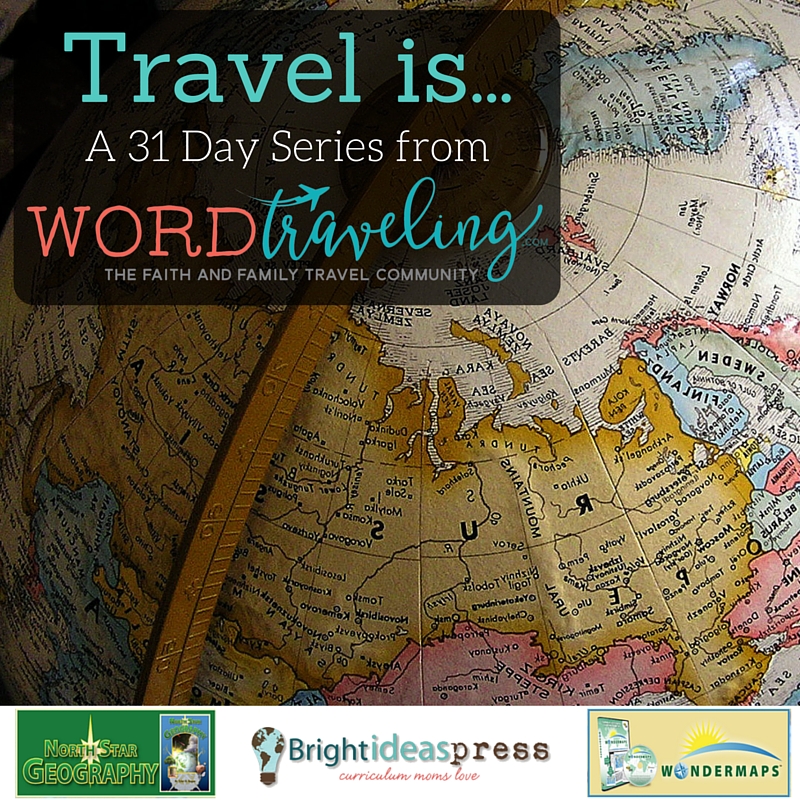 Amber Bishop is a Mama trying to raise and homeschool three spiritual warriors and world changers, a wife to a man who challenges her to walk in her giftings daily, and a photographer who is inspired by God's natural light. She welcome's you to her little Abbey tucked into the sprawling suburban landscape where she serves as Abbess to a rag tag posse of sinners and saints. Join her as she chronicles their adventures through food, family and faith at The Suburban Abbess.
Every breath in, I whisper those words to the Everlasting God who knows me by name and with every exhale I let go of all the things that are worthless and serve no purpose in my transformation as I follow Jesus into fullness.