Traveling is one of my favorite hobbies.  I love the excitement of new people, places and things.  I love to travel.  But one thing I do NOT like to do is pack my suitcase.  How about you?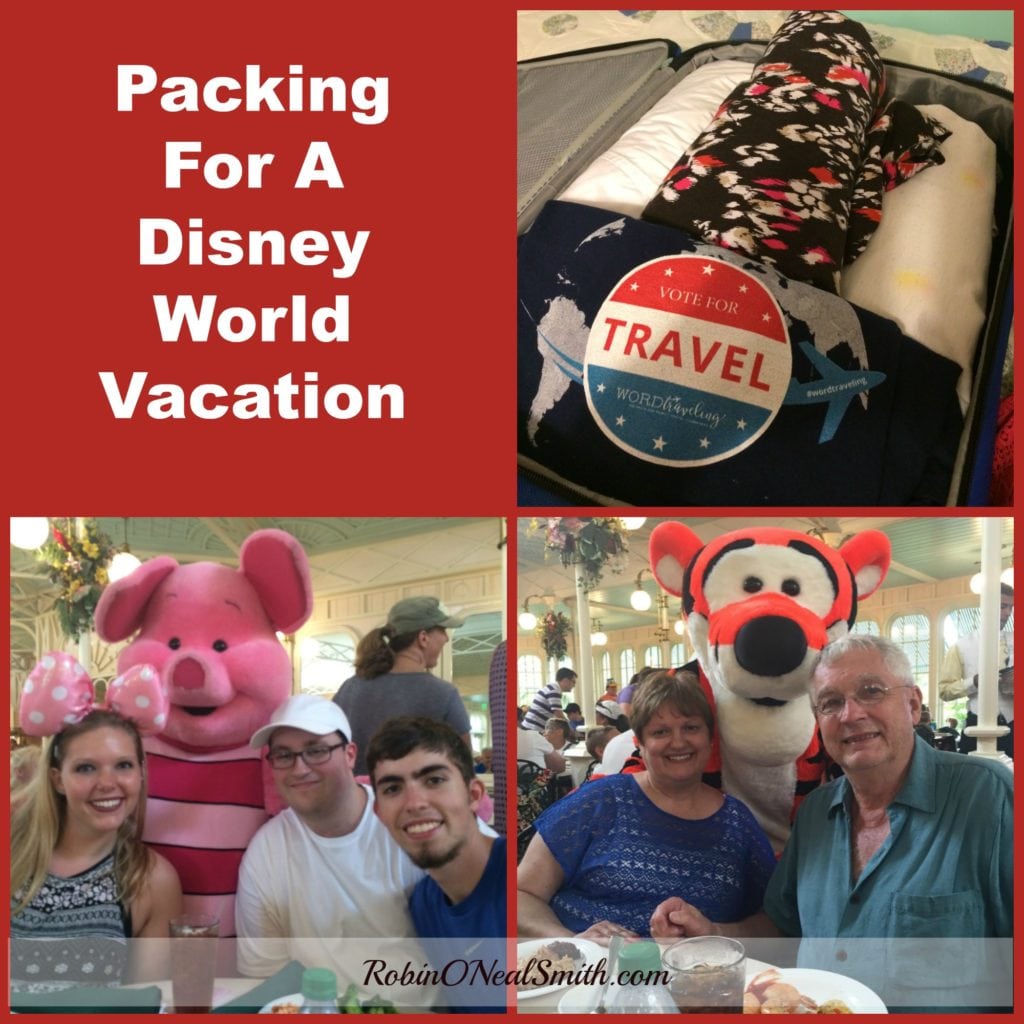 I found that using a packing list helps me to remember everything I need for the trip and pack faster.
This post contains affiliate links which help support the blog.  Visit our disclosures and privacy policy here.
Recently when we were heading to Disney, I created a Disney World Vacation Packing List.   You can download it and use it for your next Disney trip.
Disney World Vacation Packing Tips
A few things you need to remember when packing for a Disney Vacation:
Everything in Disney will cost more than elsewhere, so if you can purchase before your trip, do so.
Even though you are not at the beach, you will need sunscreen. (Buy in advance.)
If you have Disney apparel, take it along and wear it.
Leave a little room in your suitcase for a souvenir or two.
Comfortable shoes are a must. (More than one pair is recommended.)
Florida is often known for being extraordinarily humid, so take clothes that will withstand the climate. (cotton or cool-wicking t-shirts and shorts work great!)

Consider taking a small, handheld USB rechargeable fan and a battery backup, especially in the summer time. It's a blessing enjoy a cool breeze while waiting in lines. The fan is especially key if you're camping at Ft. Wilderness, as it will help dissipate the notorious Florida humidity from inside your tent. In fact- take 2 if you're camping! The last time we camped, we woke up and the entire inside of the tent was super wet with dew. My friend who was camping with her kids in the same spot next to me gave me the hint about using these rechargeable fans. She used three of them, both to help with the noise outside at night and the humidity. The inside of her family's tent wasn't near as muggy, and had very little moisture accumulation. Next time, they're coming along for sure! And, I even found this little awesome one in pink!

Make sure you include your camera, extra batteries, a power brick, and charging cable.

Prepare to have lots of fun!   Disney is magical regardless of age. In fact, when you leave, you'll be telling friends to "have a magical day!"
Check over the packing list and if there is something you think should be added, let us know in the comments below.
About Robin Smith

Robin is a wife and the mother of a 20-year-old son. She enjoys spending time with her family, traveling, social networking, blogging, and cooking. She is a blogger, editor, freelance writer and works full-time as the Chief Information Officer for a school district.
Robin blogs at Robin O'Neal Smith about life, family, food, healthy living, and travel; and at Be Social, Get Success about business, social media, and blogging.