In today's hectic and faced paced society, it can seem common sense is no longer common and manners are a thing of the past. Why not share some Christmas cheer by spreading love through random acts of kindness this season? (and hey, hit those social share buttons above and simply start by spreading an act of kindness right now!)
Random Acts of Kindness Christmas Countdown Calendar
We've created this awesome resource to share some ideas for random acts of kindness for kids, and for parents to set the example leading the way with their own random acts of kindness advent calendar.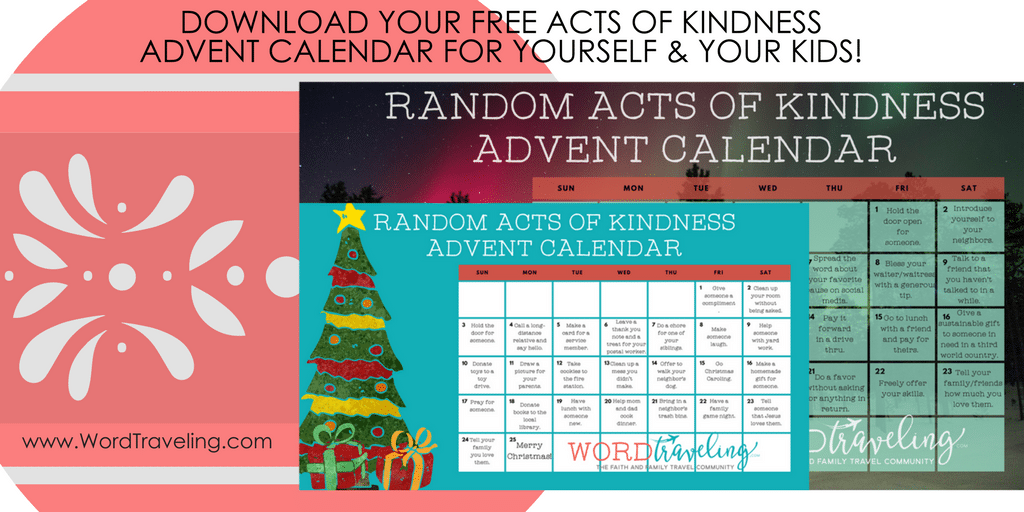 We've created this printable tool for you to spread kindness every day during December, leading up until Christmas Day. The world needs kindness more than ever. Not only does the world need this kindness spread, we need to be the givers of the acts of kindness.
"Therefore, as God's chosen people, holy and dearly loved, clothe yourselves with compassion, kindness, humility, gentleness and patience." ~ Colossians 3:12
Giving is the Theme of Advent
Do you know that the Bible talks more about the theme of giving than faith, hope and love combined but yet we often overlook this? As we count down in the season of advent the days where we remember Jesus being given to us as a newborn gift, let us follow in His actions by celebrating simple giving. This printable will fill you with ideas for random acts of kindness daily.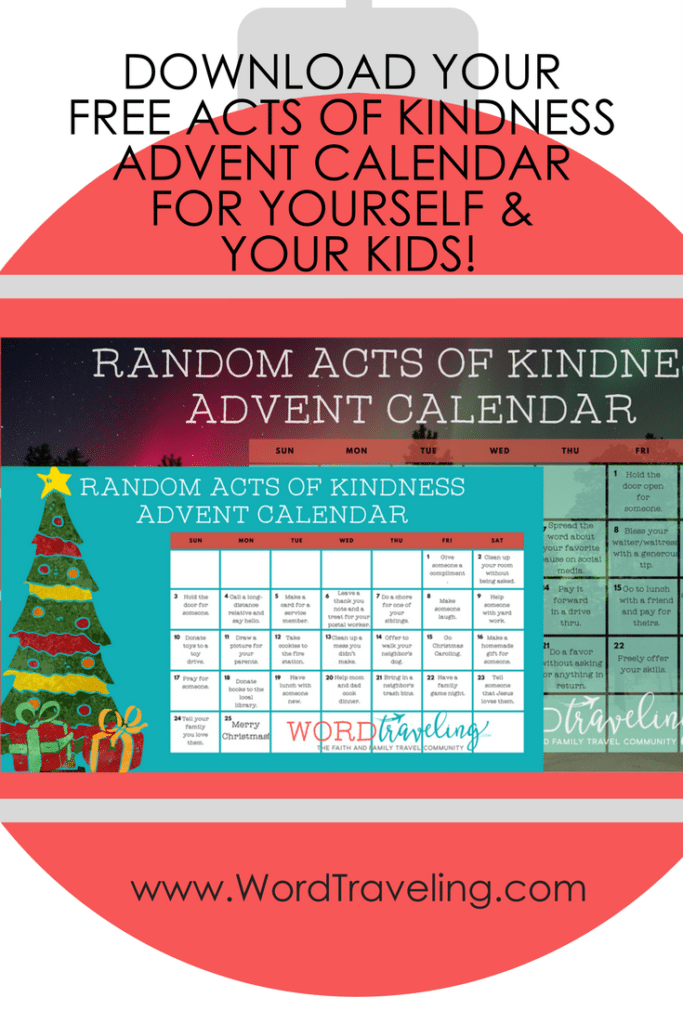 In our family, giving, tithing and stewardship of what God has entrusted to us as a family is paramount. We've been using a similar tool as this random acts of kindness calendar for years, so as a gift to you, our 2017 advent version is here!
Ideas for kids include:
Hold the Door for Someone
Call a long-distance relative and say hello.
Take cookies to the fire station.
Bring in a neighbor's trash bins.
MORE!
Random Acts of Kindness for Adults
We couldn't leave all the fun for the kids! There's a version for moms, dads, siblings, aunts, uncles, grandparents and everyone else, too! Let's be the shining examples of grace, mercy, generosity and love as we practice the act of giving through simple random acts of kindness this Christmas.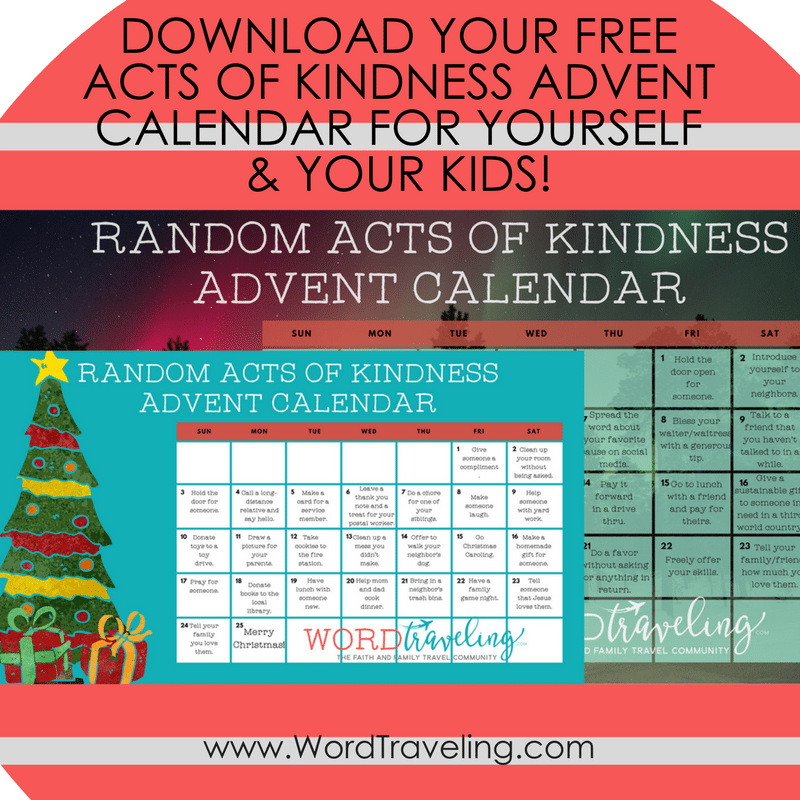 Ideas for Random Acts of Kindness
Some ideas we've included in the adults calendar include:
Give someone a compliment.
Help someone carrying a lot of stuff.
Support a kickstarter project.
Tell your family/friends how much you love them.
MORE!
Printing Your Random Acts of Kindness Calendar
It's easy to print these random acts of kindness advent calendars at home! Simply sign up here, click subscribe, wait a few minutes and check your email from WordTraveling! Your PDF download link will be attached!

Here are some tips:
If you have thicker stock paper, use it, Otherwise standard paper is fine.
They'll look great in color!
Set your printer to "fill page" or "fill to size" and then hit single-sided print!
Print one for each child, and one for each adult in your family!
Come back and let us know about your experience!
Blessings for the advent season and always on your great adventure in pursuit of a generous life-
Jen
You'll also love this post about Christmas celebrations around the world!
Check out our ten favorite gifts that give back and enter a giveaway worth $500! 
Interested in finding out more about how Jen and her husband have led their family to become debt-free, leaving a legacy of generosity? Send Jen an email here to talk about their new money on mission coaching program!