Welcome!
I can't wait to share our theme for the 2016 Travel Series!
We all need something great to vote for this year and we hope our campaign will encourage you to Vote for Travel in 2016!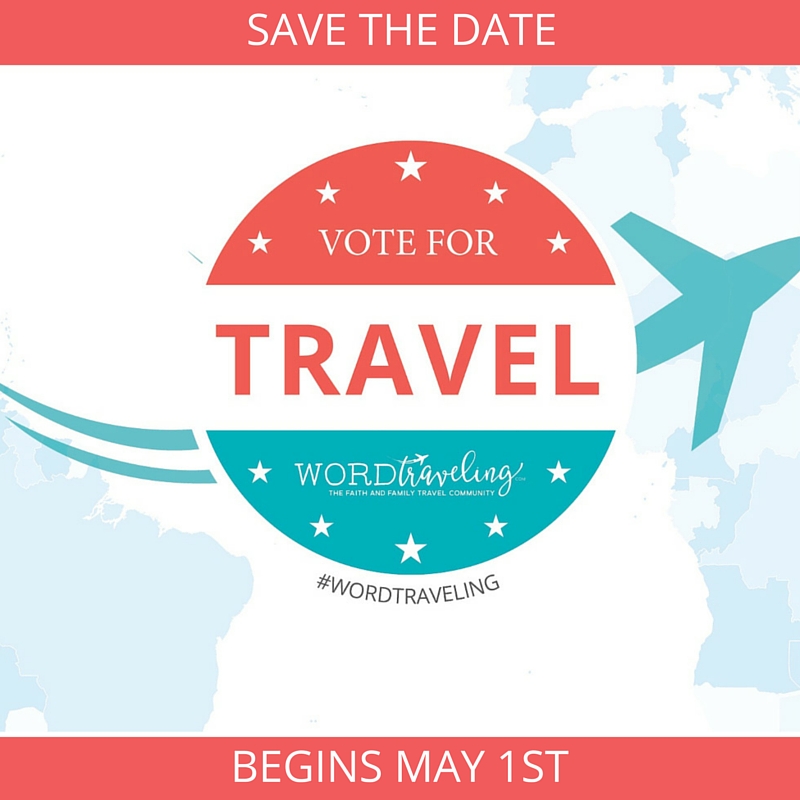 Meet the Vote for Travel Series Bloggers:
Meet our awesome bloggers for this series below. Connect with them on their blogs and social media so you don't miss a single post!
Vote For Traveling Kickoff! The first day of the series, I'll be bringing you an overview, right here on Word Traveling.
I'll be sharing Vote for Unplugging While Traveling over on Intoxicated on Life
Desiree Miller  (Stress Free Baby) will be sharing Vote For Travel as the Best Gift
I will be sharing Vote for Florida Family Travel over on Sunshine and Hurricanes
Tonya Prater (The Traveling Praters) shares Vote for Empty Nest Travel
Vote for Long Term Family Missions Travel will be shared by Donna Shenk (Hey Donna)
Erin Smith (South to Southwest) explains how to have a vacation near your home in Vote for Travel in Your Own Backyard.
Betsy Hill (Betsi's World) will slow things down in her post, Vote for Slow Travel by Sailboat.
Katie Hornor sings Paradise Praises for her current country in Vote for Travel to Mexico.
I will be over on Meet Penny sharing Vote for Budget Family Travel.
Gina Dunklebarger from Vacation Maybe makes a splash with Vote for Impact Travel.
Marcy Crabtree shares Vote for Travel by Train: How to Plan a Road Trip with an Amtrak Rail Pass on Ben & Me
Get back to nature with Kathy Balman (Kathy's Cluttered Mind) in Vote for Nature Travel.
I'll be over on Homeschool Freebies sharing Vote for Educational Travel in your Homeschool.
Sami Cone will share Vote for Travel with Uncommon Kids.
Raise a glass for Vote for Wine Country Travel with your Family  on We 3 Travel  and Allie Olsen from SimplyStAugustine.com will share why she Votes for Travel to Historic Places.
Amanda Huffman (Airman to Mom) shares Vote for Disneyland Travel.
Paula Schuck (Thrifty Mommas Tips) shares Vote for Special Needs Family Travel.
My husband and I will be celebrating our anniversary and will be sharing Vote for a Couples' Getaway here on Word Traveling.
Vote for Healthy Eating While Traveling will teach us how to eat healthy away from home by Dawn Rofrano (Spoonful of Health).
Karen Dawkins (Family Travels on a Budget) encourages us to Vote for Travel Off the Beaten Path.
I will be guest posting, Vote for Smart Travel Bag Packing over on Kelly Stilwell's  "What's in Your Travel Bag?" series.
Heather Bowen (Life of a Homeschool Mom) will take us away with Vote for Family Cruise Travel.
Hit the road with Shannon Entin (100 Routes Across America)as she shares Vote for Road Trip Travel.
Keryn Means (Walking on Travels) shares Vote for Solo Mom Travel With Kids.
Renee Gotcher (Next Generation Homeschool) suggests inviting the grandparents along for the ride in Vote for Multi-Generational Travel
Jenn Porsche provides some tips in Vote for Large Family Travel.
Robin O'Neal Smith provides insight into keeping teens happy when traveling in Vote for Traveling with Teens.
Phyllis Sather enlightens us with Vote for Travel – Enjoying the Journey, Not Just the Destination.
Nedra McDaniel (Adventure Mom) shares Vote for Adventure Travel.
Vote for Family Travel by Heather Lopez (I Love Family Travel)
If you had to vote for travel, how would you cast your ballot? Don't forget to subscribe today so you can join along and "Vote for Travel!" Right here – every day this May!
Vaya con Dios-
Jen