Hi there, friend.
So, you're on the fence about whether or not you should attend our 2018 Shine Retreat?
Or, maybe you just have some questions? Let me unpack some our most frequently asked ones for you.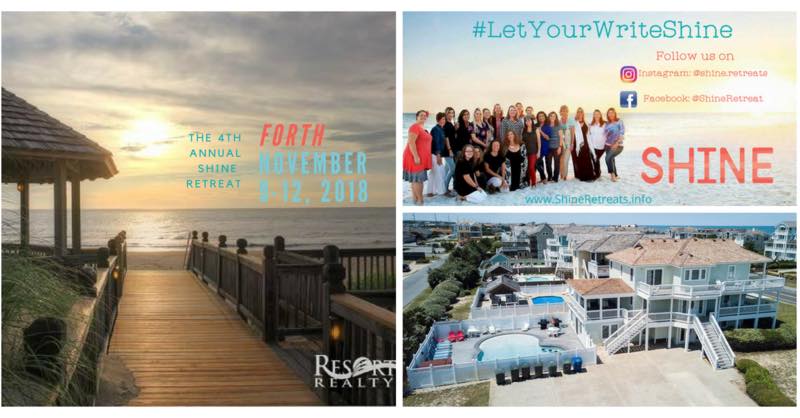 Q: Where the heck are the Outer Banks?
A: North Carolina. You'll love the old-town beach town charm and feel of the area and the Atlantis beach house, thanks to Resort Realty.
Q: What are the dates?
A: November 9-11, 2018, with a VIP add-on day for November 11-12.
Q Will you be having another retreat? 
A: That's the plan, but there are no details yet. Don't miss this one!
Q: I'm not a writer, is there something for me?
A: Absolutely! Shine Retreats is a recharging, refreshing getaway for creative Christian women authors, bloggers, influencers, writers, artists, non-profit leaders, entrepreneurs, and more.
Think you're not a writer? Think again. Every form of communication begins with the creation of words. Come to the beach and improve your craft of communication.
Q: Where is the closest airport? 
A: Norfolk, Virginia is about a 90-minute drive. Richmond is just over 3 hours. (Allegiant has cheap flights to both those cities.)
Another option is Greenville, NC which is about a 2- hour drive. American and Delta fly there.

Q: I have a special diet. Can you make accommodations?
A: No problem, just let us know. We'll do our best to accommodate. There are always gluten free options. We've had ladies with very restrictive medical diets bring their own.
Q: Do you offer a payment plan? 
A: Yes, when you click through to register, select the Payment Plan option for $150 deposit and we'll contact you to arrange the rest.
Q: Can I bring a group? 
A: Yes! At each retreat, we've been blessed with groups of friends who've had an amazing experience together. Just send us an email and let us know so we can make sure you'll be sharing a room.
Q: This one's embarrassing, but I snore, so I don't want to be in a room with other ladies. 
A: No worries, we've heard this many times before. Everyone will get ear plugs 🙂 And, no one judges.
Q: Two days just isn't long enough, can I stay a third night? 
A: Absolutely, whoo hoo! Just select the VIP add-on option to your ticket from the store. 
Still need more info? See our full details page. Or, send Jen an email to JenReyneri (at) mac (dot) com with Shine Retreats in the subject line.
And, read this article entitled 5 Reasons You Need a Creative Writing Retreat
See you at the beach!