Here's a man's perspective in this guest post by Karl Woerner, husband to our awesome regular contributor and friend, Wendy.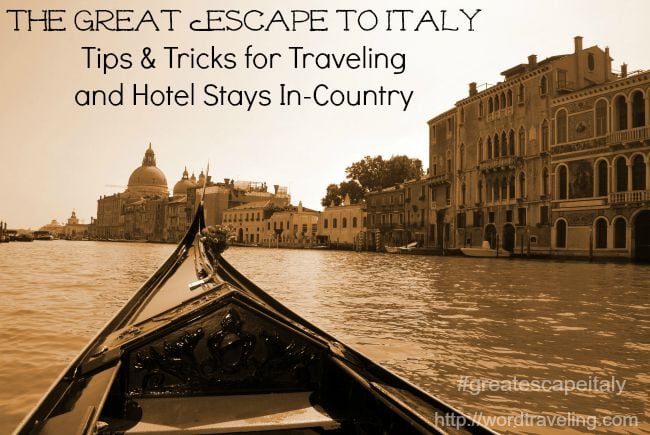 At one point not so long ago I was quite the globe trotter.  I don't travel as much anymore, but occasionally my job still requires me to hop on a plane to somewhere I've never been.  I've had to find some tips and tricks for planning this Italian travel.
 Tips and Tricks for Italy Travel Planning but staying Flexible
Those are always the trips I enjoy the most.  I just love seeing new places.  It's usually some off the beaten path destination that most Americans will never experience.  Occasionally it's a well known tourist destination. While the primary purpose is always work, I will typically find a little time along the way to do something interesting.  Often it's driven by necessity; I'm hungry so I find something to eat that I've never seen before, like maybe pickled jellyfish tentacles at a hawker stand in Singapore (yes, I always carry a few doses of Cipro).  Occasionally it's just a matter of fortunate timing, such as when I found myself with a day to spare in Madrid during the festival of San Isidro and was able to make my way into a bullfight (a little more brutal than SEC football).  Sometimes I see something interesting from the window of a hotel or office and find a few minutes to go check it out and it leads to something silly like being mistaken for Tom Cruise by a Squid Boat captain in Semporna.  And sometimes, just sometimes, I make a purposeful side trip that can change your perspective on life.
The point is, I never really plan any grand adventure.  I'm there for work. I get my job done, and some form of adventure eventually presents itself.  This trip will be different.  This trip is 100% for pleasure.  It's easy to come up with a fun way to kill an afternoon.  How am I going to fill 10 days?  Yeah, I know.  "Poor Karl.  What EVER will he do for 10 days in Italy?"  Listen, you try to be the big world traveler and impress your first time traveler wife with what she's described as a "Trip of a Lifetime" for her 20th anniversary.  That's a lot of pressure.  And this is a big trip.
Another thing I've never done is paid for the trip.  Again, I'm usually there for work.  They're paying me to do this (I know, right?!).  I've been to nearly 20 countries on someone else's nickel.  Lodging? I don't worry about what a hotel costs.  I stay where I need to stay to get the job done.  Food?  When I'm hungry I eat. Airline tickets?  Lets not even talk about that one…  This trip is different.  It's on me, and I'm typically pretty tight-fisted with the cash.
We've already established that I don't like to spend money.  So now time for some more disclosure.  Not only do I usually not plan fun things, I really don't like to.  Planning fun really sucks the… fun out of it. It actually paralyzes me.  Dinner and a movie? Well for an 8:30 show we have to first arrive at a restaurant at 6:45.  There had better not be a wait, because we need to be seated by 6:52.  If our drink orders have not been taken by 6:58 I start looking around for that server… so on and etcetera until "Now where is that check?"  I honestly don't remember what I ate because all I did the whole time was worry about being late for the movie. 
Travel for the Tight-Fisted Spender
Let's recap: I don't like to spend money.  I don't like to plan.  Hey I know, Lets plan a 2 week 3-city tour in Europe!  But enough of the negativity.  I'm really excited here. I've been waiting for years for Wendy to make a trip like this with me.  So let's get to it.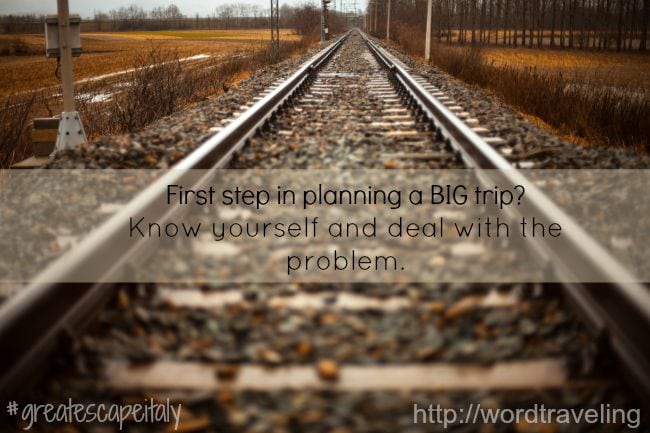 For issue number 1, It's not so much that I don't like to spend money.  I just like to know exactly how much will be spent, what's included in it, and what I'm going to have to give up to afford it.  This problem was solved with, you guessed it, planning.  We've thought about this trip for a long time, and so had plenty of time to save for it.  The first thing we did was figure out the rough total of the major expenses; Travel, Lodging, and food.  Once we had that number in our heads we began to put money away.  Now that we have the required funds in the bank, all we need to do is make sure we stay under our target.  Once it was put away and allocated, as far as I'm concerned the money was already spent, so I don't have to worry about what we have to give up to afford it.  The sacrifice has already been made over the past few years.
For personal quirk number 2, It's not that I don't like to plan, I just don't do well under any circumstance that resembles a rigid schedule.  We tackled this one by starting big and working down to a manageable level of detail.  We first decided on overall dates of travel and found plane tickets that fit within our budget.  Non-refundable tickets, of course, so now we're committed. 
Wendy then told me what cities she wanted to see, we decided how many days to spend in each, and I found hotels in each that fit our budget.  For this one it turns out Travelocity was my friend.  Not necessarily for the prices, but for the ease of use, maps, photos, and link to TripAdvisor reviews.  Most Italian hotels near points of interest are not chains that I recognize, so I mainly decided which one to book based on the most positive reviews.  Because I was able to find hotels in Rome and Florence that were under our budget, we were able to go a little over our lodging budget in Venice, the city that Wendy really dreams of when thinking of Italy. 
Awesome hotel booking tip
One little tip I found completely by accident- If you have a multi-city stay, don't book them all at once.  After booking 2 cities, I had to wait a couple days before I got a chance to book the 3rd and final hotel.  After 2 days Travelocity sent me a "thanks for shopping" coupon code for a 15% discount off my next purchase. I used it for the final city that just happened to be the longest stay of the trip.  Bonus!
The next and really final pre-travel decision to be made was how to get around while in-country.  Because Train schedules reek of rigidity, my first inclination was to rent a car.  Then earlier this year I unexpectedly had to make a trip to Rome for work.  I will not be driving in Rome. We'll just leave it at that.  The locals told me the driving experience is similar in most major Italian cities.  So back to the trains…  Once forced to investigate further, I found that not only do trains leave often enough that I really don't need to worry about missing one, they are also much cheaper than renting a car. 
That's about as far as we're planning in detail.  Flights are booked.  Rooms are booked. We know basically how to get from one place to the next.  For now, we'll go on the assumption that there are no "bad" places to eat in Italy.  I think I've drastically overestimated our dining budget, so we should be covered there.  We've begun to search the inter-webs for things to do and see in and around each city, but have no plans to pre-book anything else.  I've found that some of my most enjoyable memories while traveling were made from situations I just stumbled into while on the way to somewhere else.  I'm looking forward to making some of those memories with my special Lady.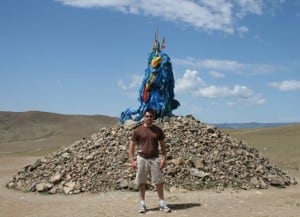 Karl Woerner works as a regional manager for an international communications company. When he isn't working on completing projects around the house, he enjoys exploring local rivers and trails with anyone in the family who is willing to go on an adventure!
Enjoy reading Karl's post? See what his lovely bride, Wendy had to say about planning this trip
HERE
and
HERE
!
Want to learn how to pack for Europe in only carry-on? Find out
HERE!