" Refuse to be average. Let your heart soar as high as it will."  ~ A.W. Tozer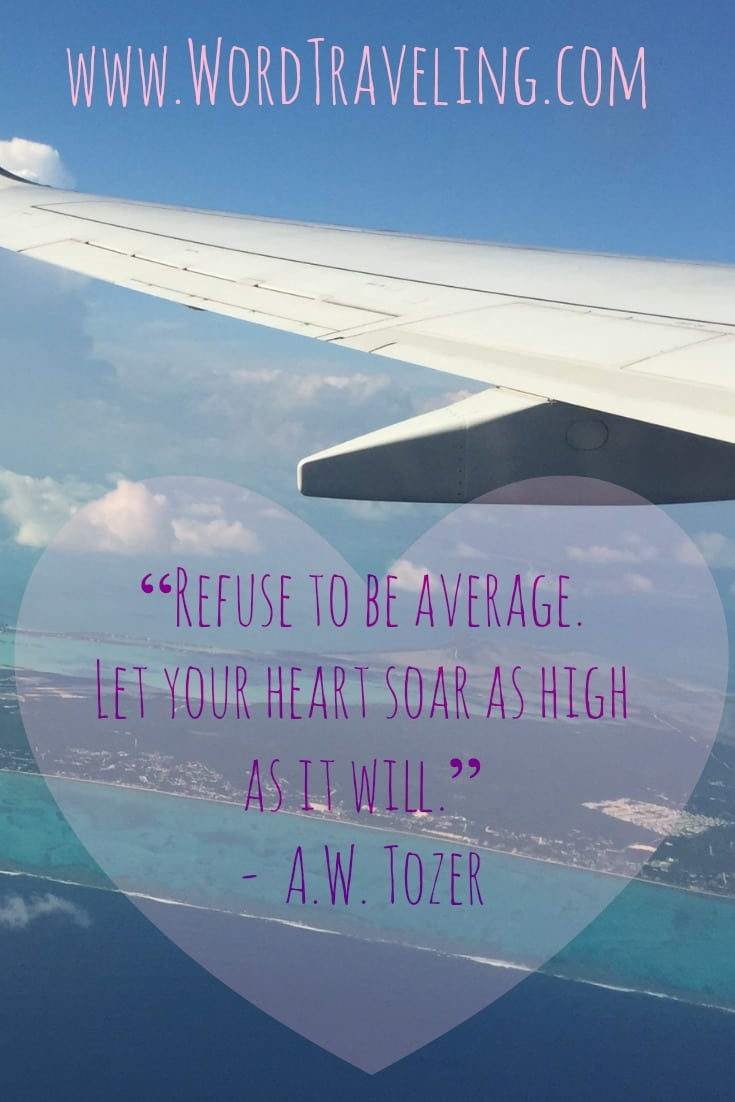 If you've spent any time on my blog or getting to know myself and my family, we really do our best to live this phrase. Yet, it's not living "above average" that sets me on fire. My hearts desire is to inspire you, and all those around me to live above average.  The Lord has given me a vision of what this looks like in my life. A bridge. And it's my passion and purpose to be a bridge for YOU to YOUR Life, FREE in it's fullest!
Live above the normal. Normal is boring. Let's be unique and live the best life we can for the glory of God. Even if we fumble along the way.
This year, I'm becoming that bridge for 30 bloggers in a series called "Travel Is…."
We are partnering to bring you insight into WHY travel is important!
Check out these participating family travel websites and promo video from the National Travel and Tourism Association about WHY travel is so important!
The first day of the series, I'll be bringing you an overview, right here on Word Traveling, LIVE from Hawaii!
I'll be sharing Travel is Possible for Your Family over on FreeHomeschoolDeals.com
Travel is Good for Your Health! will be featured on Intoxicated on Life 
Marcy Crabtree shares Travel is our Favorite Method of Homeschooling on Ben & Me
Jenn Porsche talks about Family Travel is Both Affordable and Memorable 
Michelle Myers (Sunshine and Hurricanes) shares why Family Travel is an Adventure 
Tonya Prater shares how Travel is Necessary (The Traveling Praters)
Renee Gotcher knows Travel is the Ultimate Educational Adventure! (Next Generation Homeschool)
Karen Dawkins talks about Travel is the Best Gift just in time for Mother's Day (Family Travels on a Budget)
Leanette Fernandez (Teach Me 2 Save) knows that Travel is Great for Creating Memories 
Brad Barrett from Richmond Savers unpacks how Family Travel is Nearly Free!
Amber Bishop, the Suburban Abbess herself, simplifies why Travel is About Family
Katie Hornor sings Paradise Praises and  takes the stress away with Family Travel is Stress Free with All Inclusive Family Travel
Paula Schuck shares how Travel is Respite (Thrifty Mommas Tips)
Shirley Solis knows that Travel is NOT for Boring Families
Penny Rogers talks education at its best with Travel is the Ultimate Field Trip
Cheryl Pitt, founder of the 2:1 Conference, unpacks why Traveling to a Blogging Conference is Worth the Investment.
Shannon Entin knows 100 Routes Across America and shares that Travel is Adventure at Any Age. 
Christi Childs of Shop Yellow Wood shares an exciting Travel is Fun post!
Sherry Boswell tells a modern fable in Family Travel is the Tree of Life that Connects us All
Erin Smith (South to Southwest) walks the road less traveled in Travel is Good for the Soul
Annie Martin (Not Just Abroad) writes Travel is Educational
Phyllis Sather enlightens us with Family Travel is Affordable
Gina Dunklebarger from Vacation Maybe knows positively that Travel is Fun & Games
Kathy Balman (Kathy's Cluttered Mind) quotes Mark Twain, "Travel is Exploring, Dreaming & Discovering"
Amanda knows Travel is an Experience
Kathy Penney of Penney Lane gets us ready in Travel is About Making Summers Count
Tina Ernspiker from Los Gringos Locos keeps us sane and shares Travel is Amazing
AlinaJoy Dubois brings us Travel is Not for Wimps from the Good Old Days Farm
The husband and wife team at Dish our Town explain Travel is Life
Dani Schnakenberg simplifies Travel is the Ultimate Education Adventure
Stacey Stegg emphasizes Travel is a MUST!
Anne Newsome sparks our hearts in Travel is Nurturing your Child's Dream 
I'll be back to wrap up with thoughts from YOU, our readers, so make sure you comment, share, tag and follow along with the #WordTraveling hashtag!
Aloha and Bon Voyage!
Jen