While enjoying the crystal clear aquamarine waters of Turks and Caicos at Beaches Resort, our family had an incredible adventure. I was blessed to be invited as part of the #BeachesMoms Social Media in the Sand conference, and of course, we travel with family for business. On top of the incredible scenery, pampered luxury, amazing snorkeling and decadent meals, Team Reyneri had a blast participating in a scavenger hunt around the lush grounds of Beaches Resort on Instagram. (Some photos were to recognize the fabulous sponsors of the event.) Just sayin'. An event this fantastic needed some sponsorship.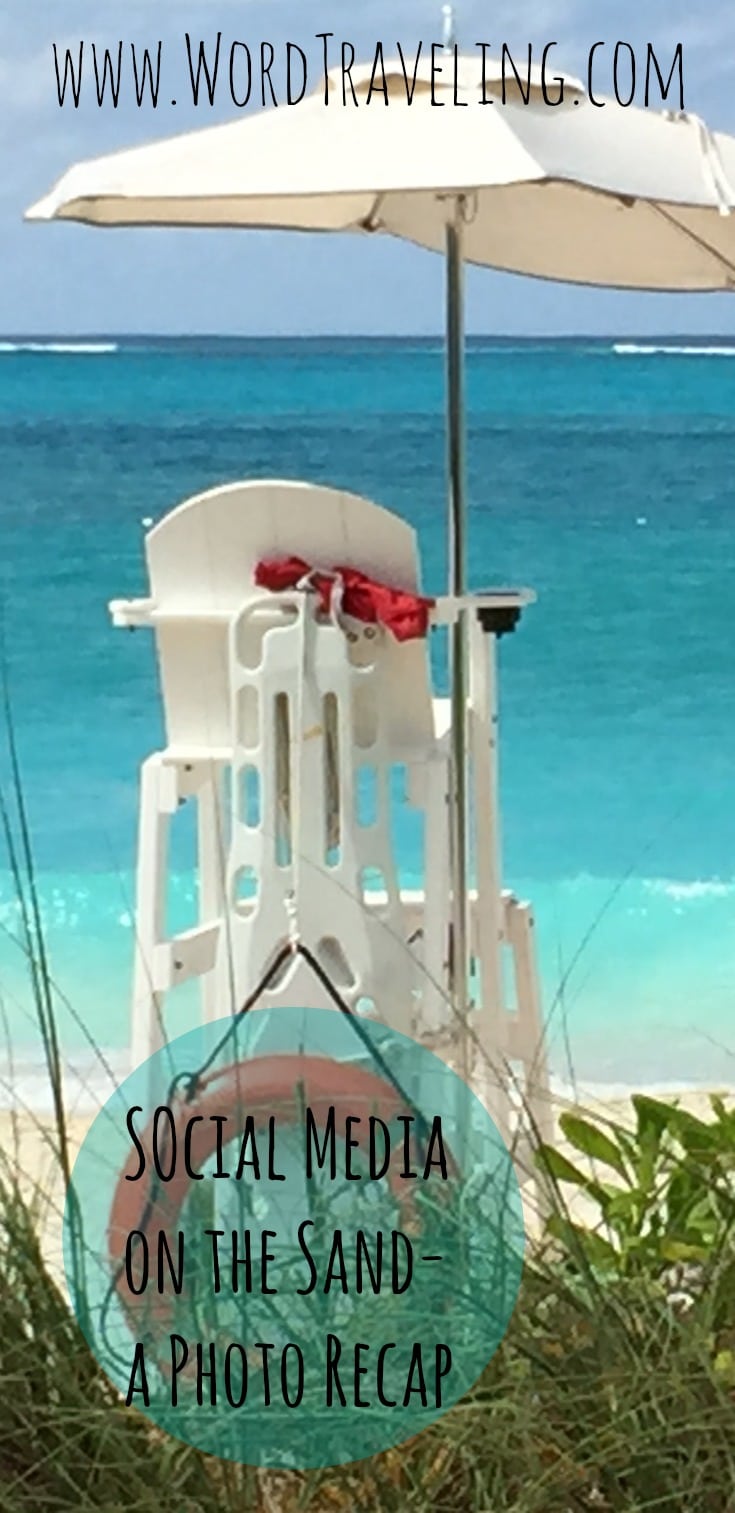 I'm having a blast getting to know the Instagram social platform. Brings my photographer self back to life after I put down my DSLR when our youngest was two. I decided then when chasing this energetic little man I only had room for a mini camera, or of course, my iPhone. I've recapped the first half #BeachesMoms and #BeachesGoSeek adventure and challenges from my Instagram feed below. All of the images were shot with my iPhone 6. Maybe next time I'll pack my DSLR. What do you think? Are you on Instagram? I'd be honored if you'd come follow me! 
Here are some tips for you from NY Times Photographer on capturing your own incredible memories on the new iPhone with i OS 8.
Best part of this, or any, blogging trip? Making new friends along the way.
Here is my recap from the first half of the scavenger hunt. As you can see, we made sure we got them all! Say "Beaches!"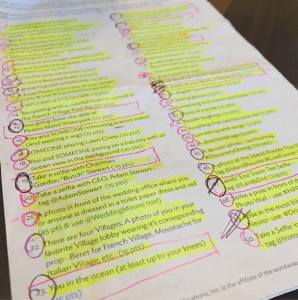 1. Someone tickling Elmo.
Elmo was all around, and over the weekend, I snapped a few fabulous pics tickling the red man himself. I couldn't resist making a little photo collage!
2. My toes in the sand wearing our new Flip Out Sandals. (Sponsor)
 3. Posing on the Kitty Kat.
Yes, I know that the Kitty Kat is a boat at Beaches, but the rules of the #BeachesGoSeek scavenger hunt said points for creativity!
4. Near the Beaches Sails
This is the photo that brought it home for me and took the prize of "Best Party Photo" from the family beach party at Beaches! And, what a party! Huge BBQ, limbo, dancing, Conga Line with all the Sesame Street Characters, kids face painting and carnival games, and a FIREWORKS finale!  I noticed everyone shooting the sails on the beach, and couldn't resist posing with the party lights! Beaches hosts this party every week for its guests- and if you are thinking of a trip there, not to be missed!
I was ecstatic to find out I was in the top 11 blogging mom participants and the judging panel loved my "party photo!" Though we didn't win the prize of a return visit to Beaches, with the special last minute special rates they offer (especially off-season when it's easy for a homeschooling family like us to travel) we will be planning a return visit for sure!
5. Grab five other moms for a JUMP picture on the beach.
Thankful to my great sport of a son, Makani, for shooting this photo for not only me, but all the other moms too. Yes, that was about 25 jumps we did to get all the shots!
6. In front of the Red Lane Spa wearing something red.
When I pack, I travel with mostly the same color scheme so things easily mix and match and I save luggage space. The islands always call for turquoise (my favorite) and black. Therefore, I grabbed these gorgeous ixoras which are in bloom all around the Beaches grounds and donned them in my hair for this shot. While I only got to experience the spa in terms of a nail polish at our Beaches Moms GLOW party, Luis thoroughly enjoyed his well-deserved massage. Next time.
7. Selfie of my choice. (Get creative)
I knew I'd be flooding my Instagram feed with fun images, and wanted to make sure my family, friends, and followers knew what was happening with the scavenger hunt. Thus, this is my selfie. Like the island braid in the hair? Yep, I've always wanted one. And it's still there. This time, it was a treat from Beaches Moms. That's my awesome son in the reflection of my shades. I love my life 🙂 #Blessed
 8. You and someone at Bobby D's licking an ice cream cone.
No problem there. I grab any chance to grab a sweet treat, and this time, share it with my love. While we were in the 50's inspired diner (which the boys' all say boasts the best french fries ANYWHERE) the iPhone was in our gorgeous Key West Villa recharging, so we snapped this on Luke's little camera and then I took a shot of the screen later.
 9. You on the choo-choo train.
While I got a chance to sit in it, I'm sad to say I never did actually catch the schedule right to take a ride with Luke. Adding it to the next year list.
10. You and a Beaches butler.
We didn't actually have our own butler this year, but the Beaches team of butlers, including Omar below, are trained by the Guild of English butlers, and are really on the spot- everywhere. I do have to say, the staff at Beaches all around is incredible, and the entire staff must be getting trained vicariously from the butler team. Everywhere I went, I struck up conversation with staff. And I always asked, "you really seem to love your job." The answer was always a form of "For sure, Maam. Yes!" Incredible staff. My favorite color waters. Yep- we'll be back.
11. A group hug with someone.
As I mentioned above, my favorite part of any blogging conference is meeting new friends. These friends are no exception.
12. A food photo from one of your meals.
Seeing as I got my start into this thing called blogging through my photography of food & wine events, this was a tough choice to select just ONE photo. With countless dining options from sushi to seafood, steaks, and everything in between- we just didn't have enough time to EAT everything. We did, however get a family night to sit down at the fantastic Japanese steakhouse- Kimonos, with new friends- for a night of fun and feasting, complete with serenade and entertainment teppanyaki style from our chef, Nigel. Yummy~
13. A selfie with a stranger.
The serendipitous meeting with my new friend Yahaira was just too fun! We both are Florida residents, are very involved in leadership trainings, and just look at this color scheme! Strangers no more! Yes, I've said it before, my favorite part of any new adventure is meeting new people.
 14. You posing with a colorful tropical cocktail at the French Village Pool Bar
Since my usual "mocktail" of club soda and lime isn't all that colorful, I opted for this delicious and gorgeous kiddie colada!
15. You going down the slide at Pirate's Island Waterpark
I'm not sure if it was my or the boys having more fun at the Caribbean's only waterpark! I heard this every day," just one more, mom, please- just one more slide!" Here's another pic snapped on Luke's waterproof camera and then screenshot for instagram:) Creative, huh?
16. You and SOMEONE mimicking a resort statue (and wearing a wig.)
Thanks to the creative genius of my new friend Angela and her photoshop abilities, we were able to flip ourselves around and put ourselves together in this picture- how's that for two spitting lions? Wish you could've seen the CRAZY colors of those wigs!
17. SOMEONE playing Lawn Chess
This is probably the most beautiful setting for this classic game I've ever seen. The boys never seemed to hit the lawn at the right time, so I snapped these girls in my favorite colors in an intense match.
18. You and SOMEONE posing on a balcony with an ocean view in the background.
While our three-level villa was in an incredible spot in the Key West Village, we didn't have an ocean view. However, Angela did, and her son was here to pose while she captured a photo.
19. Take a selfie with Chairman Gordon "Butch" Stewart
While I never had the opportunity to meet the man himself, his story is incredible- and I know you'll want to read it. His entire extended family were on holiday at Beaches while we were there. I did think this was a pretty ingenious way to grab that selfie and the big points. Thankful to my tween techie son for the help and the hands.  
20. Take a selfie with CEO, Adam Stewart
I grabbed this selfie after hearing this young CEO share the vision of Sandals "all about keeping two people in love and the family that comes with that," and the family values instilled as he grew up in the hospitality business. Their family story is awesome! Inspires me to dream big for our boys, with a dad also in the traveling hospitality business and a small family-owned vacation rental. 
21. A photo in front of the wedding office where you or anyone is dressed in a toilet paper dress and veil.
Thankful to my new friend Nat for helping me grab Lauren beautifully prepared for that special day! To be used in a scavenger  photo contest! But seriously, isn't she gorgeous? Any wedding dress with do at Beaches!
22. There are four Villages. A photo of you in your favorite Village lobby wearing its corresponding prop.
(like a mustache in Italy, or a beret in France)  I mustache you a question. Do you like your espresso in Italy? I do! After living in Italy, and then being blessed with a return family visit, I'm drawn to all things Italian- coffee, espresso, coffee, and architecture. The gorgeous Italian village was no exception.  
23. You in the ocean (at least up to your knees)
I think I'm over the top on this one. At least my top(hat) isn't under. Here's one more transferred to Instagram by snapping a picture of the screen on Luke's waterproof camera.
At this point, I know you are wondering where the rest of the 50 photos are! You'll have to wait for the next post! At the same time, you know I love to bless my readers. I'm working on a little surprise for YOU to use when you embark on an island holiday. Take a minute to subscribe below so you don't miss a moment of adventure here at Word Traveling! Have you ever participated in a scavenger hunt? What are your favorite memories?  
OK, click here and read PART two for your FREE surprise!