With summer and road trips in full swing, it's time to make those hours of car rides a bit of educational fun. I always say, " life is learning," and as homeschoolers, we need look for little opportunities to make learning fun. Using a travel map such as this on a road trip, or even just out on regular errands in the car, will entertain and educate!
I hope this free printable license plate game will help you as much as it has our family! Subscribe NOW to get YOUR free copy via email!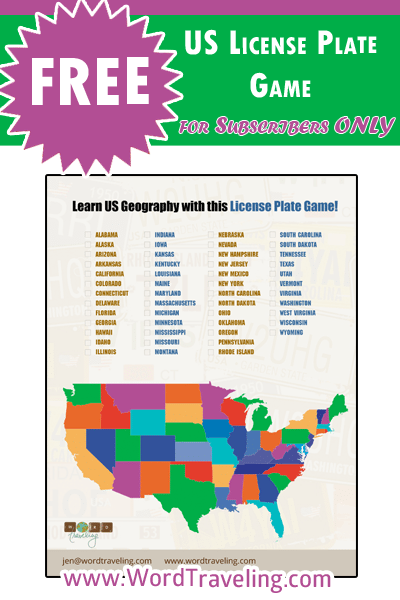 The last road trip we took, we found forty-seven states, even Hawaii and Alaska! We still are on the lookout for North Dakota, Montana and Vermont, and it keeps our eyes peeled every drive.
Think of all the geography the boys are learning while having fun without a textbook! 🙂
After you've used our free printable license plate game available FREE for subscribers, you may want something a little more permanent!
If so, check out this sturdy wooden map game

You may also love this post about Learning on the Road
or this one about the Ultimate Educational Field Trip Until next time-
or Click here for Travel Is… Ultimate in Educational Adventure, Part 2!
What are your favorite Travel Games? Bon Voyage! Happy Travels!
Would love to hear- Stop By our Pinterest Board about Family Travel!
Until next time-
Bon Voyage! Happy Travels!