After a month of use with the new Leap Pad 3, we received as part of a promotion with Leap Frog and Beaches Moms, we've got a great handle on it and I can share our honest opinions with you. If you are considering a tablet-style learning device for your young learner, I hope these thoughts are helpful, and you too can benefit from the fabulous learning programs of the Leap Frog family!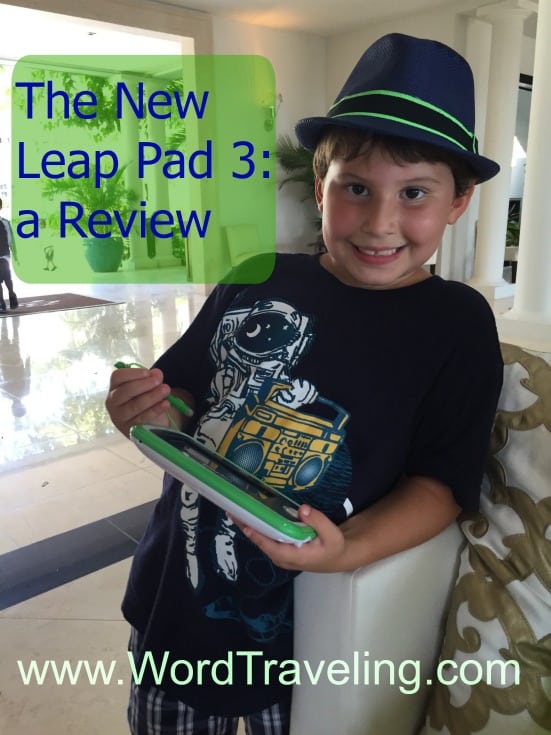 As the director of our busy homeschooling family who is always on the go, and often in the air, this mom is perpetually on the hunt for engaging and educational ways to keep the boys learning. Two years ago when it was first released, I bought our youngest son a piece of technology that's been a real treasure in doing just that- engaging and educating: the Leap Pad.
This fall, I was offered a gift of their newest model, the Leap Pad 3, to give to Luke on our trip to the Social Media on the Sand Beaches Moms conference if I'd share an honest review with you here, on Word Traveling. We were so excited! Of course! What a blessing! You should have seen Luke's face when I handed him the green box with the Leap Frog logo right after he said this, "Mom, I just saw a new commercial for the new Leap Pad 3. And it looks really awesome. And I want one for Christmas please. " And that hug? Awesome! Not having to wait until Christmas- priceless!
A Mother and Son's Five Favorite Things About the New Leap Pad 3
The Leap Pad 3 is rechargeable!

So long to the whine "MOMMY- it's out of battery" When Luke used his original Leap Pad, I was always dreading hearing this from the back seat of our car on a road trip, as I'd most often forgotten to pack the extra AAs. (Plus they're heavy, and super expensive to buy in an airport!) This awesome new Leap Pad 3 is equipped with a mini USB charger that works in any USB hub, including the ones always in the car and available at airports. Problem solved. The Leap Pad 3 is incredibly travel-friendly!
The Leap Pad 3 can play mp3 files!

With a simple $5 app from the Leap Pad App store, you can load your favorite music right to your youngster's device. We're planning to get his favorite VBS tunes, Seeds Family Worship, and the music from last year's production of the Prodigal Clown so he can be singing along. He's also learning from big brother, and wants to use his headphones with the occasional Daft Punk, U2 or Coldplay tune. (As an aside, when you first login and register your Leap Pad, they give you a one-time discount coupon of 30% from anything in the app store. Make sure you don't stop your purchase in the middle like I had to or you'll lose the coupon!)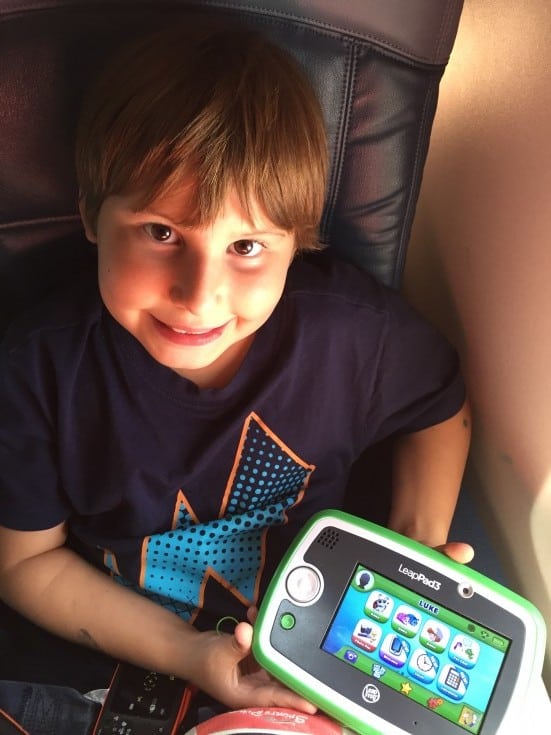 The Leap Pad 3 has a front facing camera!

While the old Leap Pad had a rear camera and video camera, the 3rd generation faces forward and let's your young ones join in the fun of taking 'selfies' and actually being able to see their image on the screen. While you need plenty of light (natural is best) to capture an image or a video, the quality and storage capacity seems to have increased greatly as well.
The Leap Pad 3 is super durable!

Right out of the box! Unlike our other iPads and iPods for which we've needed to purchase really expensive protective cases, the Leap Pad 3 is made of a super durable, heavy-duty plastic ready to take a beating. I've had to stop big brother from performing and uploading a drop-test to YouTube, because he knows it will survive. Though a drop-test actually sounds fun. It actually sounds like fun while I'm typing this- you never know J Make sure you subscribe in case we do!
The Leap Pad 3 works with all our old Leap Pad cartridges.

Without having to spend a fortune and tons of time on new games, Luke could just set up and go! AND- the new Leap Pad, even though it's a landscape design instead of portrait design (meaning you hold the pad wide-ways instead of up-and-down) still fits in the old case which holds all our old favorite Leap Frog Explorer game cartridges like Pixar Pals, Leap Pad Learning School, Mr. Pencil and Toy Story.
Here are the favorite features of a first grader and his Leap Pad 3: (in his own words)
It's cool.
It can connect with my friends. (Here's mom's add on to that- when we went to the Beaches Moms event, Luke instantly bonded with new friends over their Leap Pads. They have a way to communicate between devices, and can "cook" or play with their pets together. In fact, right now on the plane, Luke's "pet" dragon, named Tiger Wing, is playing with some other child's robot pet. And they are having a blast imagining. It reminds me of stuffed animal tea parties. I love to see technology connecting people. I guess that's why I started blogging in the first place J)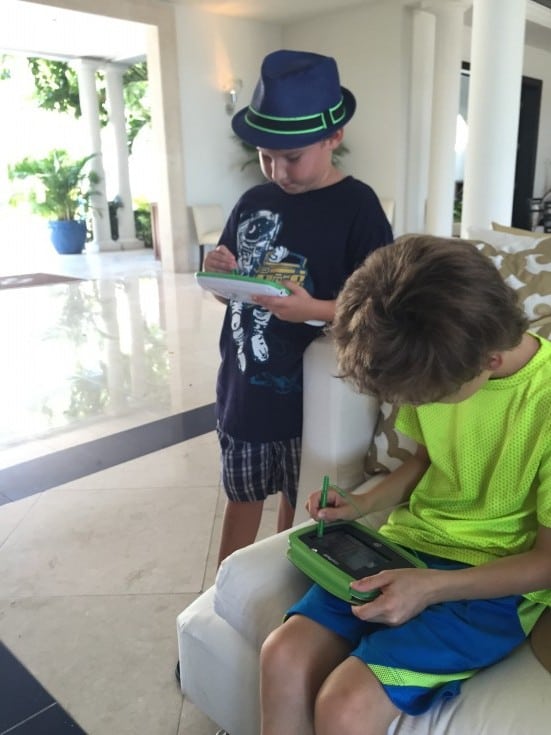 It has special games.
It has math games.
I can take videos of my hamster.
I can play Phineas and Ferb. (one of our old cartridges)
I've always had a soft spot in my heart for the Leap Frog family, as we used their videos while learning phonics. Their model of appealing to visual, hands-on and auditory learning styles really helped Luke learn to read, and to love it. And he reads very well.
Though he's growing older and will gravitate to an iPad if he has to choose between the two (and most of the Leap Pad games I've seen available appeal to younger children,) Luke and me, his mom, really enjoy the features and benefits of the new Leap Pad 3. And I'm SOLD on the Leap Pad products.
As I type this from 10,000 feet and Luke is playing with his "pet" on his new Leap Pad 3, I realize that technology can be a true blessing. Once in a while, a new "gadget" comes along that captures your heart. This year, it's the Leap Pad 3. And it has been a true hit for the young man who certainly does the same.