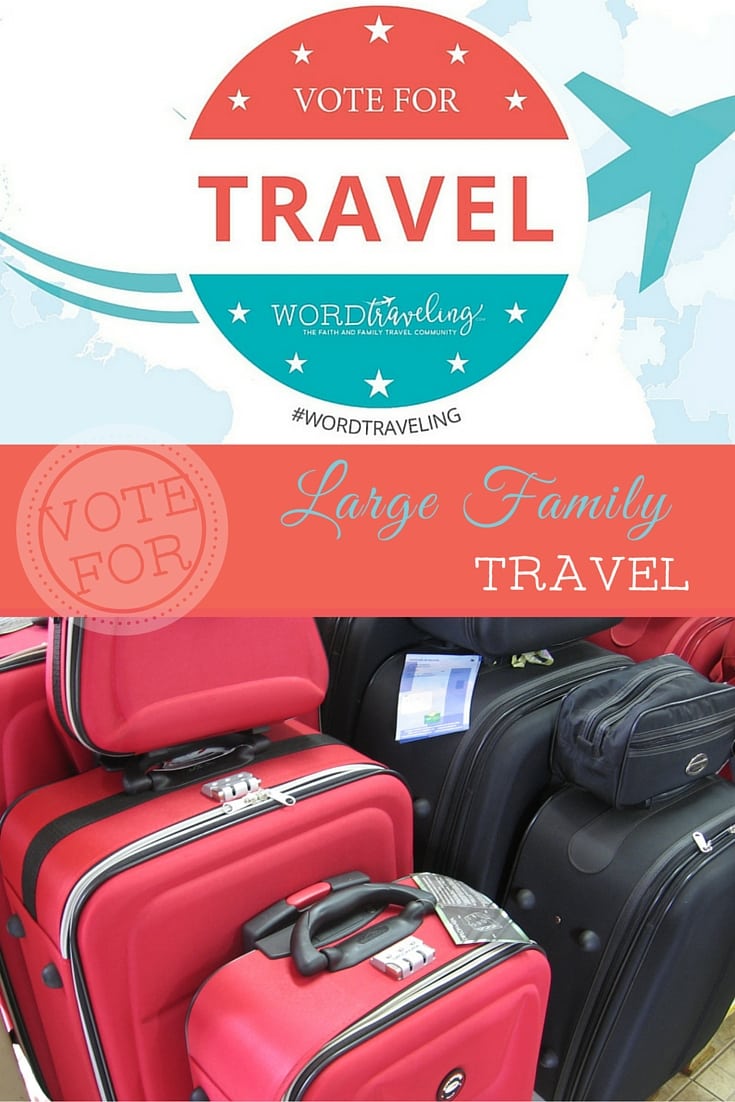 The traveling bug bit me early on in life. By the time I was 18, I had lived in Peru for half a year and had already visited several different countries. So when my husband and I went on to have children, we didn't let our expanding family slow down our travels. Even when that meant we REALLY added onto our family, as in 8 children! That's why traveling as a large family gets my vote!
Our children have experienced trips to Disney World, camping, road trips to Tennessee and Florida (from Pennsylvania), several long cruises, flying, etc. We have traveled with our children when they were all at different ages and stages from early infancy to teenagers.
I am often asked for my best tips and tricks on traveling with a large family.
Large Family Travel Tips
First and foremost, do your research!
I can't stress this part enough. Part of the fun for me is reading up on our destination to learn about things to see and do as well as finding the best deals specifically for that area. I also read reviews from others who have already been there. Doing some legwork ahead of time has saved me both money and time. Two of my favorite planning websites are DISboards for Walt Disney World and Cruise Critic for cruising.
While researching, find out what is considered "off season" for your destination. By traveling off-season, you can save a lot of money and also avoid crowds. We have always gone to Disney World in September as that is the slowest month of the year. Not only do we avoid long wait times for rides, the prices are also the most inexpensive this month. And if that wasn't already a good deal, we've also gotten free dining during this time as well!
Off season for cruising the Caribbean is between October and December (not including the holidays during this time). Most people prefer to sail to warm locations in the middle of winter so cruise lines often drop their prices or give incentives to fill their ships during this time. Our family has typically gone on cruises during November and December. We are also fortunate that we can drive to several different ports to sail from. Doing this saves us money on flying.
When it comes to camping, if you camp before Memorial Day and after Labor Day, you can often get a deal on your campsite. Also, googling the place where you want to stay can often turn up discount codes for campgrounds.
Packing
So now you know where you are traveling to. Next comes the fun of packing! We keep a general packing list for traveling so it makes it easy to glance at it and not have to think of everything to pack each time we travel. My older kids each have their own suitcase and pack their own clothes.
Luggage for 8 people for 2 weeks!
We've done trips that have lasted up to 2 weeks. With a large family, taking enough clothes and supplies to last that long can seem daunting. I find that rolling our clothes to pack in the suitcase can allow a lot more room in suitcases. We have a designated duffel bag that is just for everyone's shoes which also frees up room in suitcases.
If we are traveling with a large quantity of consumables such as diapers, baby food, snacks, etc, I pack these things in boxes. This frees up suitcase space plus when returning home, you aren't stuck with a ton of empty luggage as you just throw the box away at your destination.
If we are traveling to a destination where we are staying in close quarters with not much storage space, such as a cruise, we take along an over-the-door shoe organizer. I hang this usually on the bathroom door to store anything from medicine to hairbrushes and anything else that doesn't have a specific place to go.
Travel Must Haves
Some of my "must have's" that I pack no matter where we are traveling to are:
Ziploc bags– You can use these for many things. From packing individual snacks/meals and writing each person's name on the bag to storing wet clothes.
Duct tape– Let's face it, many things can be fixed with it! I don't take a whole roll rather I take a sharpie and wrap a bunch of tape around it.
Clothes pins– Use these to pinch curtains closed, hang up wet clothes, etc
Sewing Kit– This is usually the size of a credit card but has things to sew a button back on or fix a hem in a pinch.
Worth the Effort
 While traveling as a large family can require some extra planning, it is so very rewarding! The memories we have made over the years are priceless. If you asked my children if they would rather have gifts or travel, hands down they would tell you that they would choose to travel anytime!

Jenn is a homeschooling mother to 8 children as well as a volunteer EMT and CPR/First Aid instructor. In addition to her love of travel, she also enjoys growing and preserving her own food, has a passion for cooking (you can find some of her recipes on her blog) and is a skilled bargain hunter!  Not only does she enjoy travel planning for her family, she loves helping others plan their own trips  so much so that she became a travel agent and can be contacted to help you plan your next adventure! You can find Jenn at 
Treasuring Life's Blessings
 or connect with her on 
Facebook
, 
Twitter
 and 
Pinterest
.
Come join our community of faithful adventurers on Word Traveling so we can keep inspiring each other to great things for the Lord, traveling to, with and because of the Word!
 Join our facebook group of Christian travelers here!
ENTER TO WIN BELOW:

The Prize – A Four (4) Night Getaway Includes:
One (1) winner* will receive
Four (4)-night stay at the Sanibel Inn on Sanibel Island, which includes complimentary bike rentals. One (1) room for two (2) adults, and up to (2) children valued at $1,300. Blackout dates—entire month of September 2016 as some construction will be taking place.
Tickets for two (2) adults & up to two (2) children to Edison & Ford Winter Estates, providing the option for a guided or self-guided tour, valued at $72. Winners will enjoy touring 20 acres of historical buildings and gardens, as well as Edison's Research Lab and Museum. No blackout dates.
Tickets for two (2) adults & up to two (2) children on a 1.5-hour Caloosahatchee River Tour, provided by Pure Florida. Winners will learn about the history of the Caloosahatchee River and the exploits of Thomas Edison and Henry Ford, and may encounter dolphins, manatees, bald eagles, and more. No blackout dates, must make reservations in advance. Tickets valued at $128.
*Terms and prize details can be found at WordTraveling