Hey, friends and Word Traveling Adventure Tribe…
While we at Word Traveling get ready to announce some super EXCITING global homeschool travel, (yes, I said global!) the generous team at Bright Ideas Press has given us a FREE WonderMaps DVD Curriculum- valued at $49.95!
As we are preparing for our upcoming cruise, this PDF based map system has made learning our routes, the oceans, and the Caribbean Islands more than FUN!!!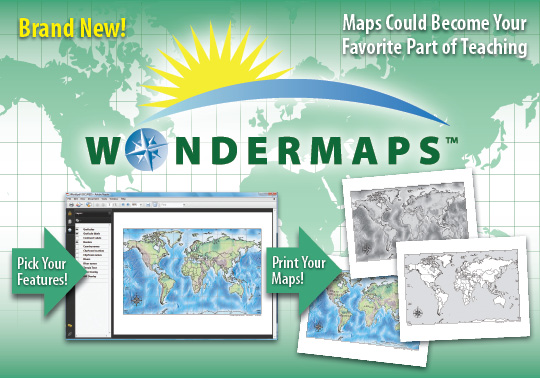 This is what Bright Ideas has to say about WonderMaps:
Pick Your Features! Print Your Maps!
Geography and map skills add richness to any lesson. Whether it's history, literature, science, current events or Bible, maps play an integral role in thoroughly understanding the topic at hand. With WonderMaps' made-to-order geography materials at your fingertips, there's no more skipping map studies due to a lack of preparation time and resources!
What is WonderMaps? It's a customizable collection of over 350 different maps. With nearly endless possibilities, WonderMaps makes it easy to regularly integrate map study into a variety of lessons and make the most of every learning opportunity.
WonderMaps is designed with easy-to-use layers that allow you to enjoy great customizable features with just a click.
Select:
historical or modern-day maps
outline, reference, political, or topographical maps
black-and-white or color maps
features including: names, borders, rivers, cities, physical features, and graticules
WonderMaps includes:
65+ maps of the world
60+ maps of the USA
130+ historical maps, including 25 biblical maps
The complete map sets from The Mystery of History vols. I–III and All American History vols. I & II
Discover how much excitement maps and geography will add to your learning experience through the amazing features of WonderMaps. Imagine—Maps Could Become Your Favorite Part of Teaching!
Don't DELAY! Just a few steps to enter today!
a Rafflecopter giveaway

One winner will be chosen at random on my birthday, March 25.
Come back to Word Traveling to enter every day!
Tell all your friends… more exciting announcements to come!