Keep your data safe while traveling
When traveling there are some basic safety tips to keeping your data safe.
This is a guest post by my friend and cyber-security expert John Berry. 
With cyber crime and identity theft at all time highs, its important to understand traveling exposes your data to many unique risks. It's a fact most people don't think about their data until its too late.
1. Do a complete back up
Do a complete backup of all your data before you leave home. That way if you lose your computer, tablet or smart-phone you won't lose your data as well. Electronic devices can be replaced, however without backups personal data can't be.
2. Public Wi-Fi is not safe
Public Wi-Fi is not secure and its very simple for anyone with minimal knowledge to capture all your information including your user names and passwords when you log into your accounts, web based email, social media, etc. So if you use public Wi-Fi at an airport, hotel or coffee shop be sure to use a Virtual Private Network (VPN).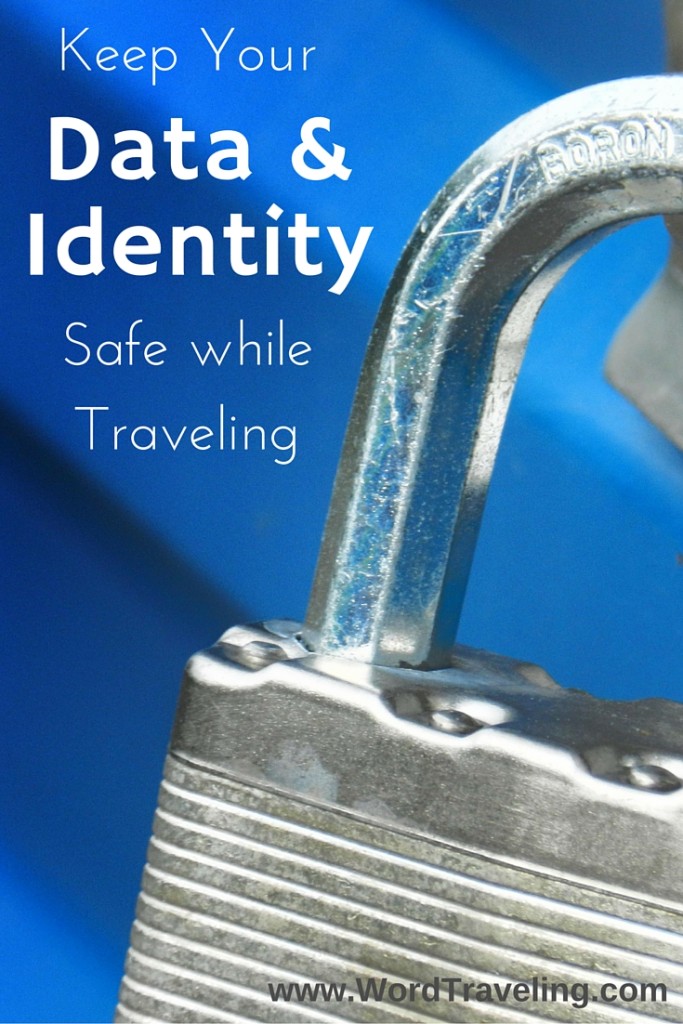 A VPN encrypts the data stream from your device to the Internet and effectively stops anyone from snooping on you. I recommend you install a VPN on any devices – laptop, tablet or smartphone – that you use on any public network. You might notice a slight decrease in speed but your data will be safe. Here are a couple of products I like:
• CyberGhost  is a highly rated, simple to use product. There is a free version for laptops, however you have to pay a small amount to use it on your mobile devices.
• Freedome is a solid product from Finland based F-Secure. I used it myself and it's top notch. In addition Freedome stops web based trackers and won't let you connect to malicious websites. You can try Freedome at no cost for 14 days. Beyond that there are options for 3, 5 and 7 devices.
3. Keep your devices safe
Don't leave laptops, tablets and smartphones lying around in hotel rooms unattended. The safest option is to carry them with you at all times. If however that's not convenient the next best option is to put them in your suitcase and lock the case. Hotel safes are not secure either. All hotels have master keys to open the safe plus in many cases thieves know the master code to open different kinds of safes.
4. Encrypt your hard drive
If you have sensitive or confidential data on your device, encrypt the hard drive. Encryption is a process that changes data in a way that makes it unreadable to anyone who doesn't possess the key to unlock it. Then if your system is lost or stolen, no one will be able to read the contents or view your family photos. Whichever form of encryption you use be sure to pick a strong password and write it down somewhere you won't lose or forget it (not on a sticky note on the device either). If you lose your password, in most cases you won't be able to retrieve your data – that's the whole point of encryption, it keeps your data safe and there is no way to get to it without that password!
• If you have an Apple Mac, FileVault is already loaded. You just need to enable it. Go to System Preferences/ Security and Privacy and follow the instructions.
• On Windows systems you may depending on the version of Windows have BitLocker Drive Encryption software. If so follow the instructions and enable it. If not Symantec's Drive Encryption is a good option
• With Android tablets and phones open the Settings menu/ Security/ tap on encrypt device and confirm (menus on different versions of Android may be slightly different but you get the gist)
• Apple iPhones and iPads have basic encryption built in. However, jail breaking the device can bypass it so it's important to go with a stronger option. Go to Settings/ Passcode and set a password. This enables full encryption and as an extra security option you can chose to have all data on the device erased after 10 failed login attempts.
For a complete, easy to understand guide on keeping your data secure and preserving your online privacy, see my new book – Hack Proof – available from Amazon

About the writer:
John has traveled the world, working with many interesting people over the last 25 years. He is the author of 4 books, a technologist – with a focus on cyber security, hacking and privacy, a speaker, sometimes philosopher and a connoisseur of fine coffee. He constantly reads, attends conferences, speaks to industry leaders and believes education and learning are never ending.