Welcome to Day #18 in our Travel is… series!
Travel Is the Tree of Life that Connects US

Mama Bear was tired, hungry and downright grumpy. She and Papa Bear had been busy all day at work, then one of them raced to the Bear Cub Den to pick up Sister and Brother Bear. Then it was the usual early evening flurry of Cub Activities (like Cub Scouts,) getting dinner on the table, and helping with homework.
The evenings always seemed to fly by, hurriedly rushing the cubs off to bathe, get ready for Cub School the next day, and turn in for hibernation. This was the norm for all bears though, so no one questioned it. At least not until a girl named Goldilocks came to the Hundred Acre Wood.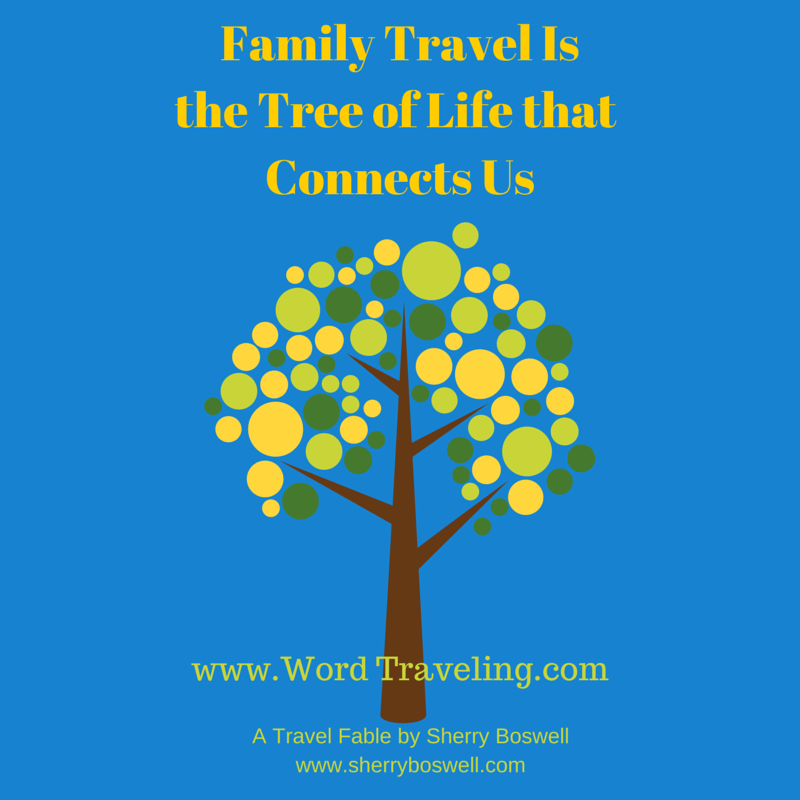 Goldilocks had traveled a lot outside the forest. She told marvelous tales of her adventures abroad with such gusto that Brother and Sister Bear were fascinated. "You simply MUST see the Country Bear Jamboree at Magic Kingdom in Walt Disney World!" she cajoled them. "Or trek to Alaska to watch the brown bears catch salmon. And don't miss the black bears at Yellowstone National Park!" After hearing these tales, Sister and Brother Bear begged Mama and Papa Bear to take them outside the woods to see the world.
Mama Bear yawned at bedtime as she said, "This pace is wearing me out! I'm starting to act like Eeyore, moping around and complaining all the time."
Papa Bear agreed. "That Goldilocks was practically as bouncy as Tigger with all her energy and enthusiasm! Maybe there's something to this travel thing! We SHOULD plan a Bear family vacation! When's the last time we took one of those?
Mama Bear paused, "Why, I can't even remember…maybe when we went to the Great Wolf Lodge? And I felt so out of place with all those wolves."
Papa Bear exclaimed, "Then it's decided. We will book something tomorrow! After all, we can't have our little bears growing up just eating porridge and thinking that the best thing to pass the time is to steal honey from the bees like that Pooh Bear."
Moral: If the bears don't journey outside the woods sometime, they may forever remain grumpy bears and not know anything about the world. Or more simply, don't be an Eeyore, be a Tigger.
***
Does this fable sound like you and your life? OK so we're not bears, but the fact remains: our lives are super busy and mega stressful, with no signs of slowing down.
I think of family travel as the glue that holds our family together. I'm talking Super Glue, not that small Elmer's glue stick that's on the back to school supply list every year. Travel bonds us, connects us, and makes us take time for one another.
Better yet, travel is like the Tree of Life, the iconic symbol of Walt Disney World's Animal Kingdom, which displays over 300 animal carvings in its massive tree trunk. Just as the Tree of Life, our family trunk is made up of carvings of all the wonderful memories from our shared experiences-with plenty of room for more!
But exactly how does travel accomplish such a marvelous feat of rooting families together in this 21st century world of distractions? You know the ones, say them with me: cell phones, social media and texting, oh my! Here are 3 reasons why family travel is the tree of life that anchors us and connect us together as a family:
The "Bliss Bubble"
I have affectionately dubbed the travel effect on our family as "the Bliss Bubble." In the bliss bubble, everything else fades to the background, and family time is the utmost priority. Technology is used sparingly or not at all. We are insulated in the bubble, which gives us the ability to live in the moment. Being out of the normal, day-to-day routine seems to awaken the senses and makes us all aware of each other and where we are.
In a family poll commissioned by Disney in 2013 and conducted by Kelton research firm, of the 1,000 parents with kids age 5-17, a whopping 97 percent said that their children have gotten to know new things about them while taking family trips. The survey also found that the whole family tends to be more excited, silly and affectionate while on vacation. Who doesn't want that? Sounds like being a Tigger to me!
Get this: we actually talk and play and have fun together!
"The family that plays together stays together" is so true. For instance, we loved playing pool and ping-pong in the game rooms and Xbox in the Xbox lounge at Beaches Turks and Caicos Resort. The key is to find what works for your family and get busy trying things together!
We also sample each other's hobbies and find out just why everyone is so passionate about their activity. Case in point: riding horseback in the Dominican Republic on the beach over Spring Break showed us just why our daughter is so gaga over horses.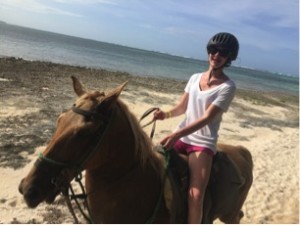 Just as precious was seeing our son's eyes light up at Universal Studios Florida's Wizarding World of Harry Potter when he cast his first spell with his interactive wand and tried Butterbeer, both of which totally brought the beloved book series to life for him.
The shared experiences form lasting memories we will laugh, smile and joke about for years!
On our most recent trip to the Dominican Republic, we took an all day catamaran excursion to Catalina Island. On the sail back to the marina, the crew advised us that if we stayed on the rope netting in the front, we might get some water splashed on us. Fifteen minutes later, my daughter got SOAKED as water simply gushed on her. Twice. And yet she still remained a great sport about it.
I just read a really cool article about the 5 Things Your Kids Will Remember About You by Dave Willis. Number 5 was your family traditions. Willis writes, "[t]hey'll remember with great fondness the 'traditions' you establish whether it's a weekly family movie (or game) night, a place you regularly travel for family getaways, the way you celebrate birthdays and special events or any other special tradition. Be intentional about creating some traditions that they'll want to pass onto their own children someday." I LOVE that advice to be INTENTIONAL. Make a plan. Do something to incorporate family travel…and it doesn't have to be huge, expensive trips either! One of our most spontaneous trips to whitewater kayak on the Nantahala River ranks as a family favorite, and we did it as a day trip on my husband's birthday. No overnight stay even required.
We've unearthed the solution to keeping our family rooted together, and it lies in the quality time we share as a family on travel adventures. The cool offshoot of this principle is that when you return home, you want to have that same connectivity and intimacy as a family you had while traveling. So it challenges you to live like vacation people once you return home.
And here's the little sapling of all this pruning and weeding: raise your kids with the expectation that you will spend lots of time together as a family so that when they are grown, they will STILL expect to spend time with you. And what better venue than the globe of endless locations to choose from? Your family tree will bear much fruit if you carve out time for family travel, no matter where the destination. Even THAT would make Eeyore happy!
Please click the image below to see the other posts in this series.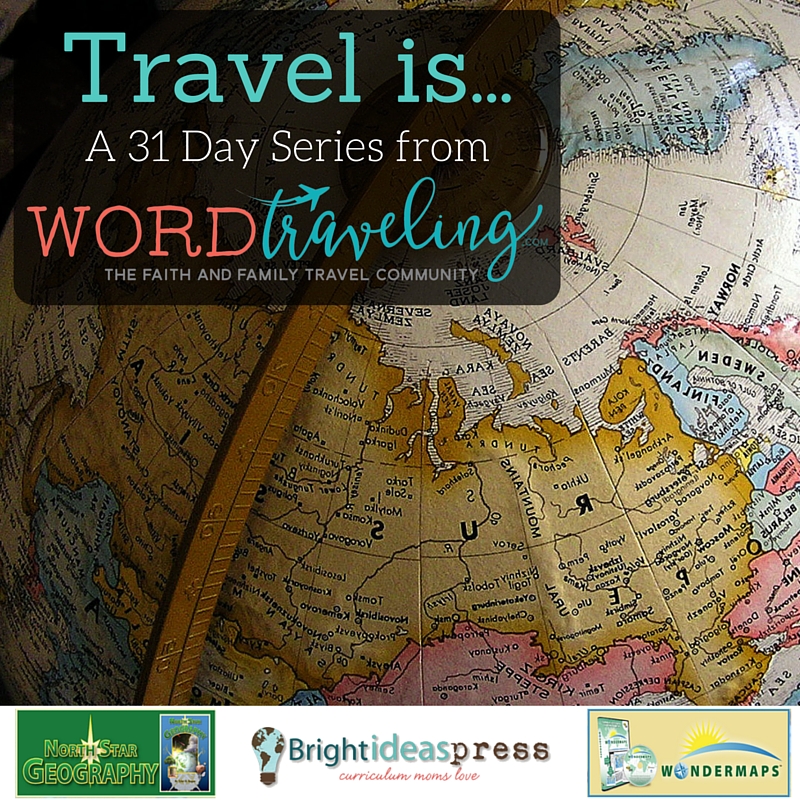 Sherry Boswell calls herself a "hybrid" mom: part time attorney, full time mom to 2 active kids! She's been married to her Prince Charming for almost 20 years and is crazy about travel, especially to Disney! You could call her a Southern "Belle" (as in Beauty and the Beast), a "Type A planner", a chai tea lover, a fiddle player, a dabbling runner, and a Samantha Brown wanna be. Sherry loves to travel, whether it's in Europe, which holds memories of cathedrals where she played the Orange Blossom Special on an electric blue violin, and watched her kids learn to walk in Paris and London—or the Caribbean, where she got engaged in Jamaica, married in St. Thomas, and cruised on the Disney Dream with her family! Her mantra: Adventure IS out there! You can find her blogging at www.sherryboswell.com or follow her on Facebook, Twitter or Pinterest.