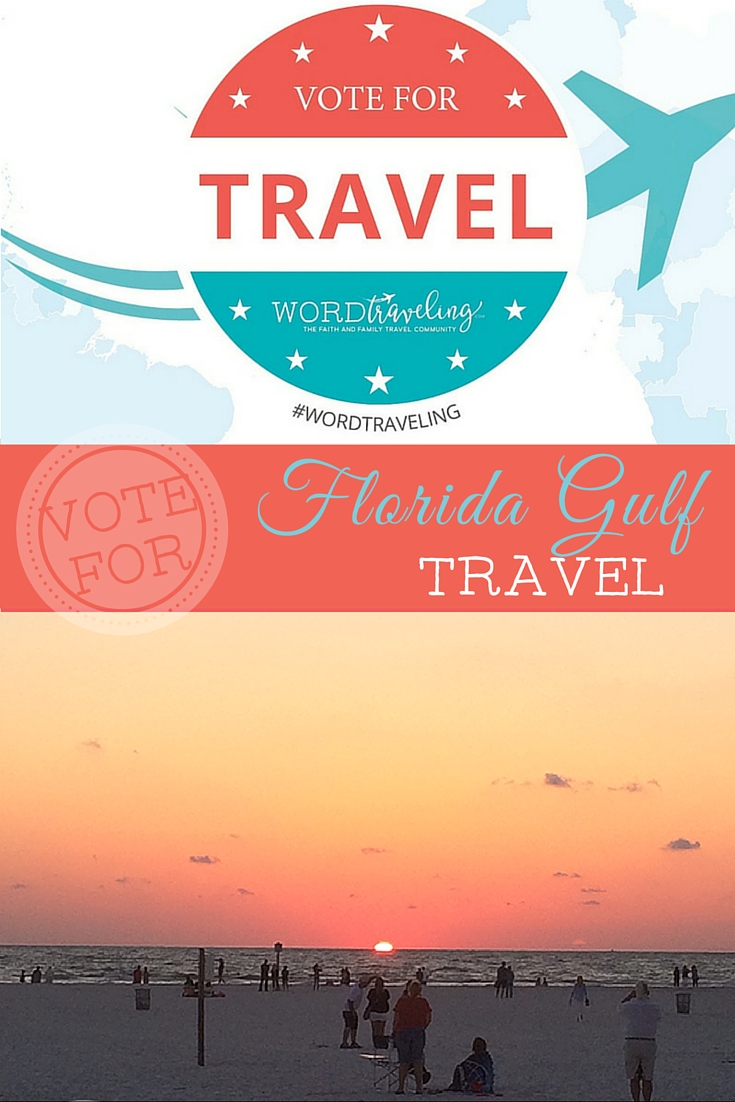 Something I've learned since moving to Michigan is that Michiganders have this love affair with Florida.  I have to admit that I didn't really understand it.  I mean, I get it, it's C-O-L-D here, and Florida is not.  But why not Texas or South Carolina?  Why not Hawaii?  Maybe Michiganders just really love Disney World.  I never really knew.  My own experience with Florida was limited to NAS Pensacola, and well, I should know never to judge any place by its military installation.
So last year, when I was invited by another blogger friend to experience the Florida Gulf Coast, I had my flight booked in a blink.  Let's face it, it was April in Michigan and I'd been dreaming of warm sandy beaches for MONTHS.  But when we got there, I learned that those beaches aren't the only reason we vote for Gulf Coast Florida Travel.

Vote For The People
One of the very first things I noticed after landing in Tampa was the people.  Maybe it's being a lower-Midwest girl who's been dropped a little too close to Detroit for the past few years, but being back amongst people who make eye contact, and smile, and are just friendly for no reason was amazing.
In nearly every restaurant we went to, waiters and waitresses struck up conversations, played joyfully with my 8-month-old, and in once case, even serenaded us for a good portion of our meal.  Being around these people automatically made you smile and slow down and enjoy the moment.
I think the highlight of the people were the owners of the second place we stayed.   They were a middle-aged British couple who have to be the sweetest people I have ever met.  We spent an afternoon chatting about everything, from how they ended up in Clearwater, FL (yep, the people sucked them in, too) to the woes of raising twins and the ebb and flow of the seasons and visitors to their beautiful little place on the water.  She even gave us a history lesson on the Greek and Scottish communities up the coast, with directions and suggestions of places to stop.  Without her we never would have found the charming community of Dunedin.
| | |
| --- | --- |
| Bay Palms Waterfront Resort Hotel | Ebb Tide Waterfront Resort (Mandalay Channel) |
Vote For Small Lodging
And that brings us to the options for accommodation.  Anyone who knows me knows that I absolutely love supporting small and family-owned businesses.  Often when traveling, it's just easier to pick a chain hotel and stop, but I really love when we have the opportunity to experience something a little more personal without going all the way to a bed & breakfast (which is usually a logistical nightmare for a large family like ours).
All over Florida you can stay in small inns and hotels, many of which are family-owned, have great accommodations for families and are even waterfront.  Thanks to Florida's Superior Small Lodging Association, we were able to find and stay at two amazing little places, the Bay Palms Waterfront Resort Hotel in St Pete Beach and the Ebb Tide Waterfront Resort.  Ebb Tide was the resort run by the lovely British couple.  Both properties (and many others along the Gulf Coast) had about 15 rooms and were designed for longer stays with living areas and full kitchens.  And that's perfect if you are traveling with a large family, food allergies, or like us, both.
Vote For the Activities
Okay, so I won't lie, while staying at the Ebb Tide, I fantasized about taking a couple weeks to stay there alone and write a book…or maybe a solo meditation/yoga retreat.  It felt perfect.  I mean, I could just live there and share time between my room, the pool and docks, and maybe a daily walk across to the beach.
There is just so much to see and do on the Florida gulf coast!  We made it a point to explore the entire length of St Pete's and Clearwater Beach.  From DeSoto Park in the south, all the way up to Caladesi Island State Park and even back on the mainland up to Dunedin and Tarpon Springs.  Kids of all ages (and, ahem, adults, too) will love visiting the Clearwater Marine Aquarium, home of Winter from Dolphin Tale.
| | |
| --- | --- |
| Take a Dinner Cruise | Visit the Greek town of Tarpon Springs |
| Visit Winter at the Clearwater Marine Aquarium | Play in the sand at Clearwater Beach. |
Vote For the Way of Life
Almost everyone I know who's been to Florida dreams of moving there someday.  And now I understand why.  Life moves more slowly there, especially when you get out away from the tourist hotspots.  No one seems in any hurry to get anywhere, but it's far from the "it's too hot to move faster than a snail" pace of other places in the South.
There is an appreciation for the finer things in life like sitting near the water and enjoying the unplugged company of your friends and family.  And no matter if you're in a restaurant or taking a stroll if you're on Clearwater Beach when that sun makes its final descent, you stand and watch, and cheer, and applaud–despite how confusing this may be to a newcomer.
It's hard to go wrong with anywhere warm and sandy, but the people and way of life make you want to Vote for Florida Gulf Coast Travel.  And maybe even move there.

Dani Schnakenberg, is a busy work-at-home-mom of five kids under eight, still finding time to blog, create a beautiful website, and run her clothing line, Feather & Wild.
She is the founder of TheSchnakenbergs.com and helps large families across the country learn to simplify and create the lives they dream of.
Dani lives in Ypsilanti, MI with her husband and business partner, Josh, and five children: Karsyn, 8; Brett, 5; twins Elias and Carter, 4; and Alex, 21 months. In her spare time, she enjoys square-foot gardening and furthering her education as a Holistic Nutrition Wellness Practitioner.
Come join our community of faithful adventurers on Word Traveling so we can keep inspiring each other to great things for the Lord, traveling to, with and because of the Word!
 Join our facebook group of Christian travelers here!
ENTER TO WIN BELOW:
 
The Prize – A Four (4) Night Getaway Includes:
One (1) winner* will receive
Four (4)-night stay at the Sanibel Inn on Sanibel Island, which includes complimentary bike rentals.  One (1) room for two (2) adults, and up to (2) children valued at $1,300.  Blackout dates—entire month of September 2016 as some construction will be taking place.
Tickets for two (2) adults & up to two (2) children to Edison & Ford Winter Estates, providing the option for a guided or self-guided tour, valued at $72.  Winners will enjoy touring 20 acres of historical buildings and gardens, as well as Edison's Research Lab and Museum.  No blackout dates.
Tickets for two (2) adults & up to two (2) children on a 1.5-hour Caloosahatchee River Tour, provided by Pure Florida.  Winners will learn about the history of the Caloosahatchee River and the exploits of Thomas Edison and Henry Ford, and may encounter dolphins, manatees, bald eagles, and more.  No blackout dates, must make reservations in advance. Tickets valued at $128.
*Terms and prize details can be found at WordTraveling