Yes, Lego is Art!
The first time I considered LEGO as an art form was in response to a television special on LEGO Artists. I was amazed to see what these brilliant people can do with Legos as a medium! As I considered ways to bring Lego Art into our homeschool — I thought, "Why not art?" My children love legos and any time I can take legos and teach a school subject it is a win-win situation.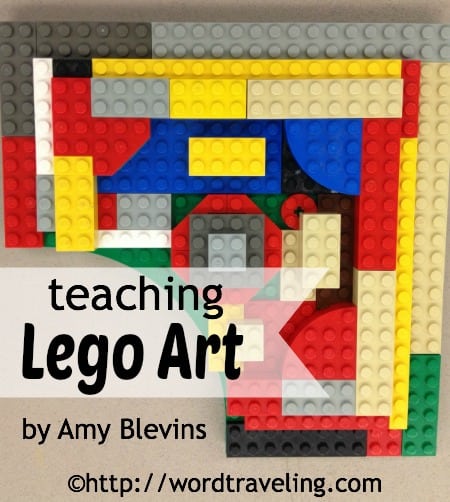 I started at a homeschool co-op where I was teaching weekly lessons using legos. Each week varied in subject, content and success. The week we discussed and created LEGO Art was one of the favorites of the group. First, we looked at some examples of LEGO Art on my computer. This guy is making $20,000+ for his LEGO art – and uses roughly 20,000 pieces at minimum! (Look at the LEGO art at this site ahead of time, some of his artwork might be disturbing. — pick a few.) Then I gave each child a small bag of legos and told them they had thirty minutes to create a piece of art. Any style. The last ten minutes of each class was reserved for each student to describe their art, their building process, and whatever else they wanted to tell us about what they created. My son (then eleven) came up with this: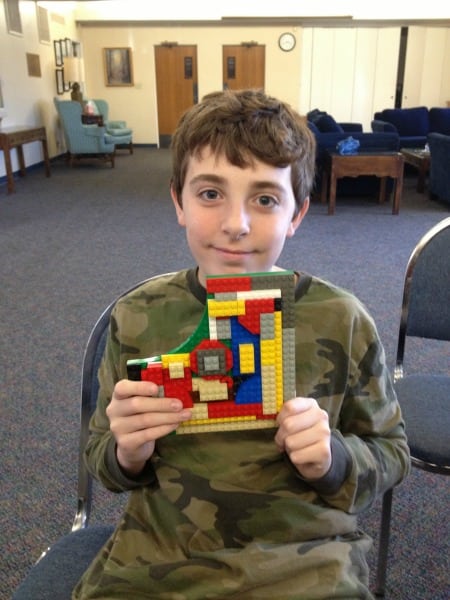 In describing it, he said that he wanted a regular square shape but since this was what was in his bag he created a random, abstract piece of art with interesting shapes and texture, and he still thought it looked like a sandwich. Then he proceeded to "take a bite" out of it.
Yesterday, my son spent a couple of hours helping me create a Lego build for a picture I needed for my blog post at Homeschool Encouragement titled Free LEGO Printables for Early Elementary. I told him I needed something vertical and educationally oriented for young kids. He came up with this: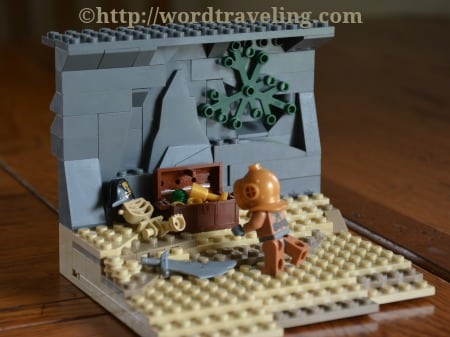 I thought this diver scene, complete with skeleton, treasure and the textured walls of a cave was pretty artistic!
This morning, I told my kids I needed LEGO Art. The book Beautiful Lego is perfect for some inspiration! Specifically, I said — create something we could hang on the wall. And you only have 30 minutes because we need to get our other schoolwork done. Nothing like limiting the creative process to a specific time limit…
They came back in forty-five minutes or so (who's counting?) with these: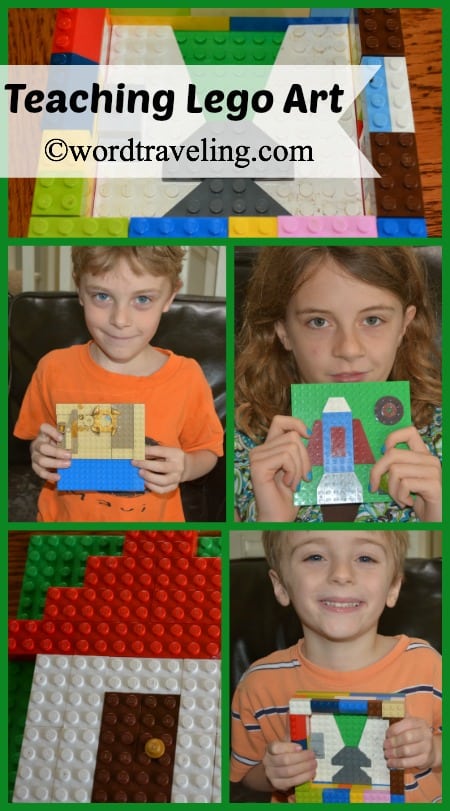 Explore LEGO Art Together.
If you want to get your child thinking about Lego as art — I highly recommend exploring some of the lego art on the web together. Be careful though, as some of the artwork is disturbing for young children or inappropriate. Do a search on your own and bookmark the sites you want to share with your kids. You can even put the websites up on your television so everyone can see the artwork at the same time! My kids love that!
Discuss LEGO Art.
Talk about what makes this lego art so cool, and which things did not work. Talk about perspectives with lego — your end piece of artwork will be textural by nature, so talk about texture and structure and design before you start.
Create LEGO Art.
Give your kids time to create a piece of art. You may give them parameters if you wish — like wall art, sculpture, abstract, etc.) or you may give complete freedom. Make this a part of your school day, but don't be surprised if they get sidetracked with this project during after school hours!
Display and commemorate your child's LEGO Art creation.
Set up a Lego Art display for Daddy or grandparents. Don't wait to take lots of pictures (at my house anyway, Lego art only lasts for a little while, it is dispensable…)
Repeat LEGO Art
Each year, your child's interpretation of LEGO Art will grow and expand as his skill expands!  Come back to it.
Like this post? Make sure you come check out Jen's popular LEGO poem- Inspired by the Bricks
and You'll love hearing about Learning Valuable Life Skills from LEGO robotics!
How have you used Legos as art and in your homeschool? I'd love to hear! Share your comments below, head over to our Facebook community or follow our Pinterest board about Lego Learning!
LEGO®is a trademark of the LEGO Group of companies which does not sponsor, authorize or endorse this site.