An Eleven Year Old Homeschooler's View on a Trip to Vail
In December, when snow covered the mountains of Colorado and I was still just ten years old, my Floridian family took an epic adventure to Vail. I'm Luke, a well-traveled 11-year old boy from the beach. We've seen some magnificent places around the world and the United States, like Paris, England, Ireland, South Dakota, Hawaii, and even Alaska. But this winter's exciting epic adventure to Vail was one of my favorites. Mom helped redeem dad's business airline miles for tickets and we were on our way.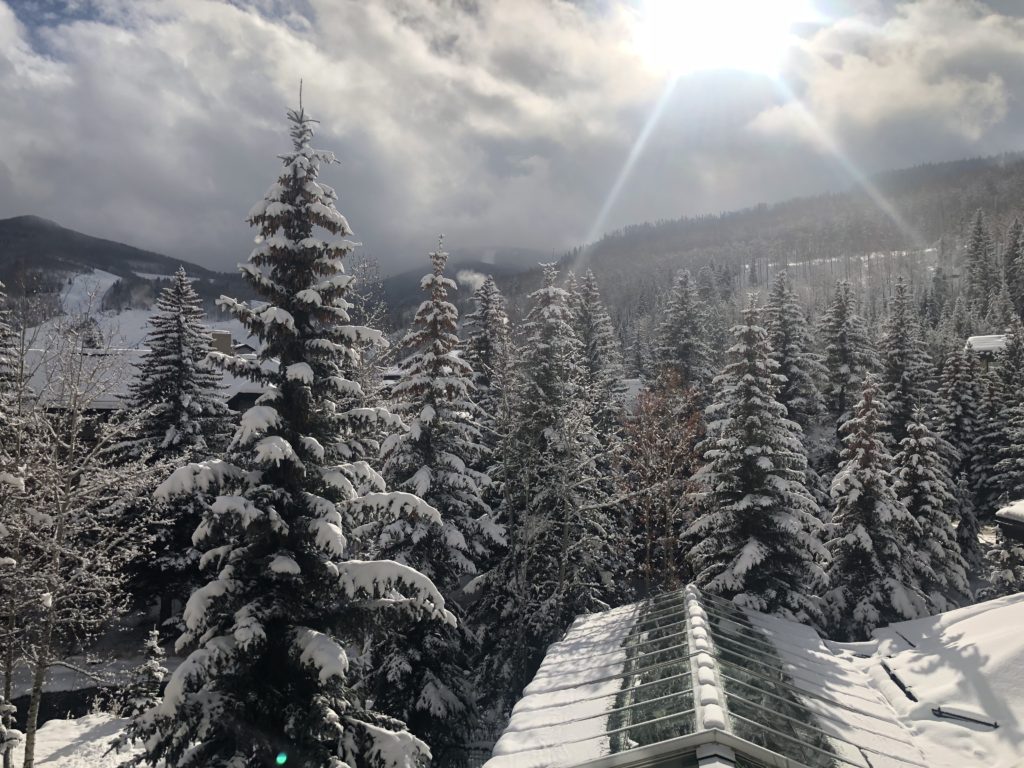 Floridian's Prepare to Travel to the Snow
Preparing for our trip required much time and effort, because we live in Florida and don't have many warm clothes. The last time I had to wear warm clothes was our trip to Alaska about three years ago. Obviously, those clothes didn't fit anymore. We shopped for and borrowed warm clothes. Packing just one suitcase by rolling up our clothes and carrying one backpack for each of our four family members makes traveling and navigating airports easier.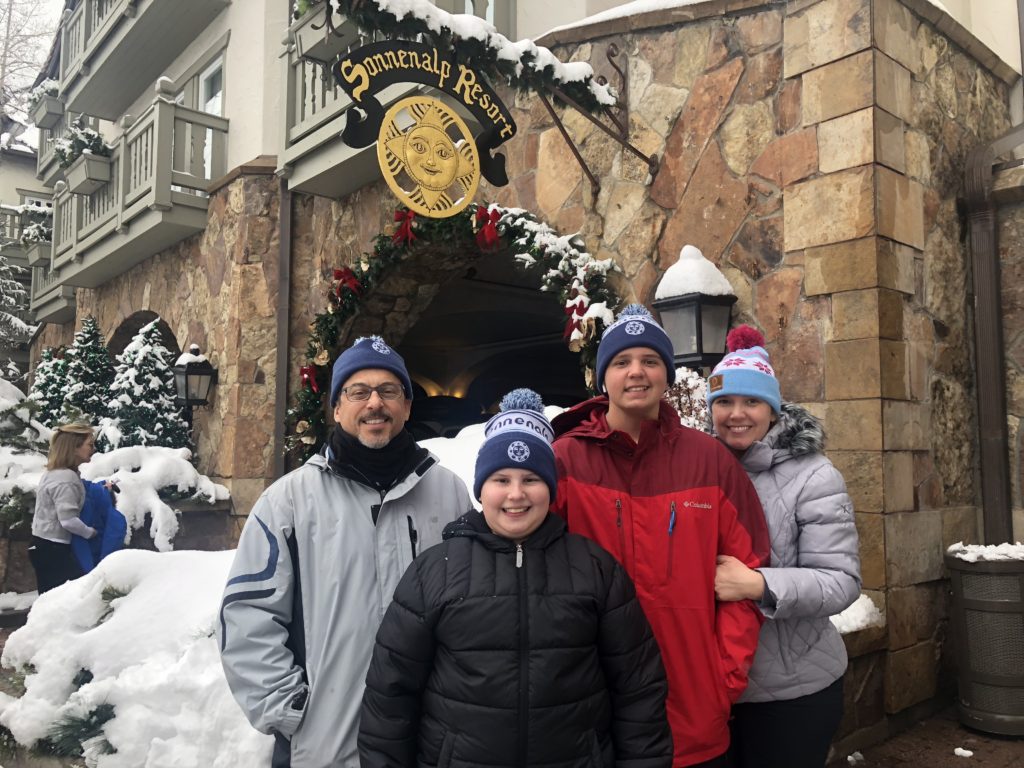 Arriving to Vail
Upon arriving in Colorado, mom carefully drove the rental car through the spectacular, surreal, snowy mountains to our destination hotel in Vail, The Sonnenalp. The staff, who were very helpful and thoughtful, welcomed us to our home in Vail Village. Our mammoth, two-story room seemed more like a house! Upstairs were two bedrooms and two bathrooms. If I wasn't sitting in front of the fireplace, the massive tub in mom and dad's room really hit the spot to warm up after throwing snowballs off the downstairs balcony.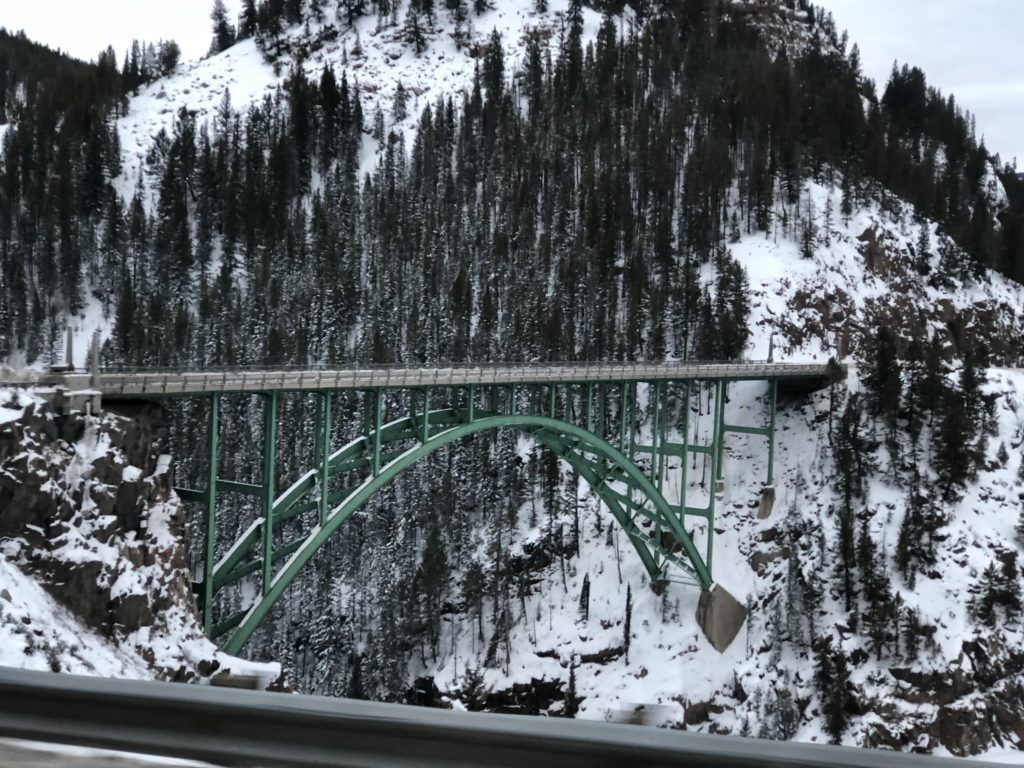 Legendary Sonnenalp Hospitality
Other than in front of the fireplace, the balcony was my favorite spot at the Sonnenalp. It got pretty hot in the bedroom, so I'd go outside to cool down and eat some snow or throw snowballs at my dad or brother, and sometimes mom. Cleverly, we used Vitamin Water to make the fresh snow taste like snowcones. Delicious! I even built a mini snowman and a snow fortress after I collected snow overnight in empty cups. Because I was freezing, I'd use the Nespresso machine to make a hot cocoa.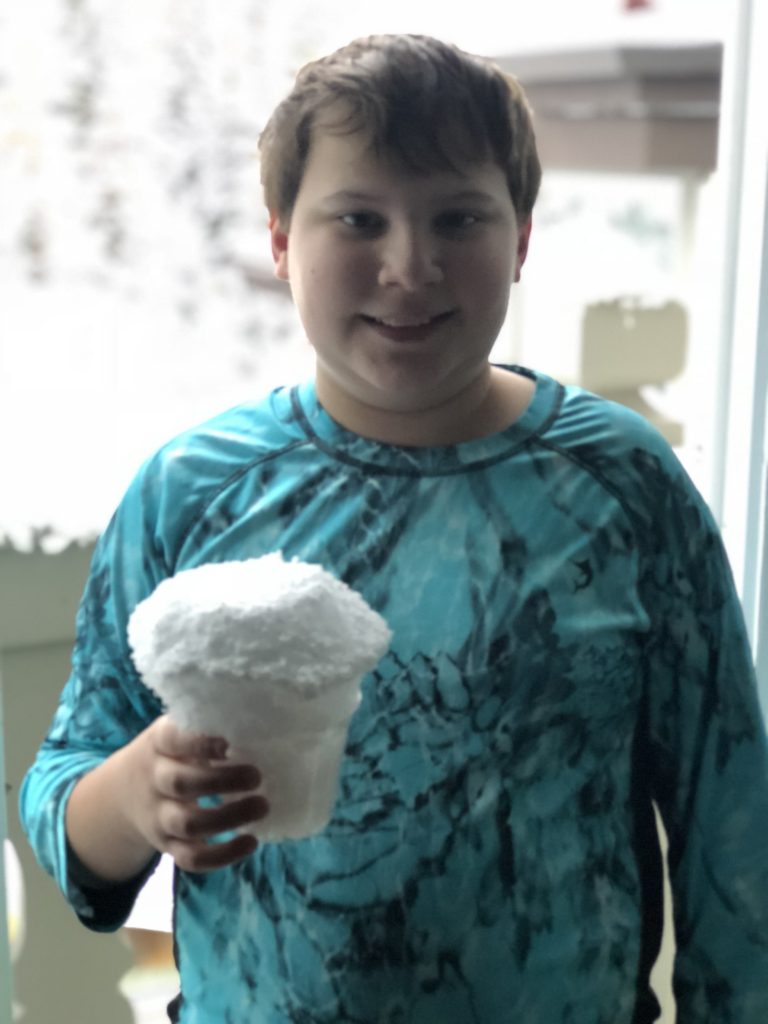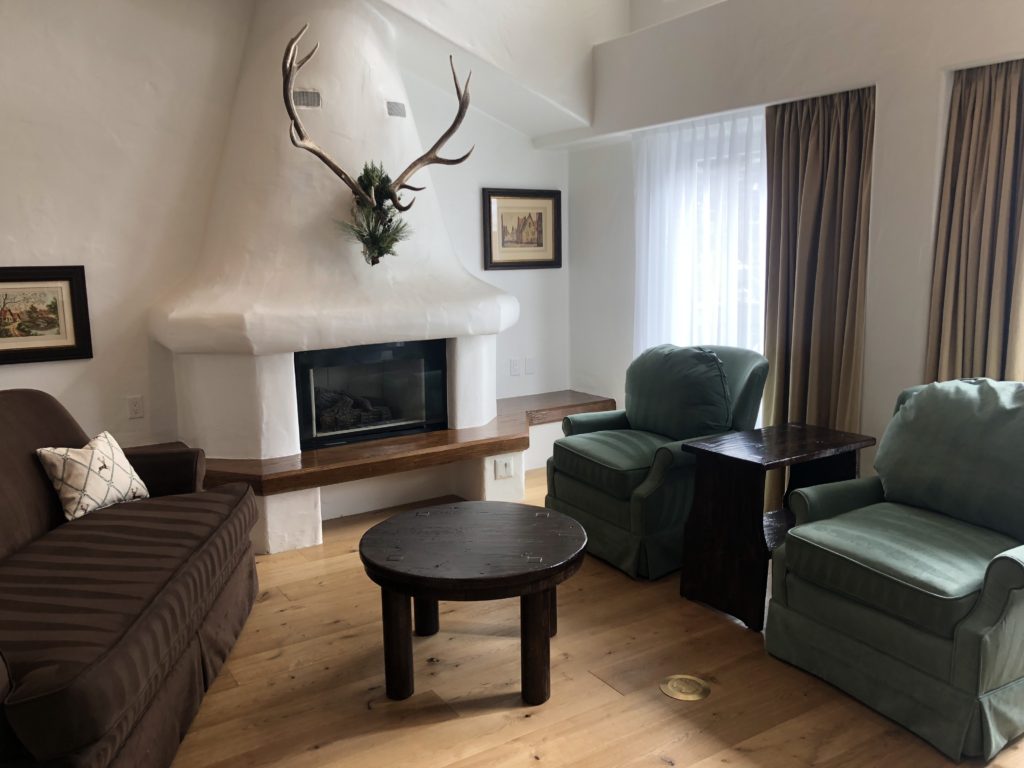 Speaking of hot cocoa, those at the hotel restaurant, Ludwig's, for breakfast were so gigantic I could barely hold the cup in two hands! They tasted amazing! We felt like we were sitting in a snow covered forest in the glass room at Sonnenalp's restaurant for breakfast. The cheese blintzes, which are rich, creamy sweet cheese wrapped inside a thin pancake with berries on top, were my favorite.  The beautiful breakfast buffet was the best I've ever seen and my mom and dad's favorite in the world!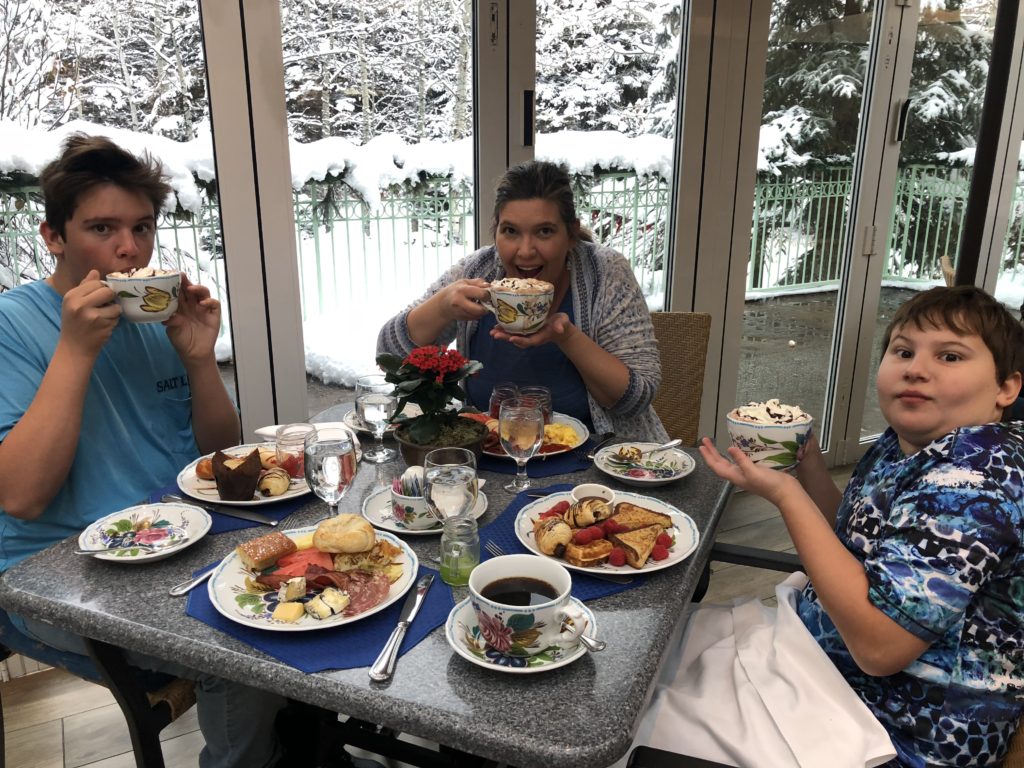 Snowmobiling Adventure
Finally, the frozen fun begins! Nova Guides picked us up at the Sonnenalp to transport our family for a snowmobile trail ride. Arriving at Camp Hale, which was an old military camp where Alpine soldiers trained to help defeat the enemy during World War Two, we geared up. Dressing for the cold thrill, we put on snow suits, helmets, goggles, gloves, and boots. The engines revved like motorcycles and we took off behind our awesome guide, Will, along the bumpy trails headed up to 12,000 feet. Dashing through the snow, we felt supersonic. When we stopped at the summit and made snow angels, peaceful silence calmed us.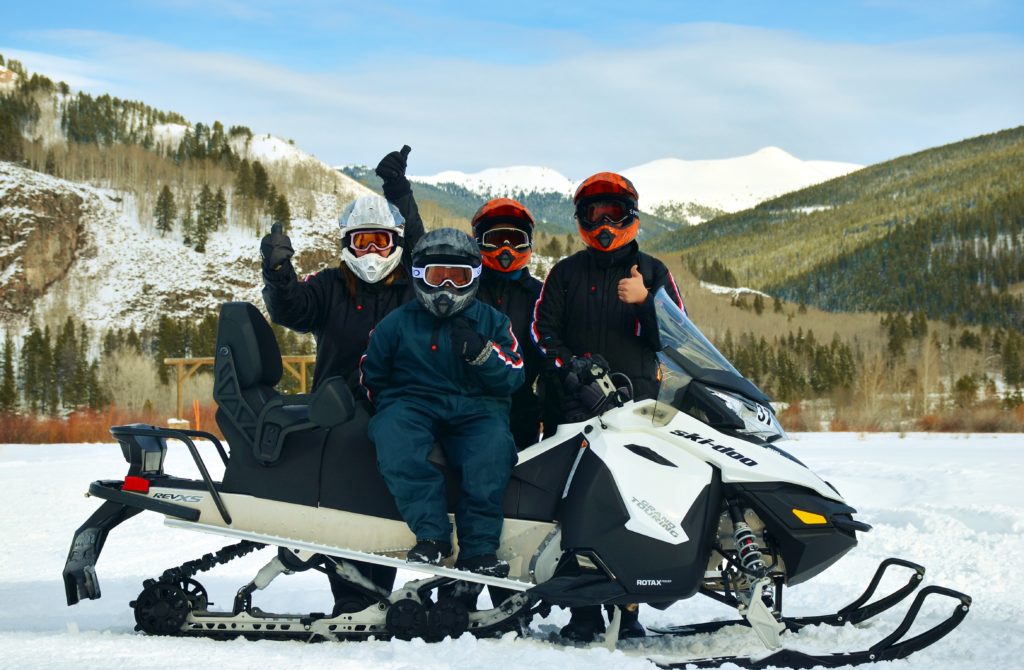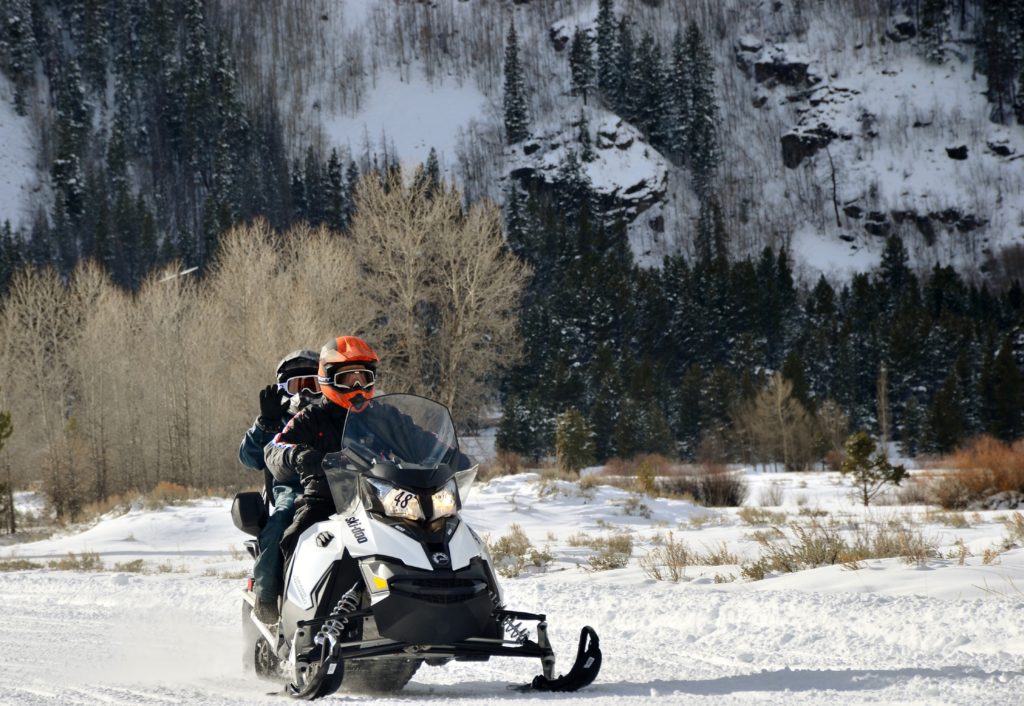 Skiing, an Awesome Adventure
Just when I thought snowmobiling couldn't be topped, we hit the slopes with a Vail Mountainski instructor. Again, we had to gear up. Sometimes, I felt like the kid brother Randy from A Christmas Story, "I can't put my arms down!" We rode the gondola to the beginners area because my mom, brother and I had never been skiing before. Our friendly, fun and funny instructor, Mr. Stacy, was the best ski instructor ever! He taught us balance, how to stop and go, and even to ride the magic carpet and the chair lift. Most importantly, he taught us falling is a part of learning, as long as we get back up.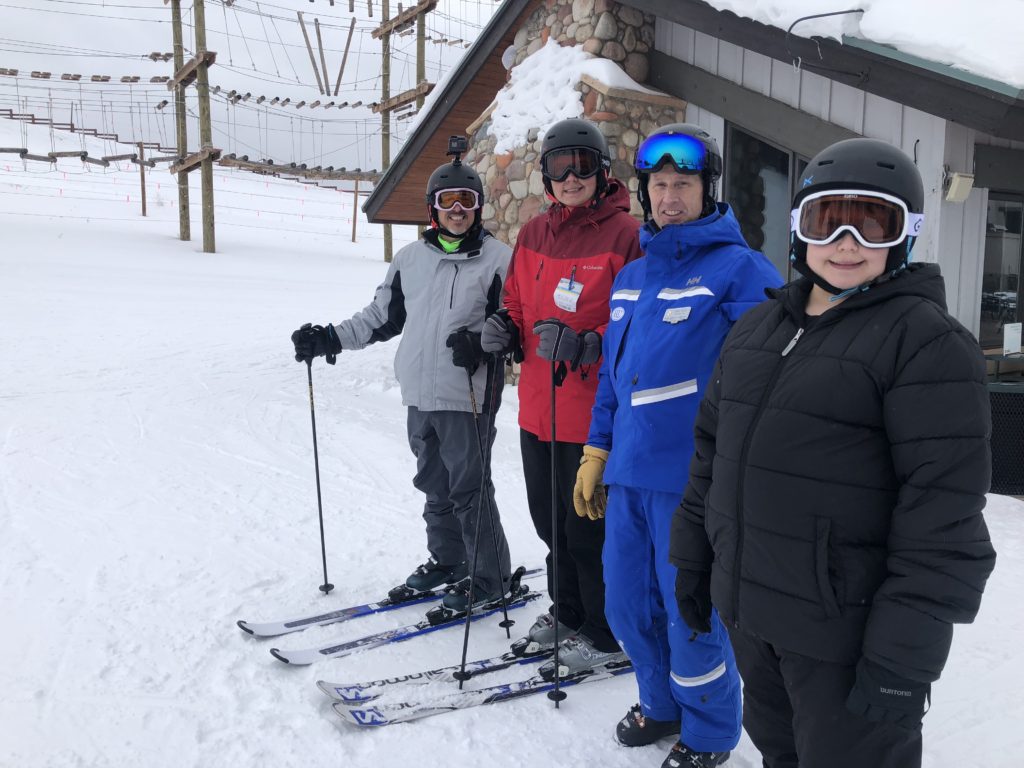 Tips for A Floridian Kid and Family Traveling to Vail
Here are my tips for a Floridian kid headed to Colorado: make sure you stay at the sensational Sonnenalp Hotel. You'll definitely want to go snowmobiling with Nova Guides. And even through it's a little scary at first, make sure you give skiing a try, absolutely with an experienced instructor. Be brave. Be bold. Be bodacious. But, stick to the beginners area. Remember, you're way above sea level, especially when you're on the mountains, and the air is very different than at the beach in Florida. Listen to your mom and dad and drink tons of water or you'll get really tired, dehydrated and painful chapped lips. You can also use the oxygen bar at the Sonnenalp to help adjust to the atmosphere.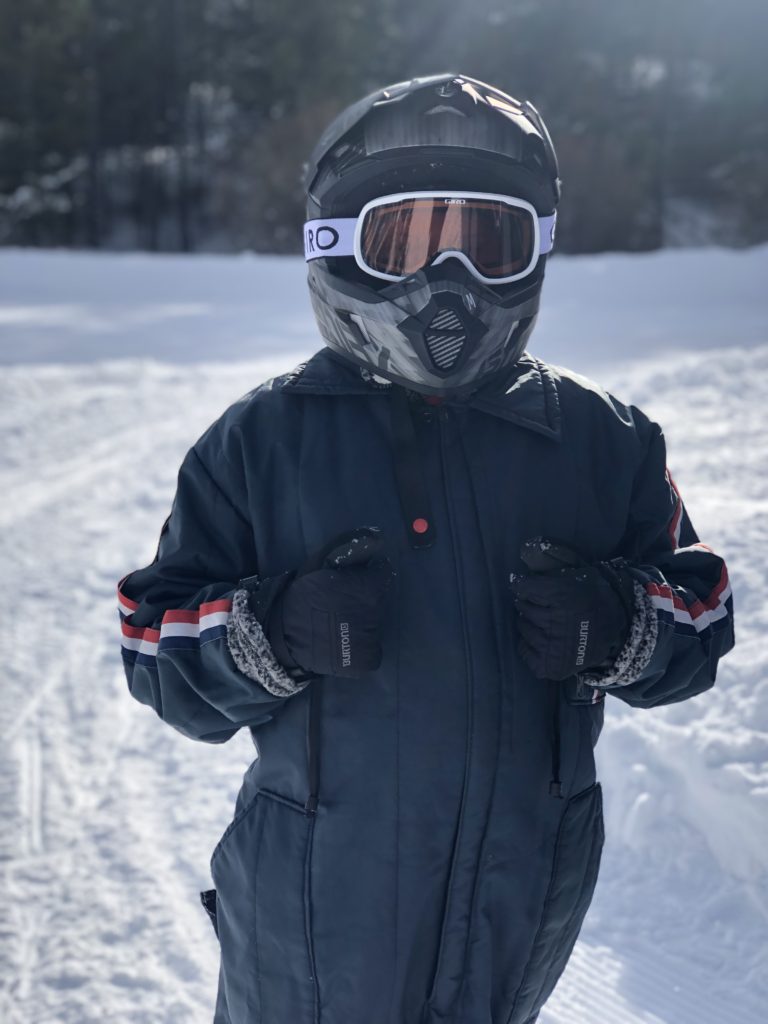 Even though it was a pain to get dressed up in all that winter gear, my epic adventure to Vail was worth it. I definitely want to go back to Colorado and the Sonnenalp to check out the brand new kids' club, which was under construction while we were there. Next time we'll visit in the summer. 
**You won't want to miss all the incredible services and amenities available at the Sonnenalp, including group snowshoeing, valet for your gear, and now a ski school concierge which will get your kids safely back to the room hotel's kids' club while you get in one last run! See website for more info.
**NOTE** This piece was written by my 11-year-old son following the IEW writing format and checklists learned through our second year in Classical Conversations. Big brother Makani contributed photos, a few ideas, GoPro footage and strong adjectives, as did the thesaurus. Yes, mom helped. But isn't that the beauty of homeschooling and helping our children grow into awesome communicators for Christ? Please help support Luke by sharing this post across your social media and even taking a moment to leave a comment for him. Love & Blessings~ Jen
Your child may also love our funny geography jokes!
**Disclosure- We were provided special media rates by the Sonnenalp, Nova Guides and were graciously hosted by Vail for a day  with a ski instructor. No opinions were biased in crafting this piece.**
Buen Viaje! ~Jen